Page 1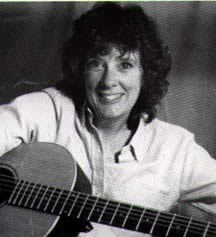 JOAN CRANE - On Record or On Stage

Her first record was "Dirt Pushers Blues" released in 1976 on Philo / Fretless Records / Fretless 121 Stereo



Recorded at Earth Audio in North Frerrisburg, Vermont.
Produced by-Joan Crane
Engineered by Gregg Lamping
Photos by Arlin Bartlett
Joan Crane-vocals, guitar and banjo
Junior Barber-dobro and back up guitar on June Apple, Drunkard's Lament
Celia Strebendt-piano on My Eggs
Lita Kelly-harmony vocal on Drunkard's Lament, When First Unto This Country, and Dirt Pushers Blues



This album is for Mom and for Barb, whose assistance and persistence made it all possible. And especially for Dave Brown, who has done so much and has been a very special friend.

Special thanks to Junior Barber, Celia Strebendt and Lita Kelly for their fine assistance and to Bill Schubart for showing a lot of faith.

The Record-Side A
Bye Bye Baby Blues (Little Hat Jones)

Deep River Blues (Delmore Brothers)

When First Unto this Country (Traditional Arrangement)

My Eggs Don't Taste the Same Without You (Jonathan Glenn Music / Hastings Music)

James Alley Blues (Robert "Rabbit" Brown and written March 11, 1927)

June Apple (Traditional Arrangement)
Side B
Statesboro Blues (Blind Willie McTell) 1928

I'm Satisfied (Mississippi John Hurt)

Shuffle Rag (Big Bill Broonzy)

Drunkard's Lament (Traditionnel Arrangement)

East Virginia Blues (Traditional Arrangement)

Dirt Pushers Blues (Joan Crane)
Dave's Review: Thirty Years Later
Well almost thirty years later, as the date of this review is July 10, 2005 and next year the album will officially be that old.
The reason this review took so long is because I don't remember the album being widely available or accessible to fans like myself. I'm sure it was sold at her concerts but it seems to be a scarce item in general. In fact I bought two copies of this album just for safe keeping, both were found on ebay, one came from Massachusetts and the other from Oregon. I acquired them both five years apart, and I consider that to meet the criteria of "few and far between" in anyone's book.
I've heard Joan's name in association with the Adirondack artists that I was listening to at the time in the 1980's like Christopher Shaw and his wife Bridget Ball. I first got to see Joan play live in a public situation at Schroon Lake; On our local television station WMHT on a show produced by the station, called "The Daughter In Music an Acoustic Journey" around 1990; and then on radio station WXLE.
On the "Daughters In Music" Joan performs the following numbers:
The "Chauffer Blues"-Memphis Minnie (Tennessee) popular song in the 1930's and 1940's) (3:35)

Instrumental called "Foothills" using Delta Blues chords and the Piedmont Rag Time Beat (2:20)

Jelly Roll Morton's "Michigan Water" with special guest bass player Miss Linda Brown on upright bass (2:40)

A Reverend Gary Davis rag song (2:45) Joan calls just "Have Fun Song" again with Linda Davis on upright bass (this is a prime example of what happy blues sounds like)

(this song was in place of a Sippy Wallace tune that was on the set list)

An Instrumental called "Ode To Robert J." (Johnson) and done in open G tuning ( this is a wonderful example of sad blues) (3:05)

Blind Blake Blues Song called "The West Coast Blues" 3:20 Eastern Rag Time Blues done to perfection by Joan…and these six songs conclude her set.
As a big fan of Joan's I can now tell you it took me three years to track her down. As she travelled from New York State to Noblesville, Indiana, to the Midwest and through the American heartland and back to New York State again. She's covered quite a bit of ground in the last fifteen years, since the release of the last cd of hers that I bought and added to my collection in 1995 called "Foothills". Since then she has released one more called "Back Home" which was released in 2002.
It was thanks to Susan Hamlin, that I was able to get in touch with Joan and start a positive and fruitful dialog with this great woman hero of mine and friend of the blues.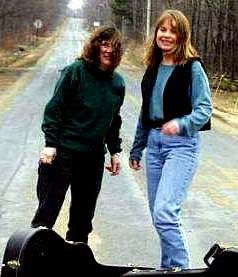 Back to 1976 and Joan Crane:
First of all I'm impressed with one bit of information on her album liner notes, "Produced By Joan Crane". A solo artists, her first album and she produces the recording? She must be very special and extremely talented. In retrospect that's an understatement.
I was going to offer up a track by track assessment of this album but I now find that would be an adventure in futility, so allow me to give you an overview of Joan's early work.
It's basic Joan, it's from her heart and soul and it still holds up perfectly. There's nothing overly spectacular nor is there meant to be. It's a collection that needs to be listened to in its entirety, because if it was divided up into its individual components you'd surely miss the importance of the music and the message therein.
Joan sounds comfortable and relaxed, her style shines beautifully. It's a great representation of her at her roots, but unlike some other artists, that may be embarrassed to be looking back, I feel Joan can be proud of the effort she put forth and the hard work that lies behind it.
Her banjo playing is as exceptional and her guitar work but its her vocals that hold it all together.
This may sound simple but her instrumentals need no vocals, as some people can't even play very interesting instrumentals and you find yourself begging for some vocals just to end the boredom. Joan is just the exact opposite, you wish her intricate guitar work would never come to its inevitable conclusion. I believe that I could listen to a complete double album of Joan's handiwork and never fell uninspired or unmoved by her heartfelt talent and energy. That's the whole of it, she lays it down and you either pick up on it or you just simply choose to not expend a little energy to really enjoy her subtle humour and the respect she's giving to other great players of the past.
On this album, her vocals are explicitly clear, strong in the dynamic sense but not overdone in the delivery or the message. In short it offers the listener a wonderful ride and she delivers you to a better place.
The album ends on a positive note with Joan's own contribution called "Dirt Pushers Blues" which puts a smile on my face every time I hear it.
I'm just glad I have two copies in my collection. Great representation of her "musical craftwork".
---
Joan Crane "Foothills"

1995 CD Format

Produced by: Jeff Townsend

Recorded and Mixed by: Charles Ebie and Jeff Townsend
Dave's Review:

It doesn't get any better than this, it's a must buy and definite must have from Joan Crane.

Thirteen songs that walk hand in hand along to a happy end. In true Joan Crane style, each tune contains its own energy and relies on nothing extra to make the magic happen. Collectively it's a damn powerhouse of activity. Emotionally it's all excitement, with an abundance of limitless talent and just good down home fun, all rolled into one.




1. Hard Time Killing Floor (3:31)

- written by Skip James

It's as real and haunting as

Robert Johnson's "Love In Vain",

Greg Allman's

"Midnight Rider" and has the same cold chill as "Snowblind Friend" and "Desperation"

that John Kay and Steppenwolf performed with great results.

Joan's voice rides the emotional tide between Skip James sad story and her own expressive playing. When there's a ray of light and possible, or hope being offered in the song Joan expresses it perfectly by adding just enough power to her voice to represent that brief glimmer and desire to get out of that desperate state of sad affairs. But just as quick, she can fade back into a sullen mood of hopelessness, despair and total darkness. When I say darkness, let me be explicit, picture Starless and Bible Black.

She quietly moans and groans in complete sincerity, her voice cries for mercy and redemption, where none is coming, as the lyrics talk about going from door to door and hard times on the killing floor. Hard times, like you've never seen before, and most of us these days, can only imagine or have read about the account, third or fourth hand. But the music is the historic telling and is always first hand news, first generation and accurate.

In the background is some great harmonica work and a kind of graveyard howl that'll send chills up and down your spine. Never has Joan sounded better, stronger and been in better form than right here. She is consistent in her playing and vocals which makes the intent / feeling of the song perfectly clear, and the sad message she's singing about all too real. While the music is creating an atmosphere of confusion, muddled thoughts and hopelessness with no hope of exit, comfort or happy solution. Life vs. Death….have mercy on my soul…don't let me be misunderstood….I'm just a soul who's intentions are good… and the whole song quietly screams out…how the hell did I get here and what did I do to deserve this?

Joan's voice alone and vocals in particular express are calming and resolved, while at the same time passionately expressing death from personal misfortune. In fact the very instruments that are supporting this song are, in and of themselves dying slowly to the ending to create the effect of life fading away. In the human condition, there's nothing for a soul to do under these dire circumstances and conditions except to offer consent, as death has no mercy but sadly it does become a welcomed final solution.

The music slows down and down some more, as Joan gives a few last guitar chords of hope, then the light fades and it's over…the spirit dies, heart stops, the body becomes a worthless shell … hard times drive you to the killing floor…and you can't get through the door no more. Salvation is free, God is waiting, and your done wanting more out of this life.

Life stops, and you look for a friendly hand to guide you through to the other side and into eternity.

Joan's last chord is the cold slapping end, the cut, as life and time run out together.

Brilliantly done, perfect timing, flawless performance by everyone involved, a real work of art.

2. It Must Be Love 2:57 - Blind Willie McTell

Only Joan Crane could start an album with the most bitter and depressing of tunes and then go in the exact opposite direction and pull it off with flying colours. After "Hard Time Killing Floor" this next song comes flying right out of the chute at supersonic speed.

This tune bounces and bounces along and nothing's going to stop it. You get the distinct impression that Joan herself is a die-hard romantic at heart, as her hearts in this song and you can hear her smiling throughout. It swings and it works, but it's over way too soon.

Joan is right on the money, she's on top of the music and the message is clear. Her vocals are also exceptionally clear and pronounced. Stewart Hemingway does some great piano work throughout and the whole song. The song is so damn happy and energetic that this cd is now back in full balance and the listener is hooked and enthralled, and this is only the second track.

3. Foothills (Instrumental) 2:44 - Original Arrangement by Joan Crane

Yes, it's the title track but it's more than that. The first song was the deepest of blues, the second was a bouncy barn burner and now this puts it all back into the neutral zone. A beautiful little ditty which reminds me of Duane Allman's "Little Martha" as this too is a consummate Joan Crane signature tune and thankfully it finally found a home here.

4. Back to the Woods 4:10 - by Charlie Spand

Great piano work, smooth vocals by Joan top shelf sultry and sassy. Nothing is rushed, except the message in the lyrics where her man insists at 4:00 am that she pack her things and go. So she's going back to the friendly woods and to the river (both real and symbolic for cleansing and refreshing the soul) and have a little good cry for herself, as she's got nothing to loose as no one here treats her any good anyway, she sings.

The music is elegant and Joan's timing is perfect her attitude is reflective and positive rather than sullen. Realistic for sure, as anyone who knows anything about Joan knows she's a fighter / survivor and you can't keep her down for very long. I also feel that she's headed back to the trusty woods on more than one occasion for some solace and peace of mind.

But it's that jazzy piano that really makes it work, Mose Allison, Count Basie and Duke Ellington would all be proud.

5. You Don't Know 3:45 - Jim Gauder

A quiet little tune about a little bit of everything. A story about trying to stay in balance when so many opposing issues seem to be going against you. In the end none of it really matters, if you live to be one hundred there's bigger fish to catch and fry, the moral is don't get all hung up in the small details, keep looking forward.

Ain't it hard when you stumble and you got no place to fall, or when you mumble when it's your big call? Joan finds that second fiddles rarely get a second chance, but she doesn't care, she wants to blow out all the candles and dance the night away. She ends by having a little secret and she'll let you in on it, but only if you have a secret to tell her too.

The whole song works because it flows and has a life of its own, it's a slick little adventure, that let's you know you're not alone…it happens to us all…the question is how do you bounce back? The quicker you can adjust to adverse situations, is the real value of spunk and good character traits…or was that experience?

6. Come Back Baby 3:32 - Traditional Arrangement

Once again Joan is calling for her baby to return, let's talk it over one more time she says. The music is slow 2:00 am barroom blues, with only a handful of fans left in the place. It reminds me of Jimi Hendrix's "Belly Button Window" the only thing missing is the sound of the drunks dropping their glasses and bottles on the wooden floor.

Joan says, "If I could just holler like a mountain jack, I'd climb the mountain and call my baby back…come back baby let's talk it over one more time". She loves him, more than he'll ever know. Put your elbows on the table and slowly tap your foot to this song, hang your head and cry, just a little.

Joan sings about that old train engineer with deep sadness as if he's the one who stole her man away, but it's Joan vocals that make the song weep and moan, then again she's got enough power in her plea to make the story even more believable, she's convinced me she's in pain and in definite, deep emotional distress.

7. Marked For The Blues 3:23 Instrumental - Traditional Arrangement by Joan Crane

This is a typical Joan Crane song, and she's at her best, but I love everything she does so that disqualifies me from the start. Let's put it in this fashion, control over your instrument and being consistent in the pace of your playing is more important than filling in all the empty spaces with notes. In true art, shade and shadow are what makes the overall effect work and become real art in the first place. Joan is the master straight-man (so to speak) in her own artistic creativity. She could really care less about being in the lime light, her goal is to make sure it comes off without a hitch and that the audience is well aware that they need to be participants and not just spectators, they are an essential part of the whole.

In this aspect of Rag Time and Jazz music from the 20's and 30's, I'm also learning that just maybe Joan, being the highly intelligent performer she is, is also very aware of the silent film stars of the day as well. She has the insight and talent to be diverse enough to cover it all with style and class. That's why for me, this makes her, the "Quiet Genius Queen of the acoustic guitar".

Thank you Joan, for having the intestinal fortitude (guts) and intuition to stay true to herself, keep honest and keep the memory of its originators alive and well throughout.

8. James Alley Blues 5:00 - Richard "Rabbit" Brown

Joan covered this song back in 1976 on her first album, but once again this song seems to be her signature / trademark. Once again it's her voice that makes it sound so real, and once again (in the song) she's being given the old heave-ho from some unappreciative man in her life (of course as Joan is interrupting the song and making it all her own). Sugar for sugar and salt for salt, men are so damned hard to please she sings. She was born in the country and he thinks she's so easy to rule, he thinks he will hitch her to a wagon and drive her like a mule. If you don't want me why not just tell me so, its not like she's some poor gal that's got no place to go she sings. It's Joan and her guitar telling the story, no frills, no bells and whistles just straight forward excellent playing and vocals. Damn if she doesn't make you think this song is an autobiographical account of her life. I think from listening to her live recordings that Joan personifies the tough ballsy broad, who wears her heart on her sleeve, gives the shirt off of her back, comfort when you need it but who always finds herself in unfortunate situations due to the fact that gets involved….. that's Joan, always involved…life is never boring.

9. Tired of Being Mistreated 3:07 - Clifford Gibson

I wouldn't spend a quarter to save your soul. You fooled me once and you fooled me twice, you fooled me to the point I want to take my life, you can tell everybody I'm down on you.

This is a great example of Joan's outstanding ability to choose material that works perfectly for her. In fact, this whole cd is chock full of grade "A" number one stock material. With lyrics like these, they're guaranteed to hit their intended mark.

Joan is in complete control, the background finger snapping is agreeable and adds that personal touch to the song, it takes the place of a congregation at a black Baptist revival meeting, saying ya brother, speak the gospel, testify the truth, and can I get a witness! Amazing that a little finger snapping can say all that, but it's true—you can't miss the point, it's saying wake up.

10. I'm Bettin´On You 3:05 - by Hudson Whitittker

A jazzy little number, great piano work, strong vocals by Joan, it's a nice little shuffle.

"Fan that thing, try to keep it cool" nice Lightnin´Hopkins line that Joan takes full advantage of by adding her husky, sultry style to an already implicit line. Then in another line, Joan states, "Let's throw a party let's have some fun you bring hotdogs cause I've got the funds" Joan can't keep a straight face as you can hear a little chuckle in her voice after she sings that line…use your own imagination. I love the innuendo that, she implies, it makes her cute and even more desirable. In my humble opinion, this song should have been ten minutes long, as I was disappointed to hear it come to an end. Just as it starts getting warmed up it's over, such a shame.

11. Doc's Guitar 2:38 - A. Watson

Every time I hear this tune, it's got Leo Kottke, John Fayhe and Jorma Kaukonen written all over it. Nice to see they all got their influences out of the same deep well. Joan is as good as any of them, trust me on this, she plays with so much passion and style she deserves an award.

Award? Yes, in 1994 she won the Riverbank Festival Folk Music Festival in Boston, as she performed for the "National Guitar Luthiers Symposium" while earning the distinguished honour to be the only woman to do so, and was introduced on stage by no other than Mr. Chris Martin.

Congratulations Joan!

12. I'm Just An Old Chunk Of Coal 4:11 - by Billy Joe Shaver

This song has been pulled from this cd and made available on other compilations, so it's safe to say many people take this to be the strongest song on the cd. I beg to differ, but I can understand why it was chosen. It's up and it's bouncy and it's full of hope, faith, and optimistic promise. The message is really self explanatory, coal under extreme pressure becomes a diamond and we're all rough diamonds just waiting to shine brightly. Or in the words of Ian Anderson "did you ever feel that everyone was on stage and you're the only one sitting in the audience". They're shining and you're the chunk of coal, sitting as patiently as Job, and waiting your turn.

Ah, Joan you've been a diamond for uncounted years now, people just forgot how to listen and appreciate the "real folk blues".

In commercial success standards this is the pinnacle, on a personal level it's a stellar achievement and top shelf performance.

13. Me and My Guitar (Duet with Bob Warren) 5:27 - by Bob Warren

This song is a real James Taylor inspired piece. Joan starts it off in soft smooth vocals, and in a storytelling tone. Bob joins in on the second verse, adding the needed male counterpoint. Then both Joan and Bob join in harmony, to round out the composition. The strings join in to add texture and a melancholy feel of loss, but which also leads, to the reward of a wife, a son and with their trusty guitars still intact.

The cd ends on this positive reflective note. All is well that ends well.
---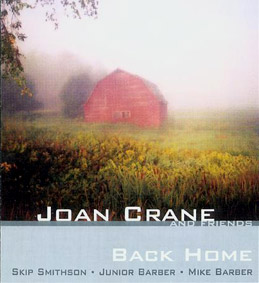 JOAN CRANE and FRIENDS – BACK HOME
CD Review

Recorded Live On March 9, 2002
At the Peru Community Church – Coffee House Concert Series – Peru, New York
This could almost be called "Foothills Live" as much of the material is from that CD release.
The musicians on this recording are as follows:

Joan Crane - Vocals, Guitar
Skip Smithson – Mandolin
Junior Barber – Dobro
Mike Barber – Acoustic Bass
The liner notes state the following:
Joan's vocals and all four instruments were miked with just one microphone – Junior's Audio Technica 4033. It was recorded onto a portable Sony Mini-Disc through the stereo line output jacks of the PA mixer. The sequence of songs is in the order as performed. Other than minimal EQing during mastering, this recording remains pure. This is all thanks to Rod Driscoll for having the insight / foresight to bring along his Mini-Disc player that night, making it possible to capture the entire performance of these four exceptionally talented friends.
Personal Message From Joan:
To me, "Home" is more than just a structure, or even that location in which you presently live. To me, home is the place where you've been, where life's lessons and experiences, values and relationships, have merged, to make you what you are.
Home is where you learned what is really important in life. Home is where you learned to appreciate and respect God's wonderful creation. Home is where you feel secure and content.
Home can be friends, and home can be a grateful state of mind. Home is that place that always draws you back.
For me, home is the Adirondack Mountains of Northern New York State. There I nurtured a talent and friendships that have lasted over three decades, and although I currently reside in the Midwest (Indianapolis, Indiana), I get home often to park my camper by a secluded lake, and I thrill at the cry of the loons, and inhale the delicious smell of the balsam, especially after a warm Summer's Rain.
I get home, and always gasp at the beauty of the mountains and lakes, and although I've seen them hundreds / thousands of times before, and they always leave me in awe. My soul becomes refreshed – my heart pure – and my life back in balance once again.
I get home to the people I love, grew up with, learned from, and laughed with. Some of those friends, I still make music with, and I'm pleased to share with you another joy of going back home, this recording that's from my heart to yours.
To Joan from Dave:
Hello Joan, welcome back, "Back Home" that old barn door has missed your soft touch and the old hay loft your acoustic enthusiasm, passion and energy….and we your fans always miss you more often than you may think.
Please know that in your case, out of sight never means out of mind, it means having to have immense patience as we await your return.
Joan, I added a few words to your liner notes, as you're now back on your home turf, and out of the Midwest as it stated.
I hope you enjoy this review of your CD as much as we enjoy listening to it everyday since it arrived.


AND…. From the Bible comes the following ….. "and I will make with them a covenant of peace…and they shall dwell safely in the wilderness, and sleep in the woods."
Ezekiel 34:25 (from the CD booklet insert)
God, Jesus, Nature and Good Music…not a bad way to start a review if you ask me.
Joan has always walked in God's light, soaked up his blessings, and shared her God given talent with any loyal sheep / ragtime blues lover / folk tradition fan - who cared to lend an open ear / open mind, to the message, or was it the word.
Joan doesn't preach she's a true believer. She speaks from the heart and from experience, and that makes it genuine / authentic. I personally don't want a person giving me advice or dumping their so called wisdom on me, when I've been there and back and they still haven't made the first round trip. Down that path, or was it the road known as hard knocks avenue or "collage of hard knocks" as I recall.
Joan's music is for REAL FOLKS who can feel, have empathy, have compassion for others and live in / with humility, doing unto others, and loving her neighbours and friends more than herself. In all life's trials, it just makes for good common sense, for more practice and less verbiage.
---
BRASS TACKS / ANGELS WINGS
In every number Joan plays, no matter what the message, her voice echoes / rings of hope through understanding, peace through practice and redemption through respect. A grain of truth comes through, a glimmer of light appears in every song. But if I were to tell you that she has the voice of an angel I'd be a damn liar. She doesn't. Although her sympathetic tones of empathy would sure enough give you the distinct impression that she's sweet, as honey and safe as grandma's hot apple pie.
In reality, her voice is a little on the country harsh / rustic / exposed side, a little lemonade tart, very direct and strong, and just perfect for the style of music she's performing. I sure as hell don't want sugar coating in this heartfelt music, and Joan only dishes out stories that contain, road dust, dirty blue jeans, lost love, and living experiences by the score.
She also accepts the dirty side of the ragtime blues, that double edged sword that catches you coming and going. The real life innuendos that fill the lyrics, and the direct realistic aspect of the artists she covers. Real life, real people living with real life blues.
---

MAKING TRACKS: (On a snowy evening) "CAPTURED LIVE" and LIVING IT UP

1. Introduction .37 In most cases the word introduction, is self explanatory, but what needs to be pointed out here is Joan is announced loudly - with Friends added on as an after thought by the announcer. Joan, immediately jumps to the rescue and points out And Friends, And Friends she insists. If you think she doesn't give proper credit where it's due, you got another thing coming ….this woman is a first class, first rate, top shelf performering artists!

2. Bettin´On You 3:05: Is a Tampa Red (Hudson Whittaker) song she says, a bouncy little tune, and Joan and friends get right to work. Not only is the pickin´ impressive but they sound tight – and the recording on this track is excellent. Nice little round of applause at the end of the song. Appreciative audience in the house. Cosy and intimate.

3. Deep River Blues 3:16: (Delmore Brothers) Joans voice is as smooth and flowing as the river she's singing about. The band is so supportive, working off of her guitar work and vocals. Well done!

4. Uncle Zeb (Zebulon) 3:15 (Antoine D, Barber, Jr. / Matt McCabe Music BMI
This song is once again filled with some great guitar picking all around. An instrumental number, giving the band another chance to stretch out / loosen up and roll on to a happy conclusion.

5. Come Back Baby 5:00 – Traditional Arrangement / Shining Shadows Music – Here Joan has the chance to slow things down a little and put things back into perspective. As the first three numbers are all up beat and high energy tunes, she now has the chance to get sultry and melancholy as she pleads for her baby to come back, one more time. This is the type of tune where Joan shines and is at her very best, as she changes vocal tones, expressions and her pleading for her baby - isn't begging for his return, but rather, it's his loss if he doesn't respond. For my money it's right up there with Robert Johnson's "Love In Vain" and reminds me of the spunk of Elvis singing about "Trouble" mountain jack.

6. Gold Rush – (Bill Monroe) 3:02 – Another instrumental number to generate some audience attention and keep the band on its toes and warmed up on this cold winters night. Again perfectly done, and Joan enjoys it as well.

7. Back To The Woods 3:16 – Again from "Foothills" but the tempo is very different and Joan's vocals are secondary to the bands picking. Faster paced and more lively than the original tune. Bouncy and bright – Brilliantly done!

8. Mississippi Blues – Willie Brown 5:28 – Joan, again sultry, slinky and sexy sounding on this number. Slow, bluesy, shuffle, sashays all over the place, strong, direct and just good down home fun. Excellent musicians, great execution, white lightin´ home-brewed blues, out of an old fruit jar.

9. Me And My Chauffeur – Minnie McCoy 4:06 – I have to say, I've waited a long time for this song to show up on CD format. It has always been on of my favourite live Joan done songs. I could listen to a half hour of this song, done by Joan and band. At a little over four minutes and it's a gift. Thanks Joan.

10. Evenin´ - M. Parish / H. White ASCAP 4:00 – Nice picking, smooth vocals, strong, yet direct. Another man done gone song, morning has broken and it's another sad cold reality. Joan changes tempo and vocal direction at will, and in a very slick manner. Sweet, sad, lonely – perfect Joan – with no audience applause at the end really brings out the desired effect – alone in a darkened room.

11. Johnson Jam (for Lonnie Johnson in the key of D) – arrangement by Woody Mann 4:51 – Another instrumental number. Done slowly and with total respect for the man and his music, class and talent combined. Picture yourself after a blues concert you've attended and now you and the bar-keep are the only ones left, and you're half asleep….that's the atmosphere here. Let the music play on, too tired to get up and walk home.

12. I'm Just An Old Chunk Of Coal – 4:29 – By Billy Joe Shaver - Joan plays this number especially for two special people in the audience, Kevin and Charlie. Her voice is again smooth and reassuring. The song bounces right along, with some great picking and bass playing going on. Unfortunately, 3:16 into the song Joan has a little lyric glitch, so unlike her to make a mistake, but being the pure professional she is, she scuffed it off and continued on without hardly a blip on the performance screen. It happens.

13. Me And My Guitar – Bob Warren / KBW Music BMI 6:13 – Additional Lyrics By Joan Crane – I personally feel that in most cases this would have been the final track of the album. So please consider the last two songs that follow as bonus tracks. Joan is in complete control on this number, she sets the pace and tone on this piece. Her vocals come across as completely honest, from the heart, and with a certain amount of remorse and melancholy included. Bob Warren is from Saratoga Springs, New York and I can tell you he also is a great person and class performer.

14. Know You Rider – Traditional Arrangement – 4:45 – This song along with "Me And My Chauffeur" are my two personal favourites on this collection. Joan is in her element here, this song was meant for her. Her rendition of this number is right up there with Hot Tuna's old version, although Joan wins the contest hands down when it comes to vocal clarity, enunciation and delivery. Credit must also be given to her friends – in the band, who are supporting her and pushing the song right along at a comfortable pace, with warmth and respectability. Joan, is an angel on this one, you earned your wings!

15. Summer Rain – Antoine D. Barber, Jr. / Matt McCabe Music / BMI – 4:07
Well folks, we've come full circle! "BACK HOME" remember? Where it all started, and where this live recording comes to a mellow conclusion.
End – without applause – silent…silence…silence……….in heavenly peace we pray.
In A Church Whisper I Speak:
thank you Joan, Skip, Junior, Mike……quite an unforgettable experience, excellent performance, professional throughout. Superb recording quality.
Dave Willey
Review by Ellen Geisel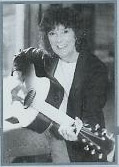 "One microphone, four in-tune-with-each other musicians, finger style genius Joan Crane and her friends Skip Smithson on mandolin; Junior Barber on dobro; and Mike Barber on acoustic bass, along with an appreciative audience make for an intimate live recording at the Peru, New York Community Church Coffeehouse.
Joan's specialty is acoustic blues. She moves easily between the sly vocal style of Minnie McCoy's version of "Me and My Chauffeur" and fleet-fingered finesse on Billy Joe Shaver's song "I'm Just an Old Chunk of Coal".
Some other highlights include:
Bob Warren's ultra-lovely song called "Me and My Guitar"
The traditional "Know You Rider" and the sweet set closer "Summer Rain".
So just kick back and give this a listen and enjoy the music as it's filled with genuine heart and soul.
Revisited:
From "The Nation" - America's Longest Running Weekly Magazine
October 22, 1977 Article Title: INDIGENOUS MUSIC by Nat Hentoff
ABSTRACT: Presents a brief information about Vermont - based music record company Philo. Reasons behind opening of the company at a barn; Quality of audio cassettes released by the company; Types of music provided by the company to listeners; Music artists associated with the company; Average sale of Philo's cassettes in the USA.
SELECTIONS: from full text:
…It is precisely a singer like Joan Crane who might never have gotten on records had it not been for Philo / Fretless; Her style is in no way modish, though I think this album will bring pleasure for decades…
…McClatchy can be more dramatic and sardo'nic than Joan Crane, and she has fashioned a number of her - own songs to highlight those qualties…
…In Dirt Pushers Blues, Joan Crane, a longhaired, open faced young woman, reveals knowledgeable affection for such songsters as Blind Willie McTell, Mississippi John Hurt, and a pride of anonymous bards…
…A for - home - grown talent, while Philo does well with such singers as Mary McCaslin, Jim Ringer and Utah Phillips, I am more interested in virtual unknowns like Joan Crane (1976) and Debby McClatchy who record for the label's subsidiary line, Fretless…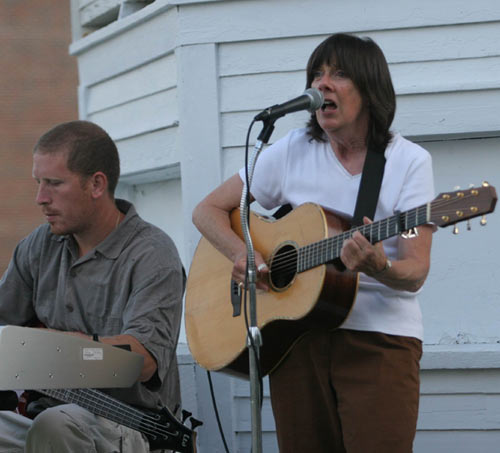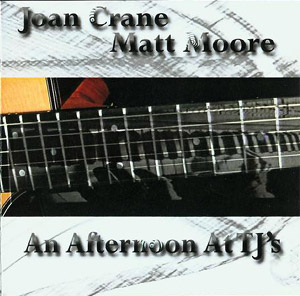 JOAN CRANE and MATT MOORE
"AN AFTERNOON AT TJ's"
(Keeping His Spirit Alive and Well)
Liner Notes:
My friend Ralph arranged for an afternoon of studio time at TJ White's studio, featuring top shelf equipment for Matt and I to do a live four song demo. We wanted something honest that would accurately represent our live performance, so we recorded each song live, with no overdubs.
After our set up, and after the four songs we initially intended to do were complete, we found that we still had another three hours of studio time left, so we decided to keep going and knocked off one song right after another, until the five hours were up. In all we found that we'd recorded eleven songs – Hmmmmm, I thought, we had enough to make a full CD out of this – finally, a true representation of our live set, recorded live.
So here is the end result of that precious afternoon of great fun, we both hope you enjoy it !!!
Joan Crane – Vocals / Guitar
Matt Moore – Vocals / All Keyboards / Bass
Ralph Lane – Guitar (Green Pastures)
Special Thanks:
To say I owe so much gratitude to Ralph Lane is a gross understatement. As this CD showcases Matt and my playing and singing, this CD is a testimony to the many talents of Ralph ; as a musician, technician, graphic artists, and designer….and here's why:
Recorded, Engineered, Mastered, Cover Design, Art Work and Guitar on the song "Green Pastures" all by Ralph Lane.
Joan Crane
Track by Track Review: By Dave
Cincinnati Flow Rag – Rev. Gary Davis 2:45
The cd starts out with a standard Joan Crane guitar picking ditty, which was a good choice in order to set the mood and pace of this collection of tunes. It's a moderate to fasted paced instrumental by the Rev. Gary Davis, a high bouncing positive start. The piano work by Matt only enhances the overall feel of the song and in the end, he and Joan are instrumentally working off of each other perfectly.

Morning Blues – Traditional Arrangement – By Joan Crane 3:52
This song sounds as though it should be performed solo by Joan, but as a duet it also works perfectly. Its to their credit that Joan and Matt complement each others talent, without one over shadowing the other. It's all kept in perfect balance, making it that much more enjoyable.

Green Pastures – H.W. Van hoose – 4:15
This song must be a hymn for it can be nothing besides. Although it starts with blues chords, reminiscent of the Rolling Stones version of Robert Johnsons "Love In Vain" it quickly flows into the scared tone of a Sunday church service. The lyrics are sung in a choppy rough fashion – thus creating a honest and humble plea for salvation, on that heavenly shore that we all hope is there at the end of our life's journey.

I'm Just an Old Chunk of Coal – Billy Joe Shaver – 4:00
Although this song has become a Joan Crane standard in the last years, this is the friendliest version that I've heard her do. She and Matt are having a good time doing it together. Again balance, talent and a strong sense of humour are being applied here. Part tongue in cheek – part trying to patch up human flaws we all have, but mostly the promise of reward after stress and suffering. Coal under intense pressure produces diamonds – A grain of sand in an oysters craw produces pearls - and although we may wear rags, we'll be in sable someday….if you only believe it.

Tired of Being Mistreated – Clifford Gibson – 3:20
Once again, Joan and Matt are having a grand old time on this song. Joan's guitar picking is impeccable as always, but her vocals are even stronger than ever "YEAH" "Tell em' Joan" yells Matt – and you can now tell by Joan's strong conviction that she's not taking any one's shit any longer, she's her own woman, she's strong and confident once again.

Farmer's Market Lilt – Joan Crane – 4:45
An instrumental that reminds me of George Winston simple yet elegant, with the eyes of a child we must come out to see the world in that way, only then will we be able to enter the gates of the kingdom of God. Well that's what I hear in it anyways. The whimsical piano playing by Matt reminds me of the Little Prince and the Turkey In The Straw ending tells me that I'm on the right track here.

Oh Glory How Happy I Am – Rev. Gary Davis – 3:55
Joan and Matt won't make the "Top of the Pops", Top 40 Radio or the Hit Parade with this number but who gives a damn? It's from the heart and soul and not about commercialism – although the last I heard the "Holy Bible" is the number one selling book every year, bar none.

You Gonna Quite Me Baby – Blind Blake – 3:10
I love everything about this song. Matt and Joan's interplay, their playing, singing everything. You get the feeling that they're playing good cop / bad cop both playing their role's to the hilt – excellent. Joan's part comes across with closed fist (in the air) and Matt is doing his part with gleeful childish aplomb, the kind that aggravates women to no end. Don't let the door hit you in the "HEY" says Joan just before Matt says "ASS" – just a cute song – and they're having great fun at it.

Have You Been Mine – Matt Moore – 3:35
I love this song as well, because it starts off sounding like Arlo Guthrie's "Coming Into Los Angeles" then the keyboard work turns into "Riders On The Storm" type of smooth intellectual rhythm.
But it's Joan's sultry, bluesy voice that oscillates between a (sweet) Karen Carpenter, (gutsy) Janis Joplin, (raw sounding) Suzi Quatro, (direct) Chrissie Hynde with a mellow Melanie undertone –it's all in there trust me on this. I never heard Joan sound any better! Matt with Joan is a perfect match.

I Am the Light of This World – Rev. Gary Davis – 4:45 A ragtime bouncy number. Joan and Matt almost make this song a swing song. Joan's playing is strong and her vocals sweet. Matt's vocals support hers and his playing brings a childlike feel to this hymn style song, as you can hear Vince Guaraldi and the "Peanuts" cartoon music all through it. Weather intentional or by accident this becomes the perfect rendition of this song. A serious topic put into a Jesus perspective of loving the little children – do you see the light? He is the God of nothing – if that's all you can see. He is the God of everything, he's inside of you and me.
Empty Island – Matt Moore – 3:45
I'd like to change this title to "Empty Easter Island". I envision this at the end of long day of exploring the island, just two people sitting on Easter Island at the foot of a stone monolith. Looking up at his chiselled face, then looking out at the vast empty ocean, but what is the giant stone figures looking at? Waiting for what? Or is it in honour of something that's found us and then left us behind in some cosmic wake.
This song has some questions of its own, not as profound as my Easter Island premise, but just as important in human and emotional terms. Which is where this CD leaves us off – thinking, wondering and feeling great. Contemplating things of wonder and amusement.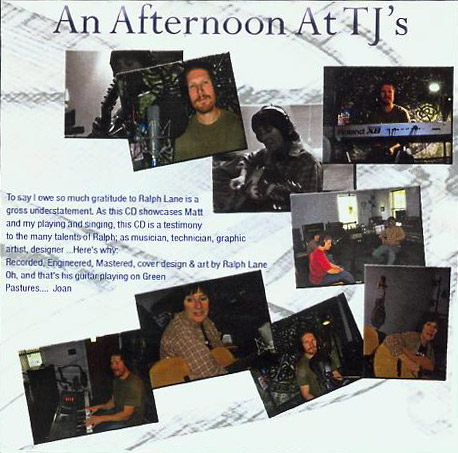 In Conclusion
For years now I have followed Joan's artistic progression, her life's changes and how she's managed to cope with it all. This cd is her most advanced achievement to date and I'm anticipating great thing from her and Matt in 2008. Yes Joan, what a long strange trip its been, now you're back and on your feet once more and moving forward. Been down so long – it looks like it's up to you now!
To Matt, you're a wonderful addition to Joan's playing. You bring a positive new aspect to the music and we welcome you. Please take care of Joan and keep her talent burning brightly for those of us out here listening and caring about her and the people who support her efforts.
Special Thanks:
I'd like to thank Ralph Lane for all of your support for Joan. As she mentioned at the start of this review, you're the top cook and bottle washer in this venture so for that we truly thank you!
JOAN CRANE
Joan Crane Has Performed For All The Major Guitar Manufactures At The National Guitar Luthier's Symposium and Placed In The Statewide Indiana Blues Competition, Being The Only Solo,Only Acoustic, and Only Female. Her Guitar Ranges From The Emotional Delta Style To The Syncopated Piedmont Style. Joan Was A Fixture Throughout The North Country, She Entertained Thousands of Music Fans At Countless Venues.
She Is "Delta Blues Royalty" – Joan Has Been The Shining Example of Delta Blues Finger Picking In The Adirondack North Country Since The Middle To Late 1970's.
Hard Time Killing Floor – (Nehmhiah "Skip" James (1931) Original Version
Skip James – July 23 – 26 1964 – Newport RI – Newport Folk Festival – Great Bluesmen Newport – Released In 1976.
Former Nippertonian Joan Crane – April 27, 2017 – Nippertown – Music / Arts / Culture Since 2009. Caffe Lena, Saratoga Springs – A Night of Sublime Acoustic Blues.
Joan Crane – "The Matriarch of the Blues"
James Alley Blues – Richard "Rabbit" Brown – March 11, 1927 – 1880 - 1937
Never Let The Same Bee Sting You Twice – Richard "Rabbit" Brown – 1927
I'm Not Jealous - 1927
Memphis Minnie and Bumblebee Slim
Memphis Minnie – Levees Going To Break
Memphis Minnie – Bumble Bee (New) 1930 – 2:46 – Covered By Canned Heat 1970
Memphis Minnie – June 3, 1897 – August 6, 1973 – Lizzie Douglas - Cover
Doctor Doctor Blues – Memphis Minnie (AKA – Minnie McCoy) – 1997 Released
Memphis Minnie – Lake Michigan – April 23, 1949 – October 5, 1953 – 2:58 – 1987
Joan Crane and Frank Orsini – Recording Live From Caffe Lena / April 14, 1991 Part 1 of 2
History Accessed March 28, 2020
October 1, 2010
Joan Crane and Steve Feinbloom II – 11:55 – Video –
Joan Crane and Steve Feinbloom – Thursday July 28, 2011 – 11:30 am
Essex On Lake Champlain – New York Community. Admission Is Free / But Donations Are Appreciated.
Bob Warren Is A Highly Regarded Artists In Saratoga, New York's Music Scene, A Regular Performer At Lena's Café. Bob's Songs Have Been Recorded By Such Artists As Blues Guitarist and Singer Joan Crane, Pop Singer Mallory O'Donnell, and Reggae Artist Minna Lee. Bob Is Well Known For His Introspection, Variety, Wit and Killer Hooks!
He Played At Taste Bistro – 77 Mirror Lake Drive Lake Placid, New York – USA.
40th Annual Downtown Essex Day – Saturday August 3, 2019 – 10:00 am Joan Crane, and Steven Feinbloom. Free Admission – Held Rain Or Shine. This Town Wide Event Will Feature Exhibitors and Shop Displays, Antiques, Artwork, Crafts, Gifts, Face Painting, Food, Lakeside Dining and More! 11:30 – Lee Adams and Yannig Tanguay – 3:00 pm Back In Time.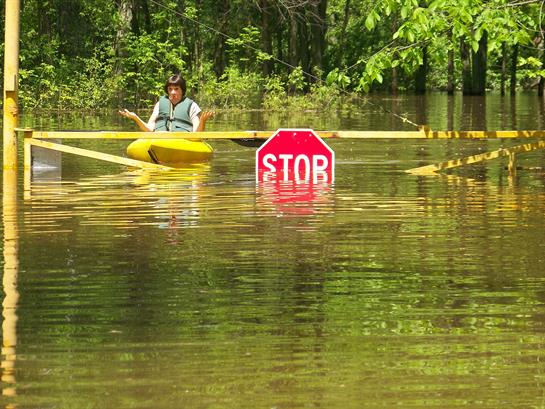 Rest Up / Catch Your Breath / Then Move On To Page Two
back to Adirondack Musicians