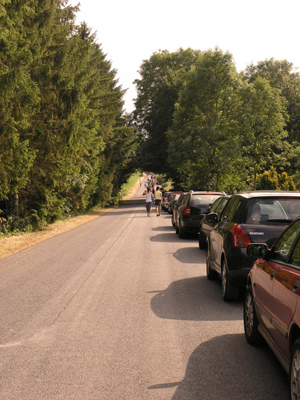 The Journey:
An hour and a half drive, with Reinhard, Brigitte and myself. A late start, with a quick stop at Möwe's house. Arrived, at the outdoor venue two hours later than we would have liked, then only to learn that we had to park over a kilometre away from the concert stages. The roads were all closed off, access denied, everyone had to walk in and back out again. I felt so bad for a handicapped man with a cane and his lady. Another woman in a wheelchair, and another poor soul with two bad legs and twisted (deformed) feet, dragging himself along at a snails pace.
We arrive at the ticket shack, we pick up our two press passes, that allow us access and permission to take photos, between the rail barrier and the area right in front of the stage.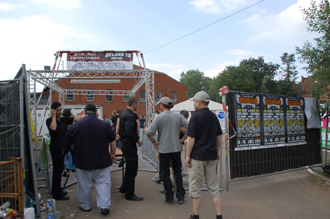 We then move our way up to the dreaded, cattle rails, where you are searched, and inspected. I passed the hand search part, now the security personnel wants to dissect my bag, I set it on the counter and wait for his ok to pass.
Now we are heading towards the stage, while checking the area around it.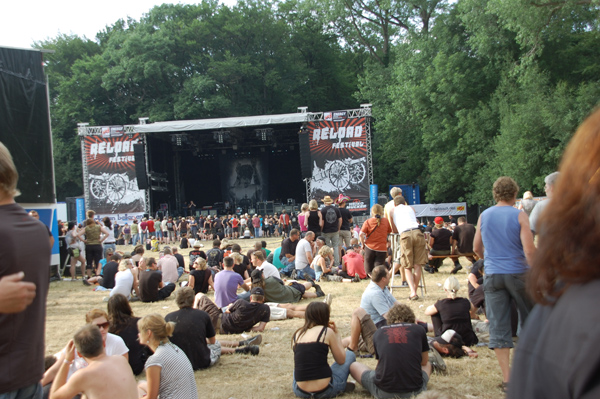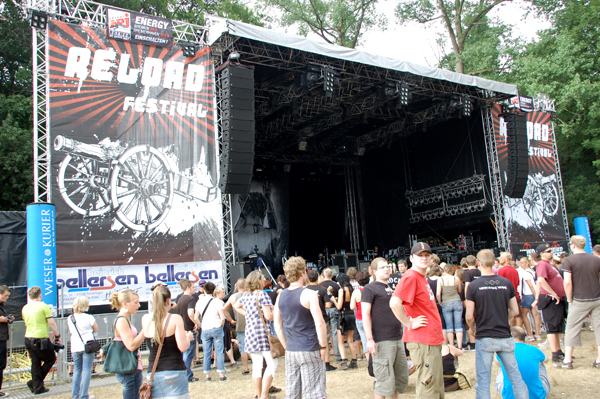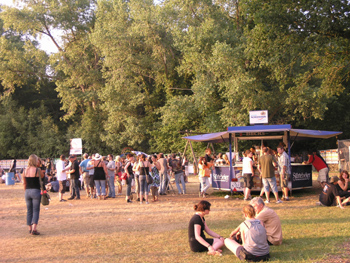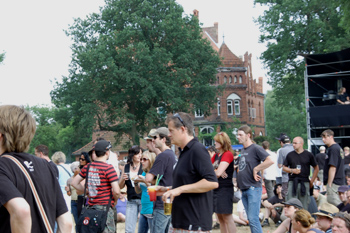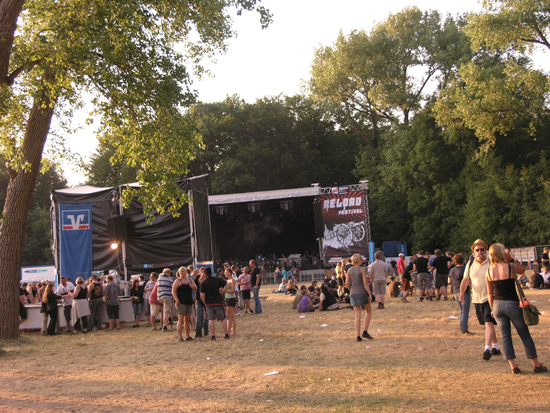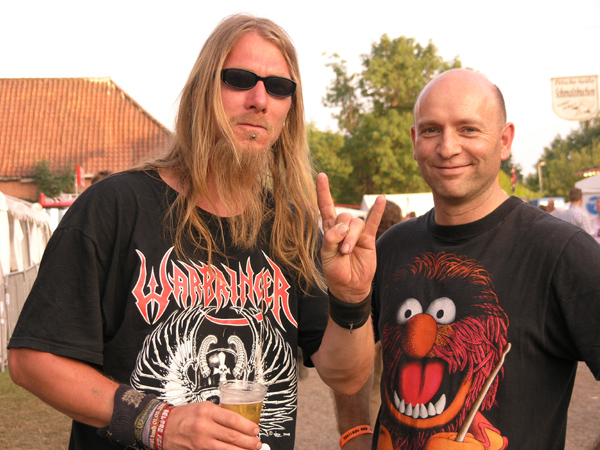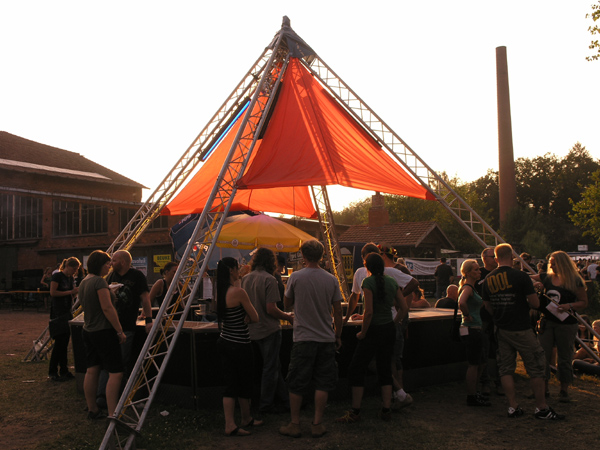 Hot and Humid
Perfect summer weather, blue skies and a festival crowd. Tickets costing close to $40.00 euros each, and on a Sunday afternoon into the evening. I personally expected there to be a much bigger attendance, most of the time you couldn't tell if the audience was filling up or emptying out. A restless crowd, and such an incredible mixture of people, that it made the vibe virtually impossible to figure out. Some with smiling faces, some offering dour looks, and most running hither-thither all over the place. No sense of direction, some hand in hand, others pretending that they are in some kind of fashion show, created just for them. These are the ones who keep fussing with their apparel all the time, and kept looking around to see if anyone is paying attention to them.
Tattoos by the thousands, from the subtle cute ones, to the ridicules grotesque extreme body art.
The hotter it gets, the less clothing people wear, and what was once concealed, is now visible.
As a festival gathering, it starts off that way, but quickly turns into a freak show / circus atmosphere. Rewards should have been handed out to those who remained seated on the lawn, on blankets and enjoyed the music until the end.
Stages:
There was a main stage and another stage down a little path through the woods.
Ten Years After and Billy Idol performed on the main stage. The local bands, unknown bands and the loud obnoxious ones played on the second stage. This divided the audience in half, and made everything unsettled.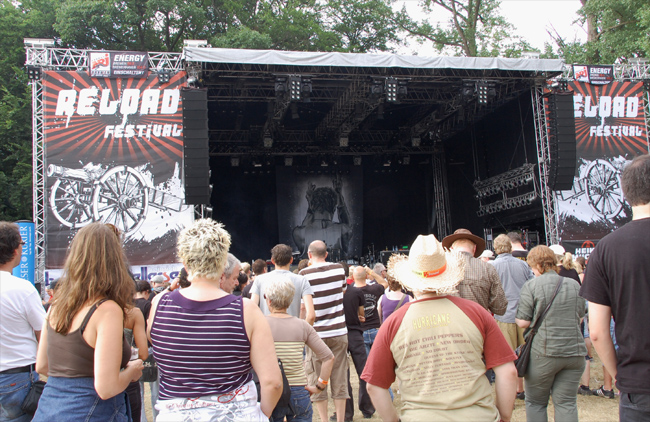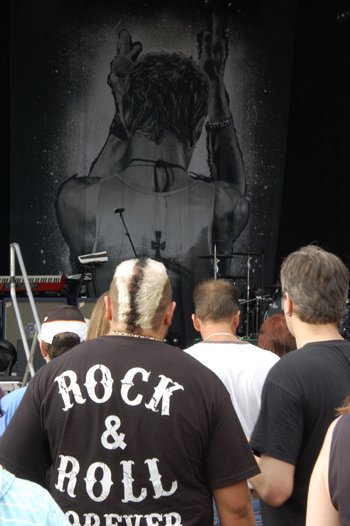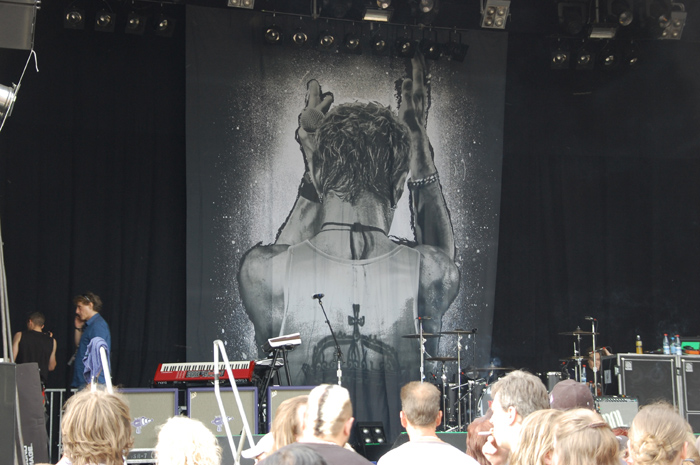 Billy Idol:
Ten Years After were good, but Billy Idol and Steve Stevens stole the show. If Ten Years After went on stage first, it might have served the band and the audience better. Not knowing the politics of the situation, my opinions are mere theory and personal choice here. As well as being rooted in retrospect with twenty twenty vision.
As it was, Ten Years After is following Billy tonight, and our friends (TYA) are between a rock and a hard place. It's a no win situation.
Billy's ace in the whole is guitarist Steve Stevens. Between Billy's energy, passion and rebellious nature, and Steve's pyrotechnics, self confidence and kick ass attitude, this combination is impossible to best. I have also never seen them have a bad day on stage!
6:30 Billy enters right on time, the music starts slow, and then shifts right into cruise mode. Steve is ready as the remaining band members take their respective places. Their set list is predictable, but their power and stage presence is anything but, these guys are out for blood and it's in their eyes and body language.
Song after song it rocks and rolls along, and the audience loves it. In fact, the audience is now growing, people are moving from the rear of the lawn area and pushing right towards the front of the stage. The crowd just doubled in size in just a few minutes, and stayed put, until the end of their set.
Steve Stevens:
Is a star in his own rite, he and Billy share the spotlight mutually and without any petty power struggle. What one doesn't do, the other one does, and together they make the whole experience come alive. Most of all, together they make it memorable!
His guitar work swings between all human emotions, invokes a multitude of passions and creates a deep desire to hear more….as more is never enough of his excellent playing.
On acoustic or electric, he is perfection personified.
Steve and Billy are showmen, artists and living what they love to do. Their work is play, but serious play none the less. You never get the impression that Billy is waiting for Steve to finish a guitar solo, or that Billy knows when and how Steve will get back into the song they're doing. It all comes across as fluid, unrehearsed and fresh.
The Band:
Billy Morrison – guitar
Derek Sherinian – keyboards
Stephen McGrath – bass
Jeremy Colson – drums

The band supported Billy and Steve with high professionalism always. They kept the guys moving every minute. There was a short bass and drum solo included.
Set Concluded:
Billy reached all expectations and the audience knew they got their money's worth today. Yet, still called them back for an encore or two just the same. To which the band obliged, and from the heart. Billy thanked everyone for coming, for their kind support and for bringing the children out to see him live in concert. He loves to play in Germany and will come back again in a few months. You could tell that Billy – Steve and the band all left with reluctance, they wanted to keep on playing for another hour.
Songs Included:
White Wedding – L.A. Woman – Blue Highway – Rebel Yell – Dancing With Myself – Eyes Without A Face – Sweet Sixteen – Hot In The City - Flesh For Fantasy - a few songs from his previous band called "Generation X" (Punk) but more rock then punk these days. Attitude without the Violence.
The Headliners of this event were: Billy Idol – Boss Hoss and Selig. Point being, as Ten Years After were not being presented as the world famous, globe trotting "Psychedelic Blues Rock" historic Woodstock icons that they most certainly are, many people missed there chance to stick around and catch their live performance first hand, up close and personal.
Thus: Ten Years After…..
Unfortunately for our hero's, the "Gods Of Music" weren't exactly smiling down on them this day. This by no fault of their own to be sure.
There was the usual delay in getting Bill Idol's equipment loaded and off stage.
When Billy's set was finished, two thirds of the audience headed for the gate and went home. While the others headed for food, drink and drifted off to the second stage to see what's happening over there. Then those folks headed for the gate too.
It's a Sunday evening, people have to work on Monday morning – kids had to be cleaned up and put to bed. In short, for Ten Years After, right place, wrong time. No one parties on a Sunday evening! But god bless the ones who stayed till the end.
By the time Ten Years After got on stage, there was only their die hard fans left to enjoy the show. The time was between 8:30 and 9:00 and darkness was coming on. Also, remember that everyone had to walk a mile to get back to the parking lot and find their cars. No one wants to stumble around in the dark with kids in tow.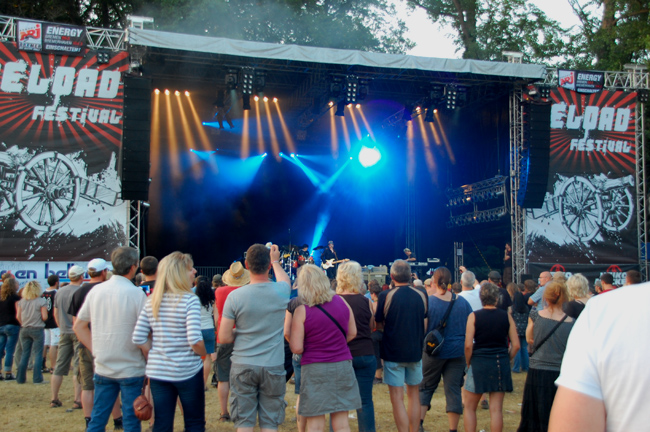 The fans that stayed all had a great time, and my suspicion is, that many of them had seen the band perform live in the last years. Just very unfortunate timing for the band.
The Band's Set Included:
King Of The Blues – Love Like A Man – I Can't Keep From Crying Sometimes – I'd Love To Change The World – Choo – Choo Mama – 50,000 Miles Beneath My Brain – Hear Me Calling – Angry Voices……
The Sound:
There was one beautiful sound system here, and the main stage that was much smaller in the past, has now grown into a respectable showcase for talent to perform. The lighting was also excellent, and when the sun went down, it was a whole new experience.
While Brigitte was taking photos and Reinhard was watching from stage left, I decided to keep Wolfie company at the soundboard. I have seen him work many times but today he was busy as a one armed paper hanger – the man never stopped moving. He was adjusting, re-adjusting his control board and hitting the special effects right on time. The sound was perfect, a notch up in quality from the previous performance of Billy Idol I was informed by a bystander. It couldn't have been any better.
The Band:
Put on a good show. They all flew in for this performance and then flew out the next morning.
They are all very busy during their down time, with many different projects going on in different directions. Books to be written, songs to be composed and families to support.
Backstage:
This area was located by the main gate. It was a beautiful space / first class, and friendly people taking care of the artists needs.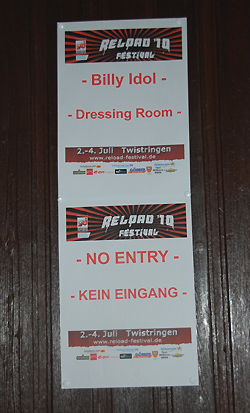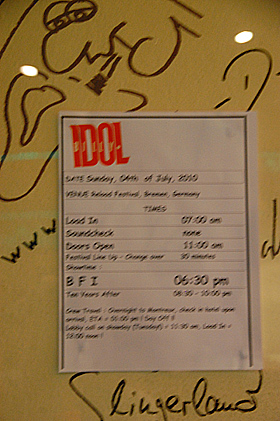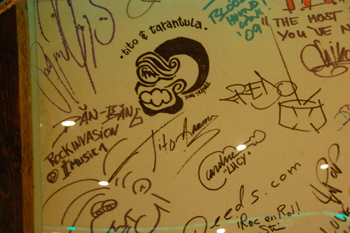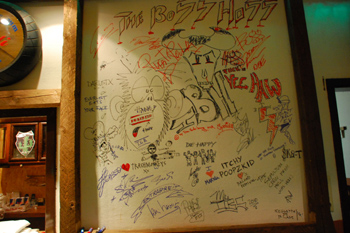 We caught up with Ten Years After - after the show, but missed Billy Idol by two hours. His road crew was still there, and the huge tour bus was being loaded. We thought Billy and Steve might still be there, but TYA told us that he was long gone.
So we visited with Ric, Leo, Chick and Joe for an hour. But it was plain to see that they were all suffering from exhaustion and fatigue. They put on a friendly face, chatted when spoken to, but underneath the pleasantries, they all wanted to get back to their hotel and be left alone. Who can blame them? They wanted to get out of there. But last minute details had to be taken care of, then they were free to leave.
We felt their frustration, and respected their space.
In Conclusion:
The weather was beautiful, the venue was clean, the vendors very friendly, the food and drinks very expensive. One eight once coke $2.00 Euro. The band (TYA) was good.
Billy Idol with Steve Stevens was superb. The audience was mixed, and restless. It was a Circus / Freak Show……now it's history – on to the next Ten Years After Concert.
In Hannover, July 23rd.