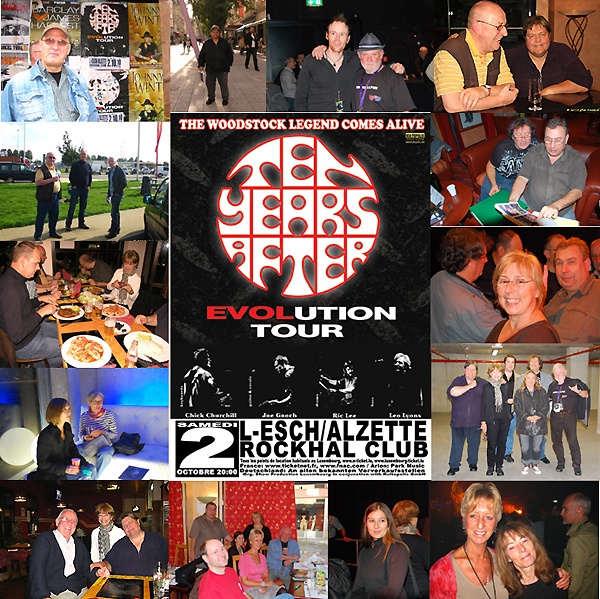 Esch/Alzette, LUXEMBURG 1 - 2 - 3 OCTOBER 2010
Ten Years After – "Family" Gathering – Fans and Friends
Introduction
Let's Work Together -
Come on / Come On:
It is a simple recipe. You start with a common bond, in this case music. The band of choice is "Ten Years After"- add some old die hard fans, along with new Ten Years After fans, and stir together gently. Book everyone into the same hotel, where the band is also staying, and schedule a concert for Saturday night. Give the photographers full photo access and back stage passes and the results are no less than spectacular. Place the rest of our music family in front of the stage for good measure and cook for an hour and a half under hot stage lights.
Third Sojourn:
The first journey was on September 6th through the 10th of 2007 – Luxembourg
The second journey took place on – November 28, 2009 – Belgium
The third journey took place on October 1st through the 3rd – 2010 - Luxembourg
Trying To Get Away:
Sounds easy in most cases, but with us it is a very complicated affair. Brigitte needs to plan our get away weeks in advance. I started contacting our family of friends a few months before the actual event.
Giving everyone enough time to make their arrangements and travel plans. Setting up these event does not happen spontaneously, but our friend Lionel is always the first one ready to go.
After every one of these events he just can not wait until the next one. So all credit goes to him for motivation, interest and keeping everyone's spirits high.
Turning Of The Key:
The hardest part for us, is getting ourselves out the door, into the car and hit the highway.
We always feel we left something unfinished, have forgotten something, or left something on that should've been turned off. We both have to be one hundred percent sure that everything has been taken care of – our conscience has to be clear before we can turn the key and leave home.
Now we're ready to go.
Not A Good Start:
I cut my thumb on my car, we are very late getting started, and the people put in charge of taking care of Brigitte's mother, are yes-ing Brigitte to death, while they are doing everything wrong, right in front of her. We finally get started, after Brigitte sets our destination on our GPS…to make a long story short, the GPS is pointing us in the wrong direction three different times – and we are not even two miles away from home yet.
Tensions are high, stress level is building, and we start snipping at each other for a minute, and then burst out laughing….ah what the hell, we are on our way – not to worry…you have to laugh to keep from crying sometimes.
Key To The Highway / On The Road Again:
The only other slight problem we had was partly my fault, I wanted to change lanes and move over to the left, while the man in the left hand lane wanted to move to the right and I didn't see his turn signal – you just can not have two solid objects in the same place, so I yielded to my miscalculation and all was well once again.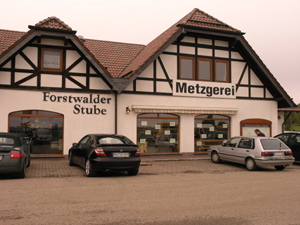 It's a full five hour drive to reach Luxembourg, two hours into the trip we decided to take our first rest stop at a nice restaurant.
Back on the road again we only had a few minor inconveniences, such as a ton of construction and one detour, that only set us back a little time. The other point of note was the weather, it sure ran the gambit, rain, clouds, fog, sun fog, rain, sun, sun rain fog, every mile was a different weather condition every mile or so.
The Mercure Hotel's Version Of Rubric's Cube: For Dummy's
We arrive at the entrance to the underground parking garage, we are tired, fatigued and a little numb, and now another decision has to be made. Do we turn left or right into the garage, we decide left – wrong – we needed to turn right….damn-it-all ! Now we're stuck in the parking garage on the wrong side, along with twenty other people, ten cars and one mini van that also miscalculated….it took us another half hour to fight our way out of this predicament. Where do we get a ticket, how much do we have to pay and now we need to find the one and only person who has the magic stamp -and get it stamped too
The trip ending just like it began – so what is next? We ask ourselves!
We go to check in and who is there to greet us but Lionel. We thought we would be the first ones to arrive and then welcome everyone else, nope, wrong again Dave – not only did Lionel beat us to the punch, but Claudia as well – they arrived around noon time, we got there between 2:00 and 2:30 – depending on who's telling the parking story.
Lionel is having a little mid-day meal and Claudia is catching up on her sleep from her jet-lag.
We sit, we chat and we wait to see who shows up next.
I have to tell you, seeing Lionel in person again and being face to face with him, really warms your heart to its core. We have been friends for many years now, having found each other on Alvin-Lee's message board, we have a very special friendship and trust.
For those new friends of ours that we met this weekend: Lionel was responsible for hiring Ten Years After to play at his "Wooden Bridge" Hotel in Gilford, England. This was back in the early days of Ten Years After's career 1967 – 1968. This was a venue where The Rolling Stones – Peter Green's Fleetwood Mac Blues Band – Savoy Brown – and many - many others came to play and got to build their reputations. This was the fertile ground of the British Blues Boom. Alexis Korner – Graham Bond Organisation – Cream – seems that everyone who was anyone played at the Wooden Bridge! As for Lionel, he's very modest and humble talking about those days…to him (on the outside) it was business – but on the inside, he was like a child in a candy store, or a teenager doing the shimmy-shimmy shake (song and dance of the time), imagine hiring your music hero's to come and play for you, your friends and their fans!
I asked Lionel this weekend, "were you a music – blues lover yourself" ? He told me that his brother introduced him to music, and explained the roots and connections to him. Lionel said he listened and learned from him, and when rock and roll hit the scene, Lionel really caught the "Rock n´ Roll Bug" – Bill Haley for one he said, really caught his attention.
Lionel eats and goes for a nap – Claudia is still sleeping, so Brigitte and I go for a walk around town, looking for post cards and a special wine for her boss back home. In between we find a little bakery / cake shop and stop for a delicious afternoon snack. Then we finally find the perfect little wine shop that has everything we need for family and friends, then return to the hotel.
Four New Friends From Holland Rock:
Back at the hotel, we just sat down and in walks our friend Peter Mand, from Holland, with three of his friends, Jaap – Henk – Theo. We have had contact with Peter for many years now, but this is the first time we meet each other in person. The initial contact is excellent, and Peter and I have a lot to say to one another, we just can not talk fast enough. His friends need a drink and head for the bar, which is in the same room / lobby that we are in. Peter and I sit side by side and begin our swapping of stories, tales and adventures in the world of music and high drama. I figure this is the best way to break the ice for all of us. Peter and I start and anyone or everyone can join in at any point. About 6:00 Claudia joins us and we fix her up with a drink, and time to start thinking about dinner in awhile.
We make more introductions, for Claudia, who is just a natural at fitting in where ever she goes. She is our "Ten Years After – Miss Congeniality High Princess". What class she has!
As Herb's sister, she is the " Matriarch Angel" of our Ten Years After family.
Sullen Discovery:
Back in 2007, when we first met Herb in person, we had dinner with the band and the next day lunch with Brigitte, myself, Herb, Lionel and Anita. A great little Italian restaurant with good service and great food. Now in 2010, I leave our group of eight for a few minutes to go and make reservations for dinner. The doors are locked but the tables are set up for business:
table clothes, napkins, forks, knives, glasses - and plants that turned brown (dead).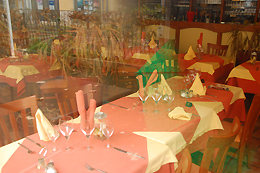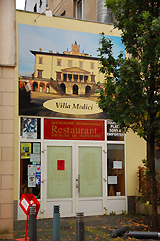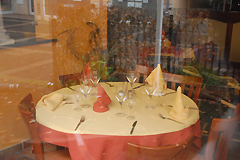 I ask a stranger on the street, what time do they open? They are closed, they went on a six month vacation – and never came back. That was over a year ago now…. Well that just blew my plans right out of the water, now for a little creative thinking…Burger King no – McDonalds no……Chinese Food ? I return to the hotel and ask if Chinese food was acceptable to the group, they answered with a resounding yes!
Out the door we headed….but, it's been over three years since we were last here. We walked straight up the hill, and right into the restaurant. As I looked around I began to realize that nothing looked the same as I remembered it. Now it occurred to me that this was not a Chinese restaurant at all. I approached the waitress and said, didn't this used to be a different kind of restaurant? No, she replied, we have been here for 30 years. I returned to the group, apologized for the mistake, then returned to the waitress again. Excuse me miss, just what kind of food do you serve here? Her reply, "Portuguese". Well group, this is a "Portuguese Restaurant", so what do you think, shall we stay, or should we go? In a unanimous vote, we stayed.
I would like to note, that it was at this exact moment, that the original members of our
Ten Years After Family, now accepted and merged with our four new friends from Holland.
We think a like, we all cooperate together, we respect each others opinions, we all like most of the same music, and roll with the changes in plans. This was our first test in community cooperation, tomorrow there will be other challenges, a little more difficult to overcome, but no real problems, just a little chaos and confusion now and again.
Ending up at this particular restaurant was initially a mistake, but really, it was a blessing in disguise. The atmosphere was friendly, most of the people there were either related or friends of the related. Babies were crying, the baby's mother was our waitress and her mother, the babies grandma also worked there. It was a family affair, that definitely fuelled our own extended family.
Drinks and menus first, that was the easy part, now to order our meals. The waitress was very patient with all of us, as intimidating as we all were as a group of eight. She went over the selections with us and explained as best she could what each one was. We all helped her to identify choices into different languages, thus helping each other make the right decisions.
With this part over, we all ordered with no problem, saving the waitress time and energy.
The meals came complete with a huge fresh salad, on a serving tray that would feed all eight of us. Also included was two large trays of French fries, one for each end of the table.
So, we drank, talked and compared notes as we waited for our dinners to be served.
It was to my complete amazement, that everything was ready and served within twenty minutes. This happy group were also a very hungry bunch. Everyone had their fill, no one was disappointed, in fact they praised everything about the place. With dinner finished, drinks were once again served as unfinished conversations were finished and others started.
The locals who were in the large room with us, started asking us various questions all revolving around a strong curiosity about these strangers who entered their world. When they asked questions, you knew we had been accepted, and strangers suddenly became acquaintances.
The baby was still screaming, tired more than hungry. The grandmother was holding the child and I said to gram, please bring the baby to Uncle Buck (meaning me).
She walked over and as I spoke the baby stopped crying, I said come to Uncle Buck little one!
Not a peep did that child make, as gram and the baby turned and walked away, the baby kept looking over grand-ma's shoulder and kept both eyes on me – and remained silent.
Calling It A Day: Friday Night
Back at the hotel, we settled into the lobby area. After 10:30 the bar is closed, so conversation was in order. We discussed the up coming concert, the dinner we just devoured, and Portuguese not Chinese, as we all laughed with good humour and fun. After about fifteen minutes most to our little gathering retired to their rooms for the night…this left three of us, to finish up the evening, Claudia, Brigitte and myself. It was more time for me to reflect, as I now had the chance to speak one on one with Claudia, as Brigitte listened on.
It went like this:
A Present In Herb's Name:
I didn't mention this in our dinner out section, because this needs a very solemn tone for you to understand exactly what happened after dinner. People were talking all through dinner, there may have been a slight lull in volume once in awhile, but there was a constant level of voices and conversations going on all the time, that started from the time we entered.
When the receipt / bill was presented to us, the voices started to rise to a crescendo about paying, when all of the sudden Claudia's voice was heard above all others, which surprised the hell out of me at first, and stunned us when the volume dropped to a whisper. Then she announced to the entire Ten Years After Family of Friends, many of whom she and I had never met in person before, that: "I would like to pay the bill and treat you all to dinner, in memory of my brother Herb. He would have loved to have been here with all of us tonight". Shock at first, then a little protest of voices could be heard rumbling for less than thirty seconds, and then a reverent silence fell around the table. This, is when we all realized what was happening, followed by each individual thanking Claudia. All in respect for Herb's passing and Claudia's heartfelt desire to enhance an already perfect evening. We are a group that she has come to love, we love her as well. She has gone out of her way, and well above the call of duty, in helping to solidify our little family.
Very rarely were there moments of silence, or that uneasy pregnant pause, when no one knows what to say next. Our talks most definitely did flow and move right along from one topic to another with ease.
Saturday Afternoon:
Brigitte, Claudia, Lionel & yours truly, decide to ride the train into the city of Luxembourg. We all get on sit down, and after a few minutes the ticket-taker says - "Move It, You're In Frst Class". Oh well, a surprise to us.....four seats makes up a first class section?
This, at Claudia's suggestion, because her curiosity / yearning to sample the Luxemburg Special of the House led us there. She wanted to try out the local specialty, "Judd mat Gaardebounen" (Geräuchertes Schweinefleisch mit Saubohnen) which is bean's and smoked meat on a platter with sauce and potato. A simple plan, but try and find the damn resturant! Up one side of the street and down the other, stopping at a few bakery shops to take photos of the very unique pastries in the store windows, looking like art work, instead of something savory to satisfy a throbbing sweet tooth.
From the train station, to our present position, is all uphill. We have no address, no point of reference, and not a bloody clue how far the establishment is. But, it's here somewhere they insist. After awhile Claudia in her own subtile way, camly announces, in a monotone bland voice, "we are there, this is the place".
Mid Day Dinner:
What a beautiful place it is, clean and very friendly. We are some of the first ones to stop in and eat, with only a hand full of people sitting at seperate tables. Lunch was delicious, and we had a chance to relax and compair notes.
By the time we were ready to leave, the entire place was packed full.
Back outside again, we work our way back towards the train station. On the way we stop for coffee and desert at a nice bakery. We pass three different ones before deciding on the right one for us. In the front were the large display cases, and in the back, a large room with seating cafeteria style. Where we wanted to sit was a young man, who very kindly moved so that the four of us could sit down. After a few minutes the young man, Kevin, asked us where we were from. I invited him to join us and so happy he did. He told us that he was from Michigan, USA of course and a long way from home. He wanted to travel around in Europe and that's exactly what he was doing. Looking for a school to attend. We had a long and interesting conversation about Europe, America, People in General, New York State, Detroit Michigan, the History of Economy in the Roman and Greece Empires, Politics, Soul Music in The Motor City, Henry Ford, The workings of a Diesel Engine, Solar Power, and the pros and cons of Metaphysical Thinking as it applies to Capitalism Today, along with the Power of Positive thinking....which all took place in forty minutes! Of all the memories I have of this trip to Luxembourg, meeting Kevin disturbs me the most. Why him, why there and most of all why now?
Back onto the sidewalk, we head toward the railway station once more. So many people on the street, and all looking so different. I mean a real melting pot of cultures, attitudes and dress. This along with a pinball machine of movement, bouncing off of people and getting bounced into with an impersonal rudeness that any big city has to offer.
But, Claudia and I are dragging way behind, as Lionel and Brigitte seem to be on, some kind of a mad sprint to the finish line at the station. They are now on thousand meters - or a good football field in front of us. This is the last we saw of them. Claudia and I walked right through the station, down the long stairway and up the other long stairway right to the loading platform. A train was just sitting there waiting for us it seems, as Claudia asked the conductor if this will return us to Esch....yes he said and get on if you're going. As we enter the train starts moving. We sit down for a few minutes, when to ticket-taker says, "Move It You Are In First Class Again". So we haul ourselves to another section, where the cattle belong I guess. By the way, don't ever buy a first class ticket - it's not worth it.
We take our seats, relax for a moment, when Claudia says, what about Brigitte and Lionel? I reply, they must be on here, because they had a good head start on us. Then I remembered, we have the train ticket in the bag I'm holding....Claudia was right, might be a problem here. But, they could not - not be on the train - because where else could they be? Nothing could be done about it now. We reached our destination in double time, we look for Brigitte and Lionel, but no sign of them. We start walking back to the hotel - this time I got us lost, so it took an extra twenty minutes to get there.
We sat in the hotel lobby and waited. I really wasn't long before in walks Lionel, Brigitte, Patrick, Nathalie and their daughter Juliette. As fate would have it, they all met by accident at the train station, as Patrick had to drop off their friend and then they all rode back to the hotel together. These couple of unplanned events - with a twist of fate, still disturbs me yet.
Which Way Did They Go George - Which Way Did They Go!
Losing Each Other At The Railway Station
Brigitte's Story:
Lionel and I were heading to the information desk asking when and where the next train to Esch would be leaving, while Claudia and Dave were way behind us. In four minutes - they told us. We thought they would catch up with us - but, they never arrived! The train left to Esch but we waited outside, looking for them everywhere, hoping to find them. We were stunned! Then we waited 45 minutes for the next train to leave, when suddenly I recognized our very good friends: Patrick, Nathalie and Juliette - among hundreds of people in the hall way. We were lucky that Patrick had one ticket for five people, because Dave had our tickets in the bag he was carrying. Another twist of fate or was it jut good luck? What are the chances of this happening in a crowded railway terminal - and that Patrick had a "special price" ticket for 5 people back to Esch that were not being used?
Patrick's Story:
We came from France and parked our car at the hotel in Esch. Travelling with us were our two lady friends who were going to visit their friends in Luxemburg. So, we bought a round trip train ticket for 5 people for a special price, and rode the train into Luxembourg, to drop off our friends. Then we would return to the hotel again. In all of this chaos and confusion, we saw Lionel and Brigitte wandering around the terminal. Lucky for them we had the extra tickets from the girls for the train back to Esch!
Meanwhile Back At The Farm (A little English Humour)
Thomas Henzler and Misuk Kim arrived. Thomas was kind enough to give her a ride to the concert. Thomas lives in Munich and Misuk house was on the way to Luxembourg. When they got to the hotel, both were very hungry and headed off for some good food in the little shopping mall there. Others of our group ate next door at a bar / restaurant, others were in their hotel room, and the rest of us waited in the hotel lounge, and had a few drinks before the concert.
The Transportation Dilemma:
In 2007, we all went to the venue by train, but this time we decided to drive there ourselves.
Except I heard that the GPS did not identify the venue on the map. Then some people were going by taxi-cab, and everyone was coming and going – in and out of the room, so it was very hard to get information or answers from anyone. Who was going to ride with who, who was in the lead car, who after that and so on. Of the entire weekend this was the most confusing part…making sure everyone was taken care of and on the same page. But in the end, we all headed to the underground garage and were loaded in to different vehicles.
It was a short drive, into an old industrial plant, that was a maze of construction roads, dirt roads and gravel ones….but we all made it.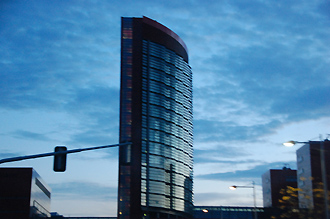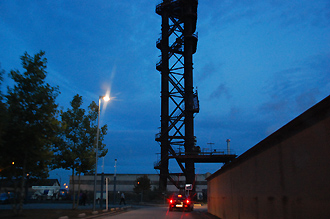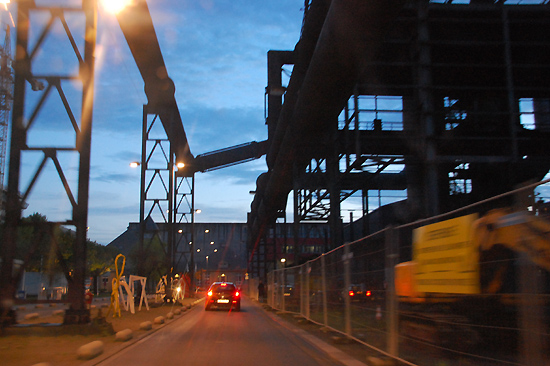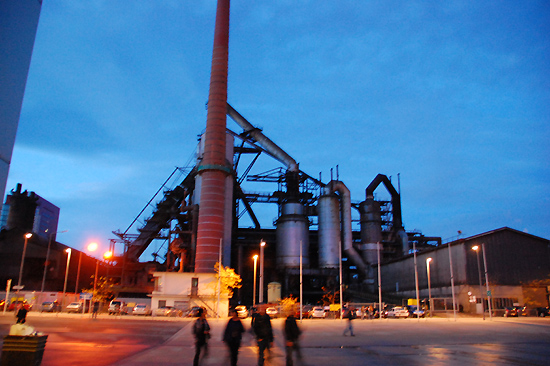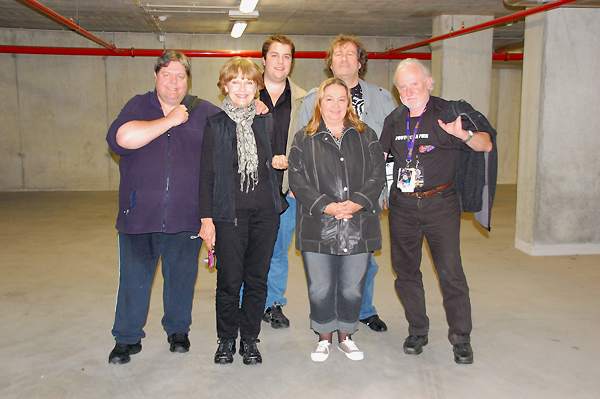 Pre Concert Blues:
It was all crazy to me. No sense of direction and an atmosphere of incoherence. It must have been me, because everyone else seemed to be doing perfectly well. I was working on two hours sleep in 36 hours, this must have been a factor, and my patience was wearing paper thin about now.
I had a good chat with Patrick, and Misuk Kim. As the warm up band ".... " came on, the place looked packed inside, as we were standing just outside the doors, at the back of the hall.
I learned that Patrick's wife had a sore foot, so I found two chairs so that we could sit, and moved down by the front of the stage.
We were now ready for the main attraction "Ten Years After - Live In concert Once Again".
Ten Years After Live:
Ric is sick – Chick is sick....although it didn't affect their performance in the least.
So it's up to Leo and Joe pick up the slack this evening, like a run-away locomotive under pressure. The set list says one thing, but they aren't following the game plan. They open up with "I'm Coming On!" A great song, but compared to the original it's played at a noticeably slower speed, to which I have yet to figure out why this is so. My assumption is, that after the opening riff, lead guitar and vocals – the band settles into a jam format that drops in intensity and volume somehow, thus like an automobile downshifting, or going into overdrive, either way, the RPM's (revolutions per minute) drops to a coasting speed hum, heading up a long mountain grade. When it should sound like a tractor trailer whose lost its air brakes on a forty five degree angle mountain with a cliff on both sides.
It should sound razor sharp and on hyper-drive! It goes over well, the audience likes it and it ends well, that's all that matters.
At the concert, most of our group stays in the same general area. I'm so proud that all but one photographer taking photos is from our Ten Years After Family of Friends. In the end, Jacky took 500 photos, Peter Mand took 425 and Brigitte 700, I'd say we had the event covered.
The audience was good, attentive and a happy group. For a huge room it was full but comfortable. The sound was excellent where ever you went to watch or listen.
Joe was in charge, and it showed right away. The audience responded to Joe and Leo's playing and high energy and that set the tone. Ric and Chick held up their end of things to be sure, but the two front men took over the reigns and drove the band onward.
The second song, moved the audience along as well. Every song thereafter held the set together. On Ric's drum solo "Hobbit" he gave one hell of an outstanding performance, if he was feeling under the weather, you would never know it. Afterwards he stepped forward to talk with the audience for a few moments, it was then that you could tell the condition he was in. He should have been in bed and not on stage beating those skins to death. It just shows you the tenacity these men have to fulfil their commitments on the road - always professional.
They will overcome any travail placed before them, this is just one of the main reasons why they are still active / famous to this very day.
The show progressed through "I'd Love To Change The World" and "Angry Voices".
The biggest audience response came when Joe announced the next song:
"I Can't Keep From Crying Sometimes"…. This audience was ready for a 1960's experience.
Once again Joe was in charge, as he started off slowly and then built up the excitement step by step. Some of the interludes between pieces were a little over extended, and I don't mean that in any condescending way, because Joe knows exactly where he was going, and it's always a pleasure / adventure to see just how he's going to get there, this time.
Leo's pumping right along as usual, keeping pace with Joe on every turn. Ric and Chick are rounding out the overall sound machine, but it's still Joe everyone is focused on. Some are watching his body language, while others are trying to watch his fingers, that are flying all over those frets. Most people are dancing or just listening – intently, trying to follow along with the changes. But throughout the song, Joe pulls them right along with him.
The song almost becomes a hypnotic-stream that flows at mach speed.
As the song came to it's conclusion, Joe ends it all, in the most beautiful way – by lightly touching the strings on the guitar, thus making a pling – pling – plinging - light and beautiful sound, that just fades away….to the roar of appreciative, respectful applause.
Then comes the obligatory -"I'm Going Home" – known, by everyone in the universe except the yet unborn. Joe is as fresh and active on this song as he was when he first walked on stage.
He never looks bored, uninterested or indifferent. He is the consummate professional at all times, he's never counting notes or looking at his watch every five minutes, he gives it his all.
Choo-Choo-Mama…..
Aftermath:
I returned the chairs that I borrowed, talked with the friends around me, and then told Juliette that I just wanted to make sure that this concert is very special for her. This was our first time meeting each other and I think her first time seeing Ten Years After – Live On Stage.
During the concert, I took her by the hand and brought her to the backstage area, then up the stairs, where we sat together on a loading trunk to watch the band – from on the stage with the band only ten feet away, on Leo's right hand side – he looked over at us with that broad Leo smile of his, that could warm even the coldest of hearts. There we sat for twenty minutes or so, and then returned to the others out front by the stage.
Everyone kept asking me if I was going to go backstage with the band, I answered "no, I don't think so, Ric and Chick are both ill and I don't want to bother them". Plus, we have four new friends from Holland along with our regular friends, so let them all enjoy themselves.
I went to the bar area, and joined Lionel, Misuk, Patrick, Nathalie, Juliette and Gaby.
Back At The Mercure - Saturday After the Concert:
To our pleasant surprise, Leo, his wife Sally, Ric and the rest of our happy crew, are outside in the courtyard just beyond the hotel doors, just as we did back in 2007. Wine bottles, Champagne bottles and Beer bottles are all being opened one after another. Jacky is on one side and Cor and I are sitting on the other. It's a little party, but it's also early in the morning.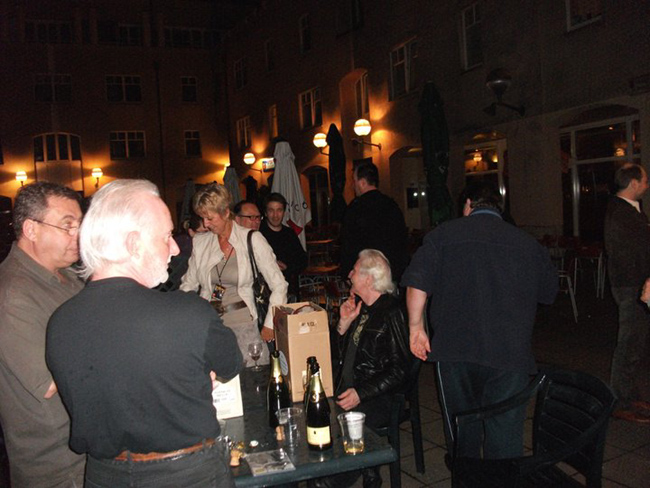 Dominique and his wife Brigitte brought champagne to share with everybody! THANK YOU!!!
We all had a great time!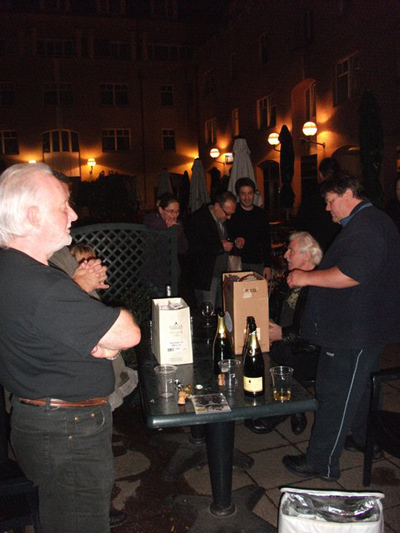 Joe and Chick are elsewhere, and little by little people start disappearing and the rain shower comes over us. We head inside to the comfortable lobby and relax. With Dominique, his wife Brigitte, Patrick, Brigitte and I….and Lionel, we settle in.
I asked Patrick to bring along some old magazines in French so that I could thumb through them.
He ran out to his auto and brought in two binders that were full from cover to cover with Ten Years After memorabilia. To which I immediately said, we need this and this and this!
Where-by Patrick started sweating profusely in a panic attack – because these prized possessions have never left his hands, ever. To which the fun began and continued at his good natured expense.
As Patrick's wife and daughter were exhausted and went right to bed, he was left alone to fend for himself. At first I kept his binders and notebooks close to me, and he kept watching with an eagle's eye on his possessions. I said, come on now Patrick, I just want to take them home with me, scan what I would like to use, and then return them back to you.
Now Patrick at this point was feeling no pain, he was relaxed and full from dinner, and having a few more night-caps of wine – or was it champagne? I was confusing his emotions, and twisting his melon (head) around just a little bit. As if this wasn't bad enough (all in good fun as it was) Dominique's wife Brigitte saw the opportunity to add a little fuel to the already blazing fire, by saying to Patrick, "oh come on now Patrick, Dave is a good friend of yours, isn't he? and you are unwilling to let him borrow your two binders?" Laying a quilt trip on Patrick, was just good clean fun, we just wanted to see how far we could go to get him to say yes, but bring them back. Those words were never said, which just goes to show how scared the band "Ten Years After" is to all of us, we do not part with our memorabilia collections.
During all of this Lionel was sitting right next to me, laughing now and then, but feeling a little sorry to see Patrick trapped emotionally.
At about 2:30 AM we broke up the party and went to bed.
It was one very long day that none of us will soon forget.
Good-Bye Sunday:
Breakfast, Leo and Joe, as the others in our group choose to sleep in this morning. We return to our room and pack our things, load them into the car and we're ready when the time comes. We have a very rare 45 record from Chick Churchill's solo album, that says on it: "From The Forthcoming Album "You And Me" released in 1973, that we brought along to have autographed, by the master himself. He steps into the breakfast area for something to drink, and then out the door he goes - with Brigitte in hot persuit behind him. He signed the 45 for her, right on the record itself. THANK YOU CHICK!!! The band is gathered together, and Misuk is catching a ride with them.
Next, we decide to wander across the court-yard to a nice little Bistro, and sit in the sun while we wait for our other friends to show up. Some water, coffee, tea serves us all well, after last night. Slow and easy this morning, now heading towards noon time.
Thomas and Jacky are leaving next. As some go, others are coming to join our table. As Lionel and Claudia are discussing taking a taxi to the airport together, and when is the right time to leave. In twenty minutes, they too will be gone.
The mother and daughter who came with Patrick, his wife and daughter, now arrive and join us. The time is growing short. Stories are told, questions are asked and laughs abound, and echo off the court-yard walls. As children play in the water a few yards away. Another round of drinks, some idle chat, and it's time to leave Luxembourg once more.
The Garage Fare Thee Well:
This part is always the most awkward for me, the saying good-bye....the hugs, kisses and handshakes, is not my strong suit. I hate saying good-bye to anyone close to me....and it has always been thus. On one hand you want to get over it and on the other hand you don't want to let go. It's more bitter than sweet. But life goes on, work needs to be done and family back home depends on our return.
People ask me all the time, what really happens at these Ten Years After Family Get togethers? I reply "Magic and Love"... We can turn back the clocks of time, to a place we all had in common, where we first listened to our brand new Ten Years After albums.
A special Thank You to:
Peter Mand, for being our friend long before we had the chance to meet you in person. Also for introducing Brigitte and I to your other good friends from home that you brought along with you - Theo Laagland, Henk Verhoeks, Jaap Groot. Great guys all of them.
Lionel Webb and Claudia Staehr: For flying in from UK and USA to join the "Family"....and for your love and support!
Patrick, Nathalie, Juliette Bellier......the pleasure is all ours. You are always welcome to come visit us anytime you like, and that also goes for everyone of our friends here.
Dominique, Brigitte and Thibaud Chauvière, Jacky Moutaillier, Sybille Wechseler, Gabriele Klebeck, Thomas Henzler and Misuk Kim, Cor Smit, Roland Nilles and Sabine Trunzer (KULTOPOLIS Agency)