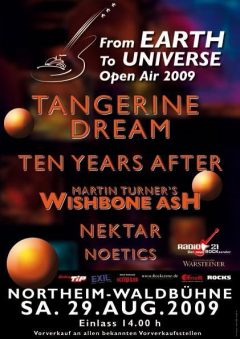 From Earth to Universe Open Air 2009
Saturday August 29, 2009 - Waldbühne Northeim, Germany
Introduction:
Brigitte, Reinhard and myself on this venture. The distance is a little longer this time, a two and a half hour ride in one direction, taking back roads, and two and a half hours on the return trip using the autobahn….as my father use to say "six of one and half a dozen of the other" it's all the same.
The ride was uneventful, other than patches of rain that we just missed, wet roads and dark skies ahead of us. By the time we got there we had made it just in time with an hour to spare. Met Anita at her hotel, our parking place was right outside the front door, and the concert stage was about fifty yards to our left hand side. Cosy and Comfortable. We all decided on a late afternoon snack at the hotel. The sun was shining on us, until a big black cloud rolled in and sprayed a little rain on us, so we moved under the over-hang awning.
Off to the stage and concert grounds we headed. First we had to get through the security guys.
We were prepared but the box office wasn't. First our names weren't on the list. Secondly, the permission was granted as soon as the bands manager showed up with the guest list in hand. I really need to say that the people in the entrance booth were great and believed us and allowed us to get in. Then the usual bag check and body search which always aggravates me to no end – no food no drinks no cameras no nothing, but I got Anita and Brigitte in with their cameras thanks to Jürgen Seebode who does service for Kultopolis Concert Management.
The second band has just started playing, but I don't have a clue who it is, a member of the Red Cross Ambulance Team tells me the band is "Nektar". I'm indifferent to their music, a little riff followed by a mid section jam and back to the main riff and then over and out. The next songs using the same pattern and format. The next band is "Martin Turner's Wishbone Ash". Let me tell you about Wishbone Ash, there's two bands on tour in Germany. One is Andy Powell's band which we already saw this year in Melle and this outfit is Martin Turner's version of the same band. Which one is better, well Martin Turners Wishbone Ash is more to my liking, more melodic, more lyrical far better vocals. As for the audience, they loved it all, different strokes for different folks!
Reinhard and I decided to walk to the top of this stone amphitheatre, while Anita and Brigitte headed towards the stage to find the perfect place for taking their photos. There isn't a bad seat in this entire outdoor venue and more than enough room for everyone. The sun was out, then disappeared, then out again, then spurts of rain started on and off for the next few hours. No one complained, even when it went from drizzle to a hard down-pour.
While at the top of this spectacular amphitheatre, we stood looking for Brigitte and Anita, we saw them by stage right and I could tell from their body language that someone was giving them a hard time already. I also saw our friend Wolfie come out from backstage to offer the girls assistance, I just watched it all unfold while Reinhard was trying to get his camera to function properly…dead batteries will render any camera useless.
We came down the staircase to have a look around at the merchandise stands, where we met up with the girls who were so excited to have just purchased the brand new Ten Years After dvd – which has been a long time coming! So off they went again to look around, Reinhard too and I took up a temporary residence at the TYA merchandise stand, where I could get out of the rain, sit and watch the stage at the same time. The man in charge of the TYA merchandise was Udo Stephan, an easy going man who did an excellent job handling the business. I was so impressed at the consistent flow of customers throughout the concert and not just after TYA were on stage, as was the case in the past. T – Shirts were a big seller, dvd's, cd's – and TYA baseball hats. In the background, Wishbone Ash was still grinding out the old familiar tunes, the audience was very attentive but mostly passive.
About The Audience:
While this event had its share of older generation, left over hippie, and Woodstock generation impersonators / imitators dancing in circles or prancing about to the music. The main thing that struck me was the amount of families present, who brought their children with them. Everyone was getting into the music, and the happy atmosphere of the event. Everyone seemed united and in balance. I watched as these younger people visited the TYA station and the cd's they bought….many "Now" and "Roadworks" cd's went home with them…..the dvd's sold out quickly.
As an aside which still strikes me funny as I write this:
There were two people dancing in the open spaces about fifty feet from the front of the stage, to the music of Wishbone Ash – both looking like Jerry's Kids (Grateful Dead) and both independent of each other. The woman was a sad case, as she had only one good arm, while the other arm had a hand missing. Her attire was right out of the Woodstock film, and she was having a ball in her own little world, with music as the sole healer.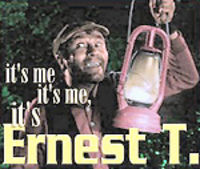 The man on the other had is the one who was making me laugh. An LSD flashback must have sent this gentleman into motion, as he just back-dated here from Ken Keasey's book "One Flew Over The Coo-Coo's nest and just in time for the classic Andy Griffith Show – this guy is a dead ringer for Earnest T. Bass "It's me its me it's Earnest T.". This guy was covering a lot of ground with his dancing, from left to right and back again – stopping in between to raise his hands, point to the audience in the seats and moving on again like a whirling dervish!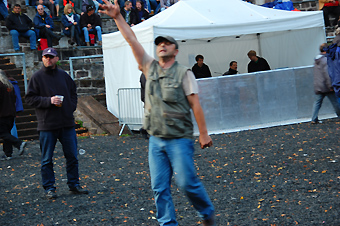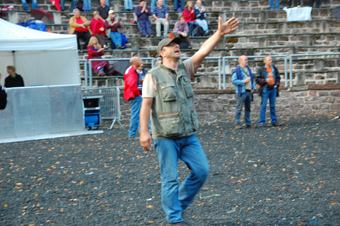 The only continuing problem we had was caused by one hard ass security person who insisted on harassing Brigitte in particular throughout the event. He kept telling her where she could and couldn't point her camera. At one point I decided to confront this man and put an end to his unnecessary conduct. The man was so angry at Brigitte for continuing to take photos, and Brigitte was pointing out to him that all these people with digital cameras and cell phone cameras were all taking photos too, why doesn't he stop them? He continued to mouth off to her, and her alone – where-by Brigitte, now in rare form put the law down for him, by saying " show me in writing where it says that I'm not allowed to take photos here with my camera, when everyone else is and you're not stopping them". In between Brigitte's loud retorts, and his angry replies, I voiced my frustration in no uncertain terms, we have permission I said, I showed him the paper with our contact people's names on it, as I mentioned a few other names, which were all for naught, his sole attention was focused on Brigitte, as if she'd committed some federal offence, such as high treason! Let me finish with this thought: Tickets were 50.00 euros each, and for that price everyone should be allowed to take all the photos they like!
TEN YEARS AFTER:
The band was fourth on the bill with "Tangerine Dream" being the headliner this evening.
The band hit the stage right on time and more than ready to lay the law of rock and roll down! Ten Years After on this very night did the most perfect concert and we've seen many.
Ric's "Hobbit" drum solo was put on hold due to time restraints, and Joe performed "I Can't Keep From Cryin´ Sometimes" with such complete control that you wanted to cry when the song faded away. Every song was high energy, pounding, thumping and thriving the audience on to want more more more! Standing ovations after every song, people singing along, and the folks in the back came down to the front of the stage. The band was as tight as we've ever seen them, and as loose and comfortable as excellent musicians should be when happy to be playing. It was loud, clean and passionate. Perfect in every way.
I'm Going Home brought the people to their feet, playing air guitar, dancing and bopping right along to the music. For an encore two songs were played "Reasons Why" and
"Choo Choo Mama" finished off their set.
Set List: Working On The Road – King of the Blues – 50,000 Miles Beneath My Brain – I'd Love To Change The World – I Can't Keep From Crying´ Sometimes - Big Black 45 - I'm Going Home – Reasons Why – Choo-Choo-Mama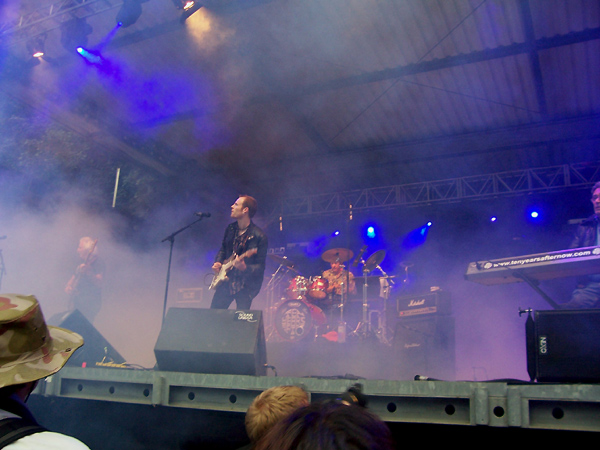 Photo by Hans-Jörg Freier
After the concert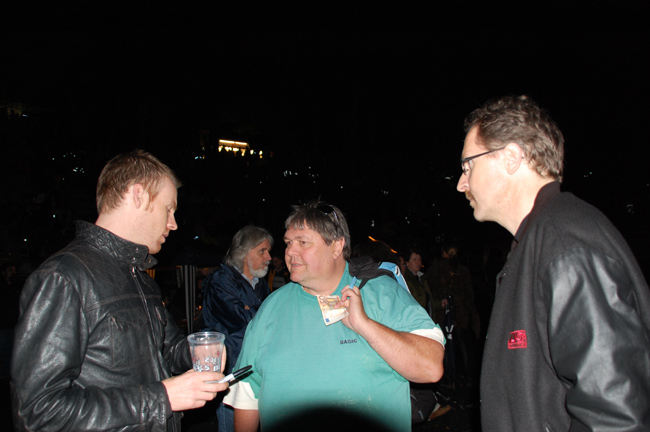 Joe, Reinhard, Dave, Hans-Jörg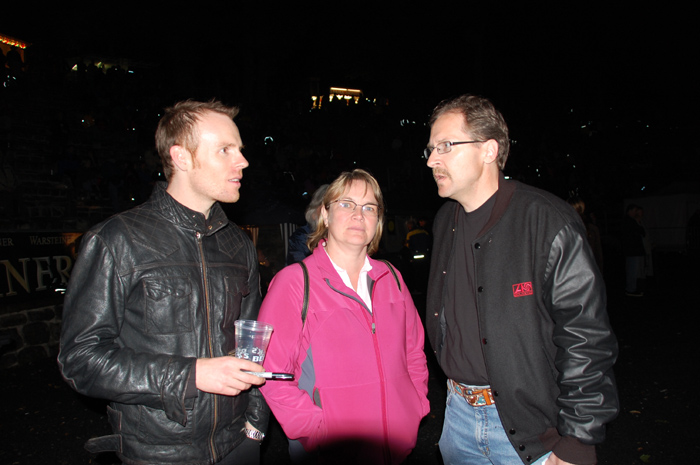 Joe, Ute Peisker, Hans-Jörg Freier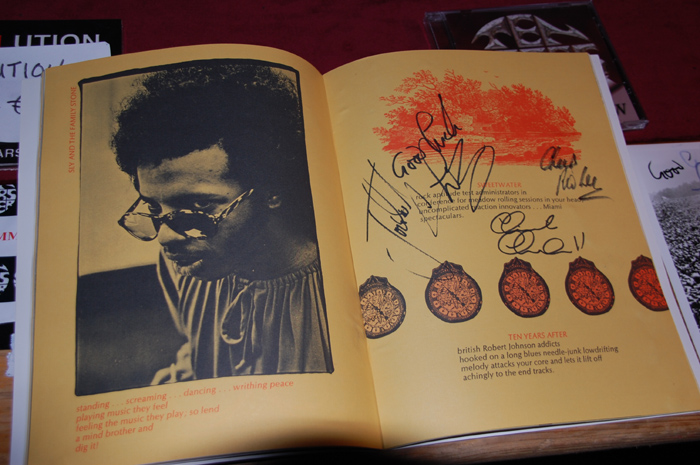 Hans-Jörg's copy of the original Woodstock '69 Programme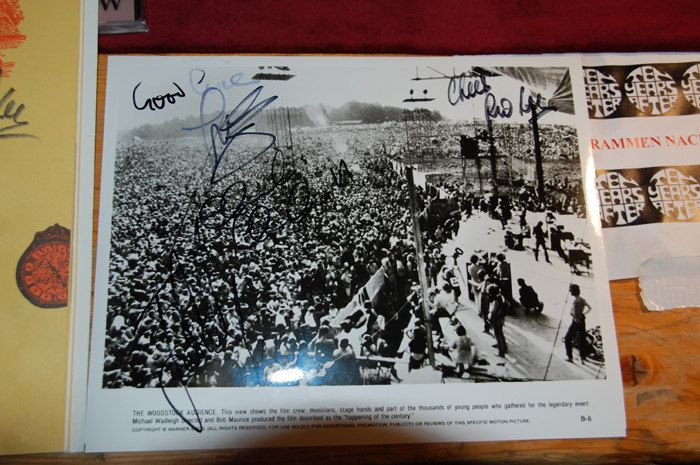 Woodstock '69 Photo
Hans-Jörg's ticket stub from 1989

Waldbühne Northeim in 1989

click picture to read the article in PDF format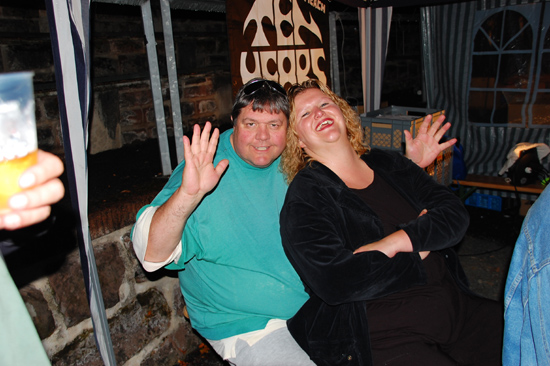 Dave "in flagranti" (caught in the act) with Caroline (Blues Singer and musician)
After The Concert:
We headed backstage for some food and drinks with the band, got to meet the lead singer for "Nekter" followed by Martian Turner himself from Wishbone Ash, who I introduced to Anita, Brigitte and Reinhard, who told him that he's been a loyal fan of his for many years standing!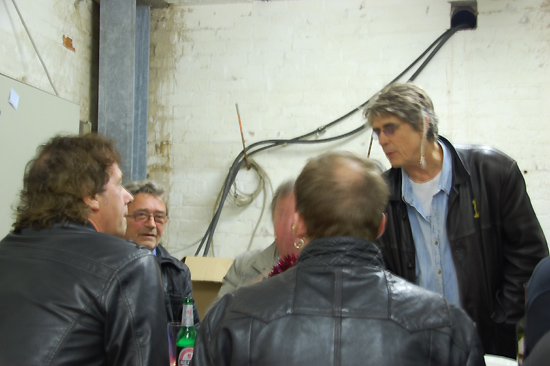 Dave Wagstaffe, Chick Churchill, Martin Turner
The only one missing from the back stage festivities is Ric Lee, who is front and centre most of the time. In his place is Chick Churchill, who most of the time is absent, but this time has decided to stick around and have some fun with the rest of us for a few fun hours – funny situation. Leo and I had a chance to talk, exchange notes and laugh like kids over many things. In between he had a serious chat with Brigitte about her mothers failing condition.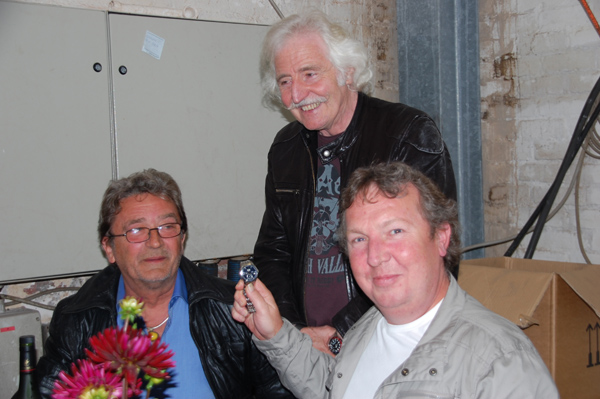 Chick, Leo, Ray Hatfield (M.T.'s Wishbone Ash)
This is proof that Chick stayed there 'til the end of the evening...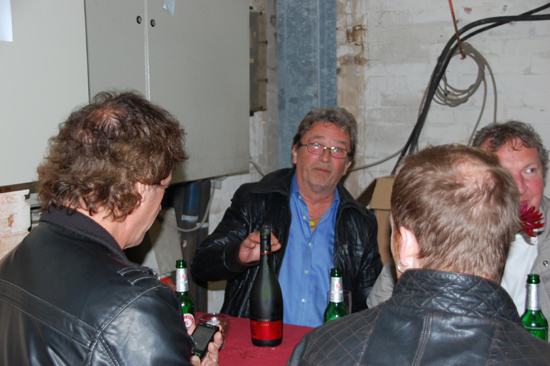 Reinhard and Dave chained Chick to the table so he couldn't leave...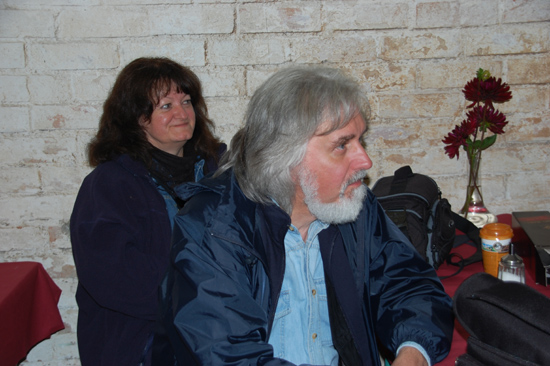 I felt sorry for Anita who was at the far end of the line at our table and I imagine she only caught bits and pieces of the entire conversation. Anita never complains, except when she's cold, so I gave her my warm long smock jacket and that made her happy.
Backstage at this venue is a strange place, because it's located right under the stage. So while we didn't get to see Tangerine Dream perform, we didn't miss a note of their show, it came through loud and clear.
Talked with Tom Lyons for awhile, and had a laugh or two along the way. He always gives me a fresh perspective on things, which keeps me on the straight and narrow. We talked music and his trip to America with the band. Leo and Tom just reminded me why I now love Europe so much and dislike how they don't get things done in the States. We also discussed 9/11 and politics. Leo has always kept up to date on world events, and as I've said many times before, he'd make a wonderful music or history teacher. Our topics bounce all over the place when we're together and time allows….I really look forward to them.
In Conclusion:
Great evening of music, the band was perfect in every way. After concert activities were great, and always a pleasure to be sitting around with friends who just happen to also be living music legends as well. The only real pity was that Ric Lee chose not to join us in all this organized orderly mayhem….he was duly missed here, cause when Ric is around we all know it and the conversation and laughs go faster and no one is spared his loving verbal abuse or complimentary praise!