Joe Gooch, The Humble Guitar God of Ten Years After:
The audience was offering up an over abundance of accolades in honour of Joe's performance last night at Ten Years After's gig in Melle, Germany.
It was very close to being another sold out concert, but you couldn't prove that to the people in attendance, as the entire venue was packed full, from the stage to the back of the hall.
Elbow to elbow and foot to foot the entire venue was a virtual pressure cooker and just as hot.
During "I Can't Keep From Cryin' Sometimes" many people came out of nowhere and rushed the stage to show Joe their undying support. Waving hands or pumping pointing index fingers in Joe's direction, trying to catch his attention and approval – to which Joe gave positive, unconditional affirmation, right back at them.
Two teenagers were slam-dancing right in front of the stage, while veteran hippies of the elder generation clapped, jumped up and down, or were just in slow head banging mode along with the music. Everyone was in high gear, happy and expressing an outstanding abundance of "Rock Music" energy.
Everyone was involved, there were no indifferent bystanders or wall flowers here.
Joe Gooch was the centre of attention, and he is well aware of that fact, although he is painfully shy and humble, he keeps his focus on his guitar and the rest of the band throughout the evening. Joe's completely in balance, happy and controlling the ebb and flow, in total unadulterated brilliance.
Lord Of The Fender Six String:
Jimi Hendrix may have set his Fender Stratocaster on fire at the Monterey Pop Festival as a spectacular ending to his historic performance. While Joe on the other hand, has more than enough pyrotechnics to fill a dozen professional briefcases.
Dazzling fret board work, precision playing, unbounded passion, and straight ahead unbridled showmanship make for an unbeatable force to be reckoned with. All these things, and without the slightest hint of arrogance. Joe plays guitar because he loves to play nothing more.
If you think it came easy for him, you're mistaken, it took years upon years of practice and endless patience to earn this level of expertise. So Let the applause and accolades fill in all those working hours of training and sacrifice.
The Super Group of Super Stars – Ten Years After:
Joe is the front man, centre stage but Ten Years After "NOW " is a full-fledged juggernaut of Rock n´ Roll history and future!
Leo Lyons – you've never seen anyone play a bass guitar like this. This man tears it up, rips it up and gets down like no one else on earth!
Ric Lee – Supports the band with precision drumming, be it hard driving rock or subtle jazz / blues accompaniments, he's second to none!
Chick Churchill – Always the ever loveable keyboardist and intelligent clown of the band, has never been happier, more relaxed or needed more than he is now. His contributions are countless and much appreciated and respected like never before!
ON STAGE:
The focus is on all four members, each trading off solos, exchanging riffs, while individually their chemistry creates a dynamite fusion of energy, talent and passion like no other band that you choose to name.
Four unique elements interacting, progressing and creating magic. Every second different from the last. Action demands reaction, and each member stands firmly in their element, thus letting it flow to new heights and areas of discovery. They rise and flow together, in the groove they ride along comfortably – but always with a sense of danger between every chord.
Like a super charged nitro burning dragster, Ten Years After perform second by second, pressing the petal to the metal, slap shifting power, turbo charged – exciter!!!
Too much power in one place causes disaster – too little power combined with fear and trepidation and it implodes. One slight miss shift and the drive train shatters.
Ten Years After is a powerhouse, a well respected, mechanically sound, temperamental piece of precision work. It knows no inherent flaws, and the band never underestimates the hands of fate.
Once fired up there's no stopping it…once in gear, there's no turning back….once at full throttle, it's all or nothing…there's no room for error.
Set List:
Working On The Road

King Of The Blues

Hear Me Callin´

Angry Words

Big Black 45

Good Morning Little Schoolgirl

Slip Slide Away

I Can't Keep From Crying Sometimes

Reasons Why

I'm Going Home

Choo-Choo-Mama
Fan Interaction:

On this occasion the audience was friendly, talkative and overly active. One hell of a great time was had by all, it was a Rock n´ Roll party for sure.

With us (Brigitte and myself) is Anita (Berlin), Reinhard (Osnabruck), our friend Paul from the U.K.

There was full band staff and support - Tom, Sander and Cor

from Zwolle, The Netherlands.

The cd's were selling very rapidly, fans lined up to meet the band, and autographs were given with total respect and conversation.

We helped get autographs for fans who missed the merchandise table, hugs and handshakes were seen all over the venue. It was a jubilant celebration of the moment.

Volker König from "Alte Stadthalle Team" was talking with Ric and already making plans for TYA to return next year. Elation was running high, excitement was in the air, it was a festive event.

Backstage:

Good humour, laughs and just plain fun and talks going on all over the room.

Soda, beer, Champagne and wine flowed.

Friends and more friends gathered around to hear the bands road stories and other tales, just fantastic. Leo, Ric and Joe in rare form spurring each other on….busting rocks…just good fun, and good times.

I invited Tom to sit down next to me, his response was "Dave, if I sit down now, I'll seize up and never be able to stand back up". What an apt way to describe it…laugh we did.

An hour later the band called it a day and returned to their hotel. Chick bowed out early and returned to his room right after the concert. He missed such a great time……

The Support Band:

A young local band called K'SLIFE was the support band for TEN YEARS AFTER.
16-year-old Katrin Remmert is the talented singer/songwriter and guitarist of the band. Michele did a good job on the bass guitar and Jonathan was the new drummer of the band.
Punk Rock is not exactly our type or style of music, but they did fill in the opening space adequately.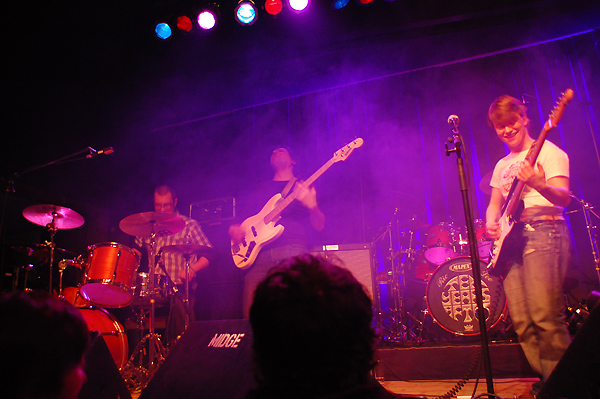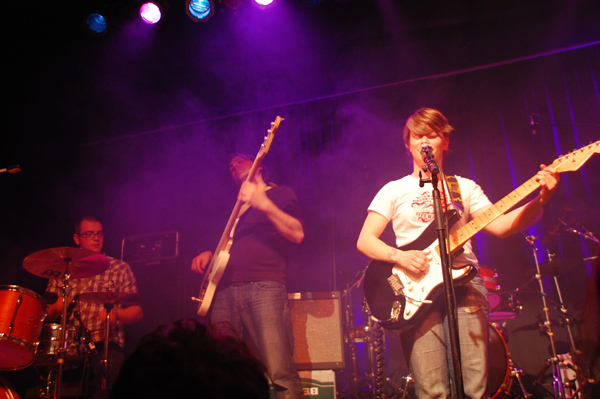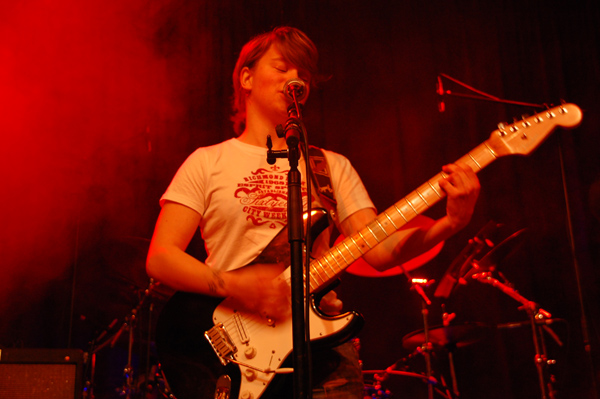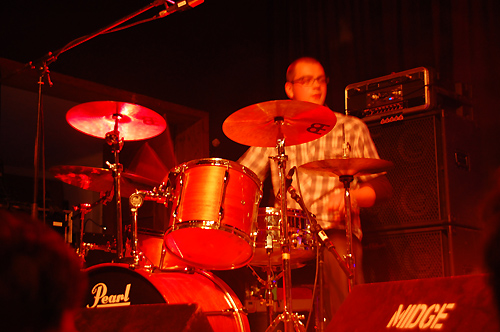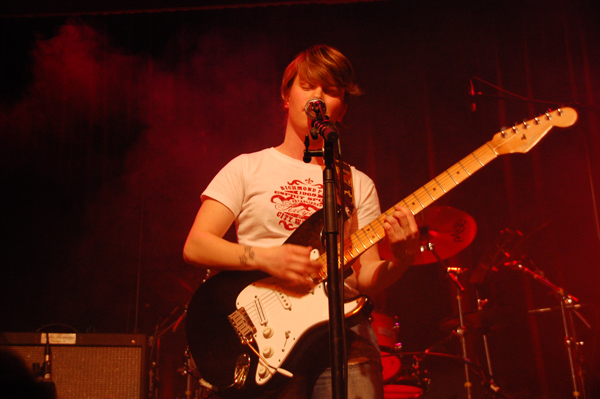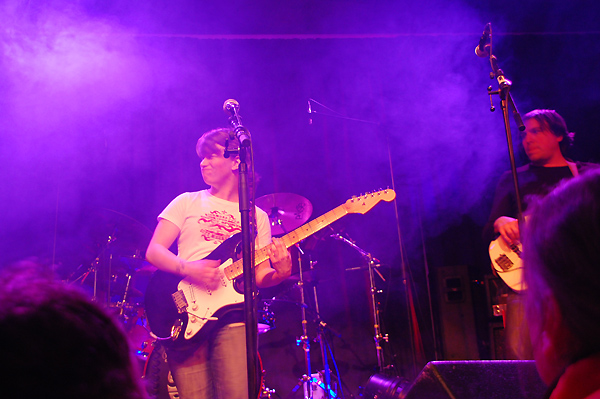 Photos by Brigitte and Dave