"A LOUD CONCERT DESERVES BOLD TYPE"

TEN YEARS AFTER

at

"FÄHRMANNSFEST" Festival

HANNOVER – WEDDIGENUFER, GERMANY - FRIDAY JULY 31 THROUGH SUNDAY AUGUST 2

CONCERT REVIEW FROM JULY 31, 2009

THE TRIP:

BRIGITTE, CAROLA and DAVE ON THIS JOURNEY. TRIED TO LEAVE AT 2:00 BUT ONCE AGAIN GOT A FORTY MINUTE LATE START. PICKED UP OUR FRIEND CAROLA AND THEN HEADED FOR THE HIGHWAY ON A FRIDAY AFTERNOON.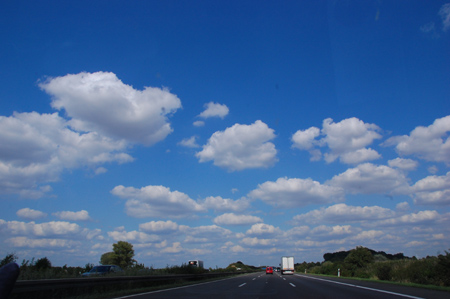 TOOK US AN HOUR AND A HALF TO REACH THE HOTEL WHERE THE BAND IS STAYING ALONG WITH OUR FRIEND ANITA.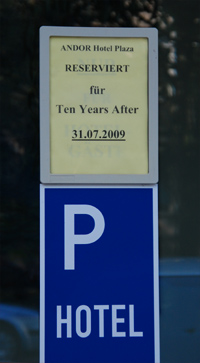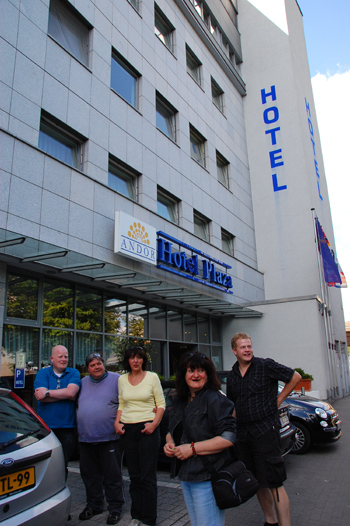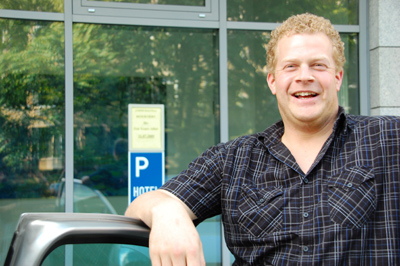 THE FESTIVAL GROUNDS ARE ONLY ANOTHER FIVE KILOMETERS FURTHER.
WE ARRIVED AND EVERY STREET FOR BLOCKS WAS FULL OF PARKED CARS.
SAW MY OPPORTUNITY RIGHT NEXT TO THE MAIN CONCERT GATE, A LITTLE PATCH OF GRASS JUST BIG ENOUGH TO ACCOMIDATE MY LITTLE AUTO, WHAT A LUCKY BREAK FOR US!
ENTRANCE:
TICKETS ARE ONLY EUR 5.00 EACH SO WE TREATED OUR FRIENDS AND WENT INSIDE. IT'S A BEAUTIFUL LAYOUT WITH LOTS OF ROOM TO MOVE AROUND, AND LOTS OF ACTIVITY AND THE SMELL OF GOOD FOOD COOKING ALL OVER THE PLACE, NOT TO MENTION A DOZEN BEER STANDS, BARS AND GIFT SHOPS.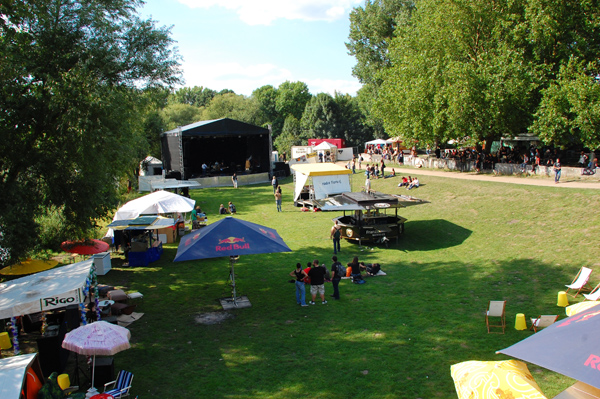 TO OUR LEFT IS A LONG BRIDGE WALKWAY TO THE OTHER SIDE OF THE PARK, TO OUR RIGHT IS THE MAIN STAGE AREA AND IN BETWEEN IS A GRASSY BOWL TYPE OF AREA, LEVEL AND LONG IN THE MIDDLE WITH GRASS HILLS ON BOTH SIDES, PERFECT FOR VIEWING THE CONCERT, NOT A BAD POSITION IN THE PLACE. LITTLE DID WE REALISE THAT UPON OUR FIRST IMPRESSION OF THIS OUTDOOR VENUE.
AFTER SCOPING OUT THE ENTIRE PLACE IT WAS TIME FOR A COLD BEER. EVERYONE SAT DOWN AND WE HAD A LONG CHAT.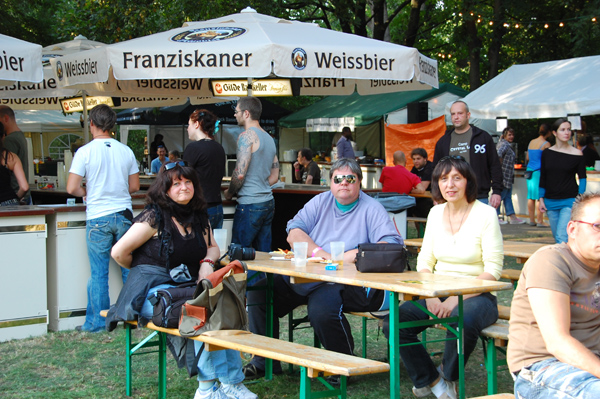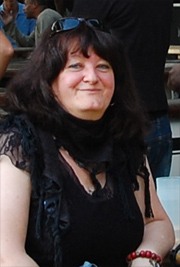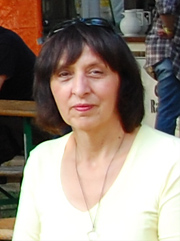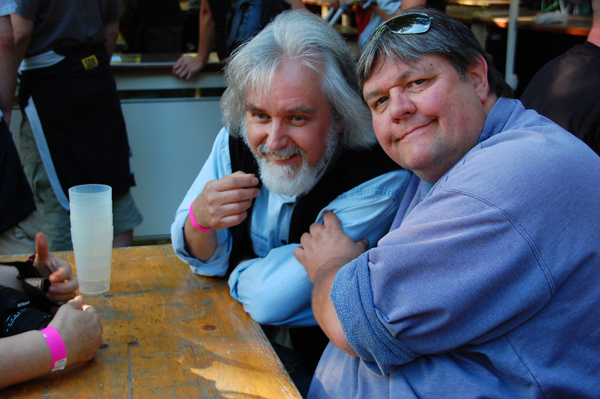 BACKGROUND MUSIC:
IN THE BACKGROUND THE MUSIC FROM THE STAGE BEGINS TO BLUR OUT AT US, AT FULL VOLUME. SO FAR IT'S NO PROBLEM…..BUT IT SOON WILL GET ON OUR NERVES. PUNK ROCK ENERGY FOLLOWED BY HEAVY METAL GROWL.
ONE PERSON IS DANCING IN FRONT OF THE STAGE ON THE VASTLY VACANT LAWN, MY BEST GUESS IS THAT WITHIN TWO HOURS HE'LL BE PASSED OUT IN AN EXHAUSED, DRUNKEN HEAP SOMEWHERE.
THE LONGER WE SIT THE LOUDER AND MORE OBNOXIOUS THE MUSIC BECOMES – WE JUST ALL LOOK AT EACH OTHER AND SAY THE SAME THING TO EACH OTHER, " WHAT THE HELL IS TEN YEARS AFTER DOING PLAYING HERE" ? THERE'S NO LOGICAL OR PRACTIAL REASON FOR TYA TO BE HERE AT ALL. AS THE HOURS PASS AND OUR TOLERANCE FOR THIS VILE ASSULT UPON OUR SENSES AND GOOD NATURES IS NOW BEGINNING TO TAKE ITS TOLL. OUR CONCERN FOR TEN YEARS AFTER IS NOW REACHING THE CRITICAL POINT. WHAT THE HELL ARE THEY DOING HERE WE ASK EACH OTHER OVER AND OVER AGAIN ? BAND AFTER UNKNOWN BAND COMES ON THE STAGE – BLAST THEIR WAY THROUGH THEIR SET AND THEN LEAVE WITH THE SAME EMPTY ANTANIMITY THAT THEY ENTERED WITH, STILL UNKOWN.
WITH US SAYING IN UNISON – GOD SI DANK THAT'S OVER !!!
IT DIDN'T GET ANY BETTER UNTIL THE LAST OF THESE SO CALLED WARM UP BANDS TOOK THE STAGE. A BAND CALLED "NIKKI PUPPET" WHO BROUGHT BACK A MUCH NEEDED SENSE OF ROCK AND ROLL NORMALACY TO THE PROCEEDINGS…..AND NOT A MOMENT TOO SOON EITHER!
IN DUE RESPECT TO THE FIRST BANDS TO APPEAR AT THIS EVENT:
BLANK (INDI – ROCK – HANNOVER)

MAGNA MORTALES (DEATH METAL – HANNOVER)

PRESIDENT EVIL (METAL ROCK FROM BREMEN)

HÄMATOM (METAL ROCK PUNK (NÜRNBERG)
NIKKI PUPPET (HARD ROCK – HANNOVER)

TEN YEARS AFTER

- HEADLINER

(THE BEST ROCK BAND FROM ENGLAND)
NIKKI PUPPET IS ONE OF THE MORE WELL KNOWN BANDS ON THE BILL AND A REAL LOCAL FAVORITE. THEIR SET WAS GOOD AND REFRESHING BUT IT NEVER REACHED THE LEVEL OF AWE INSPIREING. JUST A GOOD BAND GETTING CLOSE TO A PASSING GRADE.
SITTING ALL TOGETHER:
WE'RE STARTING TO GET ANXIOUS. AT THIS POINT OUR GOOD FRIEND REINHARD SHOWED UP BETWEEN BANDS PLAYING – HE HAS TO LEAVE AND RETURNS RIGHT BEFORE THE MAIN EVENT. TIME FOR SOME PIZZA AND BEERS FOR MOST OF US AND CREPES FOR BRIGITTE – WITH THE SWEET TOOTH !!!
WE'RE TALKING, THINKING AND WONDERING - THAT AFTER ALL OF THIS NOISE, HOW IS TEN YEARS AFTER GOING TO DO? WILL THEY COME ACROSS OR WILL THEY LOOSE THE METAL HEADS IN THE PROCESS? RIC LEE WALKS PAST ME AND ON HIS RETURN I SAID TO HIM "THEY'RE ALL HERE FOR YOU " HIS REPLY " I CERTAINLY HOPE SO". ANITA SUGGEST THAT WE MAKE OUR WAY TO THE FRONT OF THE STAGE AND GET OURSELVES SETTLED IN BEFORE THE MAD RUSH BEGINS.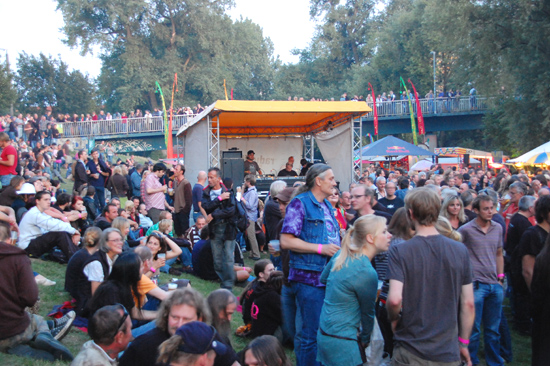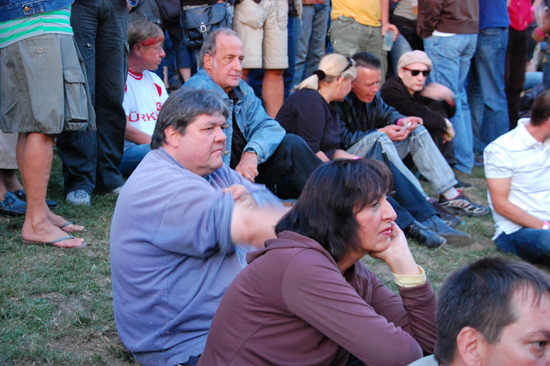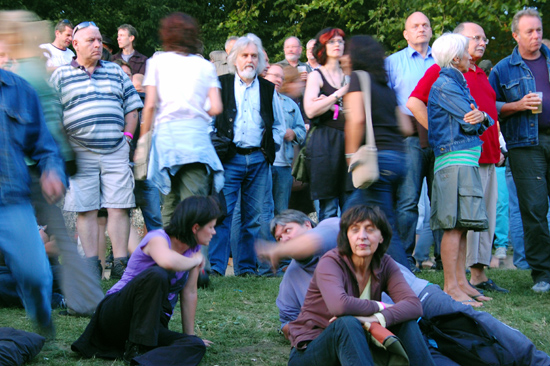 THE AUDIENCE:
WAS WAY BEYOND READY FOR TEN YEARS AFTER AND TYA WAS MORE THAN READY TO MEET THEM HEAD ON AND SHOW THEM THE WAY TO ROCK'N´ROLL IN CLASSIC STYLE. THE AUDIENCE IN GENERAL WAS POLITE ALL DAY LONG, RESPECTFUL OF EACH OTHER, AND EVERYONE GOT ALONG PERFECTLY. IT WAS A FULL HOUSE, THE PLACE WAS PACKED, EVEN ON THE WALK WAY BRIDGE, LOCATED ALL THE WAY TO THE BACK OF THE PARK VENUE WAS JAMMED PACKED. IT REALLY LOOKED LIKE A SEA OF PEOPLE ALL JOINED TOGETHER AT THE HIP, AND LOOKING LIKE ONE MOLTEN UNIT OF HUMANITY GLOSSED OVER IN ONE GIGANTIC HAPPY GLOW….FOR ALL INTENTS AND PURPOSES IT WAS DEFINITLY ANOTHER VERSION OF WOODSTOCK 1969 REINACTED ALL OVER AGAIN AND THIS WAS JUST THE BEGINNING OF A MEMORABLE EVENT.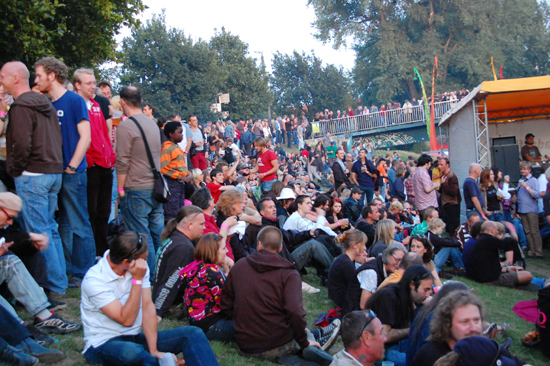 CENTER STAGE / WITH A HILLSIDE VIEW:
THE BAND IS SET TO COME ON STAGE AT 9:30 SHARP. BRIGITTE AND ANITA ASSUME THEIR REGULAR POSITIONS AT CENTER STAGE RIGHT IN FRONT OF WHERE JOE WILL BE, WHILE CAROLA AND I ARE TO THEIR RIGHT UP ON THE GRASSY HILLSIDE IN PERFECT POSITION, AND THIRTY FEET IN FRONT OF US, AND TWENTY FEET BEHIND BRIGITTE AND ANITA IS REINHARD. WE'VE GOT IT COVERED!
THE SMOKE MACHINE STARTS PUMPING OUT A WATERY HAZE AND THE PRE-RECORDED MUSIC INTRODUCTION STARTS THE PROCEEDINGS. THE AUDIENCE IS NOW PACKING IN CLOSER AND TIGHTER THAN BEFORE, AS THE ENTIRE AREA IS FILLING UP QUICKLY AND STEADILY. EVERY SQUARE INCH OF ONCE AVAILABLE SPACE IS NOW BEING COVERED BY MUSIC FANS OF ALL DESCRIPTIONS.
THE BAND TAKES THE STAGE, BUT NOT IN THEIR CUSTOMAIRY LAID-BACK MANNER, BUT THIS TIME LIKE CONQUERING ROMAN GLADIATORS IN HOT PERSUIT OF WINNING THE HEARTS, MINDS AND UNBRIDDLED PASSION OF THIS AUDIENCE IN PARTICULAR!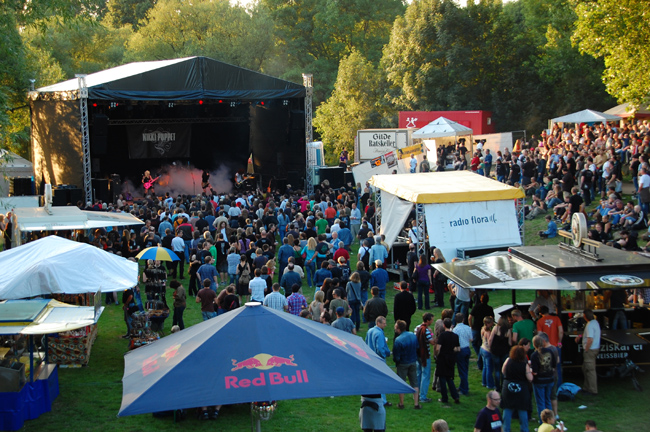 THE MAIN ROCK EVENT:
JOE GOOCH WAS ALL OVER THE STAGE. OVER TO LEO AND BACK TO CENTER STAGE, BOUNCING OVER TO CHICK AND HANGING OUT THERE TO CHECK THE VIBE, DROPPING BACK TO RIC TO SLASH A FEW QUICK GUITAR CHORDS IN HIS DIRECTION AND THEN LEAPING FORWARD BACK TOWARDS BRIGITTE AND ANITA AND TO FACE THE AUDIENCE FOR ITS APPROVIAL. THE BAND ON STAGE AND AUDIENCE DOWN BELOW ALL CAME ALIGHT AT ABOUT THE SAME TIME. BY THE END OF THE SECOND SONG EVERYONE WAS UNITED FOR ONE PURPOSE, TO HAVE A BALLS TO THE WALL GOOD TIME – IN FULL VIEW OF NATURES WITNESS – STARS AND MOON ON THIS BRILLIANTLY PERFECT SUMMER'S NIGHT DREAM SEQUENCE !
THE SONGS ROARDED OFF THE STAGE AND THE AUDIENCE ATE THEM UP, ONE AFTER THE OTHER. JOE TURNED UP THE HEAT AS THE BAND EXPLODED MAGIC THROUGH EVERY SONG THEY PERFORMED. LEO SPOKE TO THE AUDIENCE BETWEEN SONGS AS DID RIC AFTER HIS HOBBIT SOLO. CHICK CALLED OUT TO BRIGITTE FROM THE STAGE "IS SILVIA HERE TONIGHT"? WHO IS OUR MUTUAL FRIEND.
RIC SAID A SPECIAL HELLO TO THE FOLKS UP ON THE BRIDGE WALK-WAY AND THOSE UP ON THE GRASSY HILLS ON BOTH SIDES. RIC ALSO TOLD THE AUDIENCE THAT HE JUST RETURNED FROM A VACATION ON THE ISLAND OF CREATE – GREECE.
THE SHOW CONTINUES AND IT'S FROM HERE ON THAT THE ATMOSPHERE CHANGES DRAMATICALLY AS DID THE INTENSITY.
AS IN THE OLD DAYS IN THE HISTORY OF TEN YEARS AFTER, AND STARTING ON THIS OCCASION RIGHT AFTER PLAYING THEIR HIT SONG "I'D LOVE TO CHANGE THE WORLD" FROM THEIR "SPACE IN TIME" ALBUM FROM 1971 – THE CHANTS FROM THE AUDIENCE STARTED TO GROW LOUDER, FOR THE OLD WOODSTOCK FAVORITE "I'M GOING HOME". FROM DIFFERENT POINTS IN THE AUDIENCE THESE REQUEST COULD BE HEARD LOUD AND CLEAR – BUT WITHOUT ANY MALICE OR ANY DISTRACTING EFFECT, JUST FANS VOICING THEIR LOVE FOR THE BANDS MUSIC, THAT THEY KNOW SO VERY WELL.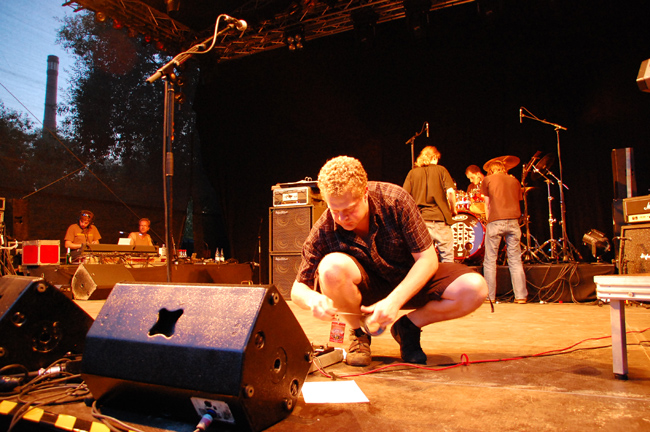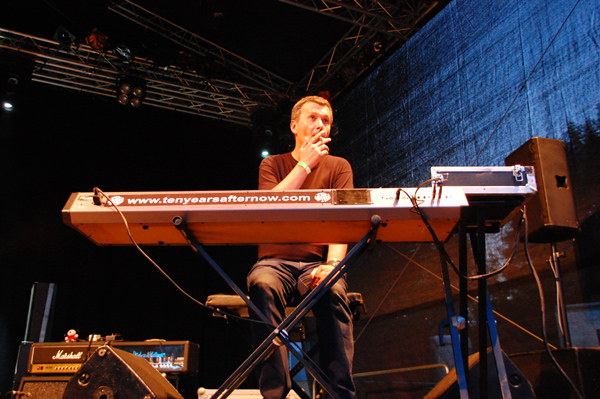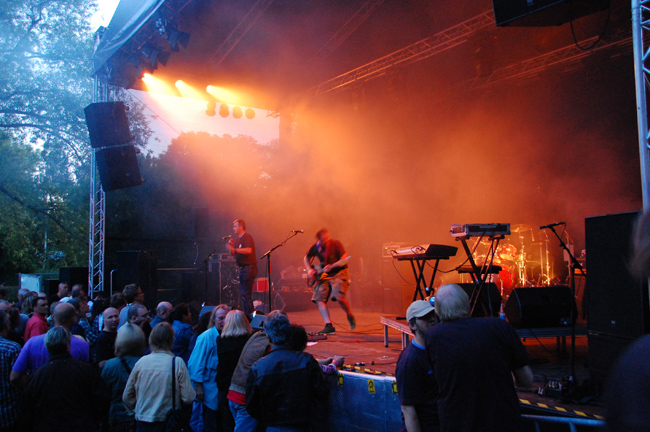 THE SET LIST:
WORKING ON THE ROAD
KING OF THE BLUES
BIG BLACK 45
LOVE LIKE A MAN
50,000 MILES BENIETH MY BRAIN
I'D LOVE TO CHANGE THE WORLD
GOODMORNING LITTLE SCHOOL GIRL
THE HOBBIT (DRUM SOLO)
ANGRY WORDS
I'M GOING HOME
CHOO – CHOO – MAMA (ENCORE)
I'M GOING HOME:
YOU COULD SEE THE BAND MEMBERS TIGHTEN UP JUST A LITTLE BIT IN PREPARATION FOR THEIR NOW LEGENDARY THEME SONG AND TRIDITIONAL SET CLOSER "I'M GOING HOME (TO SEE MY BABY). THIS WAS ONCE AGAIN THEIR MOMENT TO RISE AND SHINE TO THE OCCASION. MYSELF, THE BAND AND THE ENTIRE AUDIENCE WAS EXPECTING NOTHING BUT A FLAWLESS PERFORMANCE, AND THAT'S EXACTLY WHAT HAPPENED. JOE DID A LITTLE GUITAR WARM UP, TOOK A DEEP BREATH WITH HIS BACK TO THE AUDIENCE AND THEN LET IT RIP !!!
ONCE AGAIN ANYONE WHO STEPPED OUT TO GO TO THE BATHROOM OR TO GRAB ANOTHER BEER CAME FLYING BACK INTO THE FOLD FASTER THAN GREASED LIGHTNING. THIS IS THE MOMENT EVERYONE HAD BEEN WAITING FOR…..AND THE AUDIENCE WAS WAITING JUST FOR TEN YEARS AFTER, JUST AS I HAD TOLD RIC THEY WERE.
A QUICK NOTE (IT IS VERY IMPORTANT THAT YOU UNDERSTAND THAT THROUGHOUT THE ENTIRE DAY THE VIBE AT THIS FESTIVL COULD HAVE SWUNG IN ANY DIRECTION AT ALL – IT COULD HAVE TURNED VERY UGLY OR STAYED A BEAUTIFUL THING…..IT DEFINITLY STAYED PEACE AND LOVE THROUGHOUT).
AS THE FAMOUS NUMBER CONTINUED, PEOPLE DANCED, HOPPED UP AND DOWN AND PLAYED THEIR AIR GUITARS ALL THE WAY THROUGH. FROM THE STAGE TO THE TOP OF THE BRIDGE (A QUARTER OF A MILE AWAY) THE PLACE ROCKED. EVERYBODY WAS MOVING AND DANCING AS I LOOKED FROM ONE END TO THE OTHER AND EVERYWHERE IN BETWEEN THE PLACE WAS ALIVE, EVERY SOUL WAS ON FIRE AND THE ONLY PYROTECNICS WERE INSIDE EVERYONE THERE THAT WAS A PART OF THE WHOLE EVENT AND WITNESS TO THE MAGIC THAT IS TEN YEARS AFTER NOW – WOW!!!
ENCORE:
THERE WAS ONLY ONE ENCORE AND THAT WAS "CHOO-CHOO-MAMA".
THE AUDIENCE WENT WILD AND JOINED IN SINGING AND DANCING ALL OVER THE PLACE... THE ENTIRE VENUE REVERBERATED WITH EXCITEMENT AND JOY!!!
AFTER THE SHOW:
WE VISITED WITH THE BAND IN THEIR MERCHINDISE STAND AND HAD JOE AUTOGRAPH THE NEW CD'S WE JUST BOUGHT, SAID HELLO TO LEO, RIC AND CHICK AND THEN WERE ON OUR WAY BACK HOME.