Ten Years After – Live In Belgium

Sybille's Special Surprise
This is a story of love, passion, friendship, trust, travel, stress, changes, desire, meeting new people, hugging old friends, traffic, wind, rain, and a 700KM round trip! A simple dream, a simple plan, a simple set up – that couldn't help but become all complicated.
The Beginning:
November 27th – My first mistake was not adding this day off to my Saturday and Monday days off this week. The best part was that Anita came in from Berlin, and Brigitte and I took her out to our favourite restaurant for a long sit down dinner. The night ended early, and then Brigitte and I managed to accomplish the last minute details in preparation for our music weekend.
November 28th finally arrived, and to my surprise, it was a beautiful sunny morning, crisp and clear. This after a week of weather hell, high winds, downpours and just depressing and miserable. Anita treated us to a wonderful breakfast at her hotel, and then we loaded her things into the car and we were ready for out next sojourn into unknown territory.
We hit the highway/autobahn at 11:30 instead of 10:00 and the highway was packed full. The first 60 to 75 KM are alright, then we come to a standstill – the first of four traffic jams.
Our estimated three and a half hour trip, turned into five and a half hour stress test.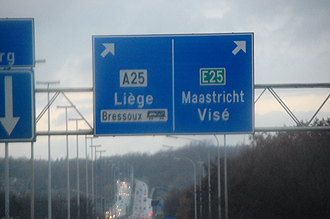 Arrival in Liège at the Holiday Inn
To my perspective, the Holiday Inn in Liège is smack dab in the middle of the town, even our GPS couldn't locate the actual building and kept sending us around in circles for awhile. Once in the parking lot, a car pulled out, we pulled in – safe!
The first person to come and greet us is our friend Dominique Chauvière from France. Language is a barrier, but if I talk slowly and clearly it is no problem for him to understand me. But being all hyped up from the long drive, I smile, shake his hand and give him a big hug. I then get to meet his lovely wife Brigitte and his son Thibaud in the dining area, what a treat, I have heard so much about them it is a real pleasure for me, to meet them in person.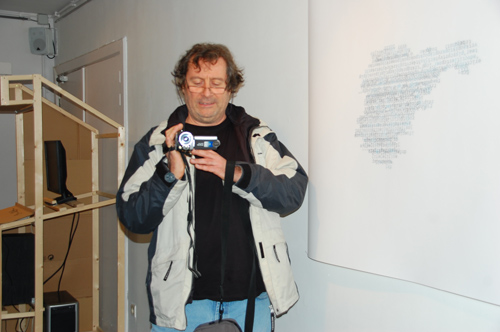 Anita and Brigitte check us in, then off to our rooms to drop off our belongings.

Then they walked to a shopping mall to get some delicious chocolates of which Belgium is famous for, while I got to meet Lionel Webb from London and Claudia Staehr from Boston at the hotel bar / dining room entrance.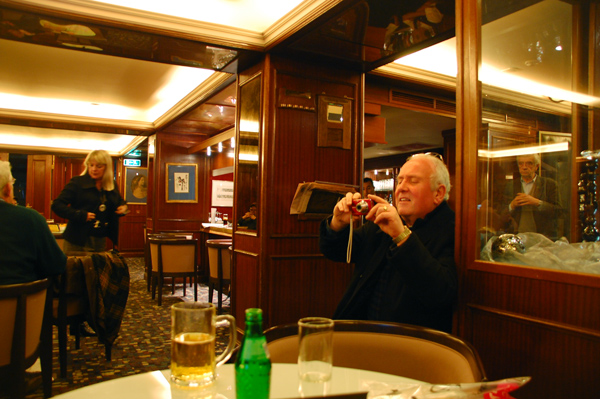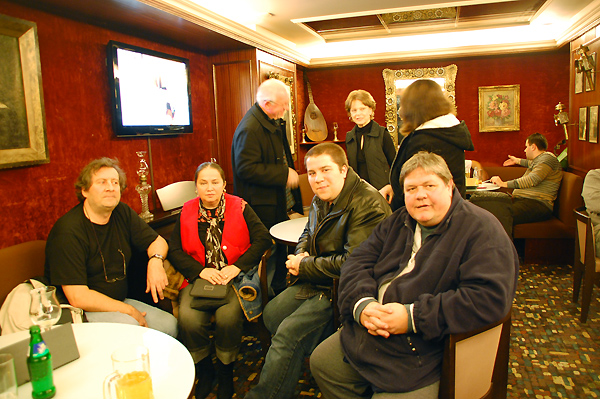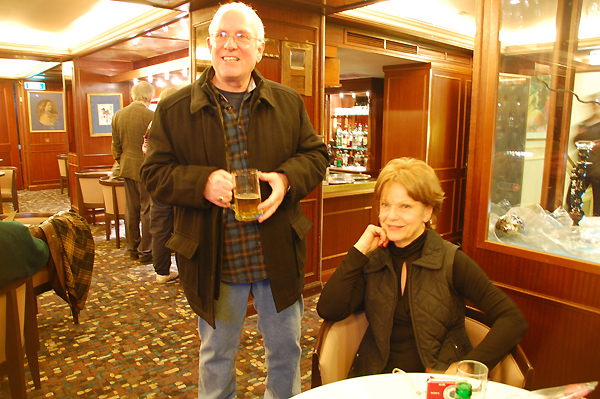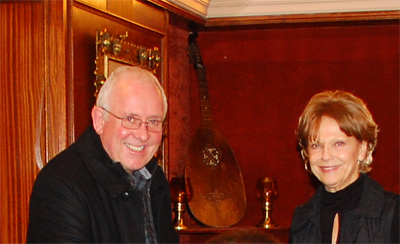 Claudia Staehr: The Reluctant Grand Matriarch - "The Lady From Boston"

Claudia is the sister of the late Herb Staehr, the author of the famous book:

"Ten Years After – A Visual History".

I invited Claudia to attend this concert in Belgium, really wanting her to be there with us, but never expecting her to actuality accept our invitation, because of the distance involved. But to my surprise and delight she accepted without any hesitation at all.

It was my desire to include Claudia as part of our Ten Years After Family, and I was sure that everyone else would appreciate that gesture as well. With Herb's sudden passing, we needed a matriarch to help ease our pain and hers about Herb's death. She was the only one capable of doing this, as she understood everything. No one else could add so much insight to our group and help to bridge the empty void that Herb left behind. Thank You Claudia!

It was then Brigitte's idea, for Claudia (from Boston) to get in touch with Lionel (London) and to meet at Heathrow Airport. As it turned out, they were both booked on the same flight from Heathrow to Brussels, and from there to Belgium. They boarded a train called

"The Rocket" that was the equivalent of the little train that ran from Petticoat Junction to Hooterville - who's top speed was approximately seven miles per hour --- downhill. According to Lionel and Claudia, it covered every square inch of the vacant countryside terrain, on this extended tour. Very "quaint / quiet with scenic landscape ".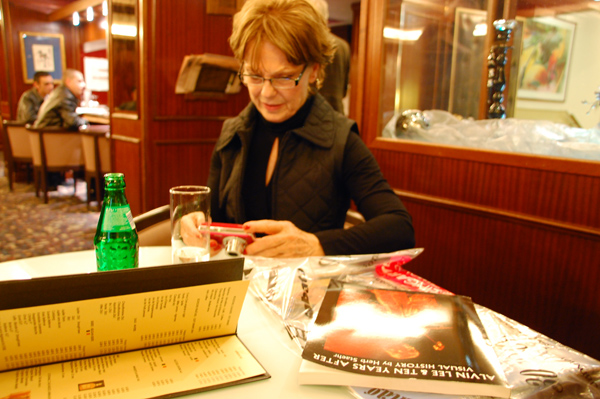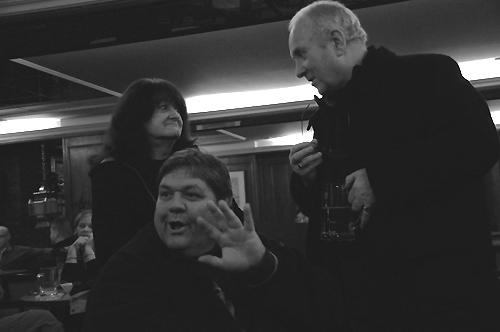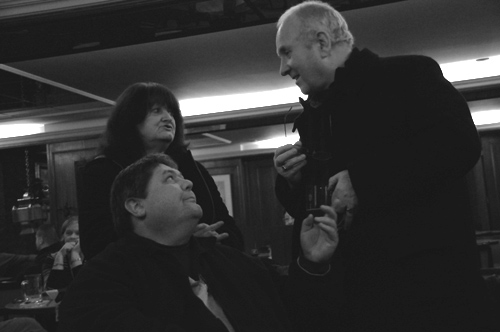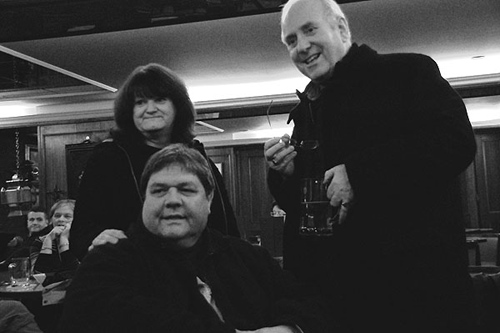 The Venue of Culture / Art - Centre Culturel de Chenèe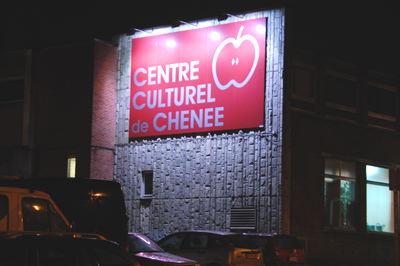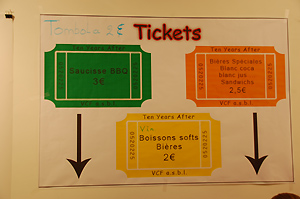 After an hour or so it's time to head for the venue, we all decide to eat there instead of at the hotel.
It's very tricky to get to the venue from here, so I ask Dominique if we could follow him there, "sure no problem" he says "in fact we have room to take a few more people if you like". So Lionel and Claudia catch a ride with them and Brigitte, myself and Anita follow.
My sincere apology to Dominique and his family for all of the delays, as we each took turns going back to our room to get ourselves ready for the concert. For us everything was now in high gear and getting faster. But in reality, we always ended up in the right place at the right time – we are blessed in that!
The rain followed us, the streets are full of people and there's definitely nowhere close by in which to park. We find a place and walk the rest of the way. Once there, they are cooking sausages outside on an open grill, then bring them inside, to a waiting stainless steel container to stay hot and fresh. After a quick look around Lionel and I decide eating sounds like a good idea. Those sausages were delicious as were the salami sandwiches and we went back for a second helping. As every table was full I decided to sit at the bottom of the staircase and Lionel stood and ate leaning on the railing.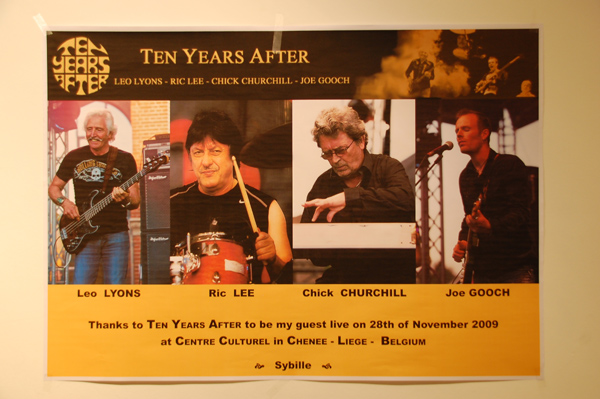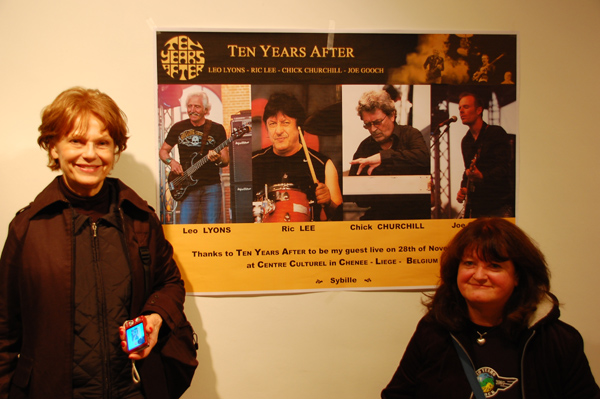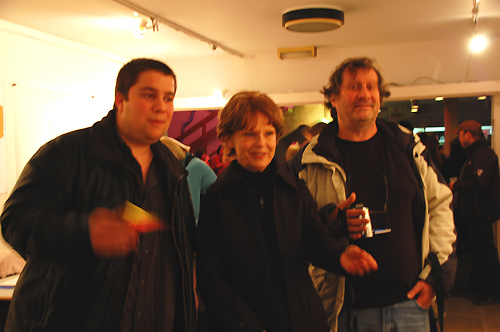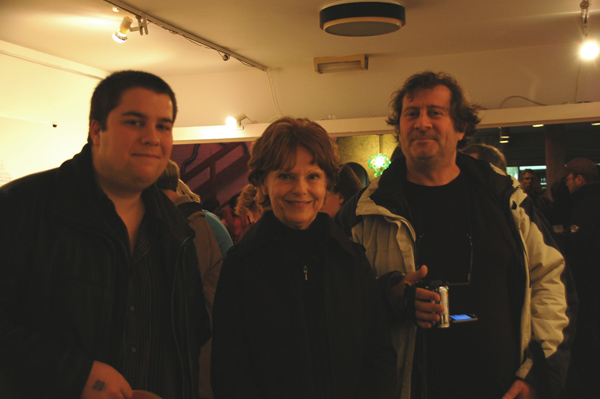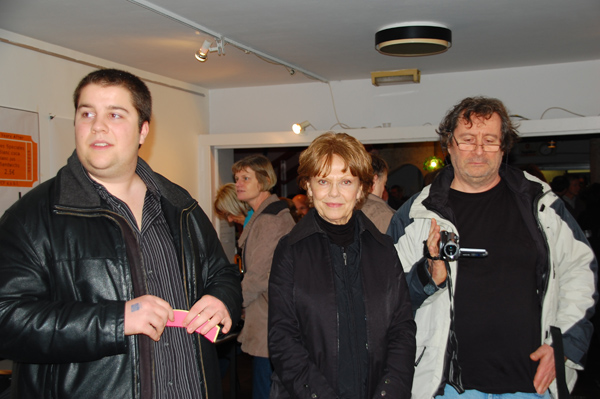 Lionel Webb - it should be duly noted, flew in from London, England just for this concert, in fact, it was he who is responsible for all of us getting together for this very special concert. Throughout the year, as his stress level grew, he kept saying, "hey Dave I really could use a break, a little vacation, if you happen to see any Ten Years After concerts that I might be able to attend please let me know will ya".
I kept this in mind, and after discussing it with Brigitte, the only one that looked practical for many of us to attend would be Belgium. Brigitte's only real concern was the weather, the end of November in Germany can be beautiful or hell, there's no in between. I took all of this into consideration and decided to go for it, and why not, as it's been two years since we were all in Luxembourg together.
The Girls Arrive:
Halfway through my second sandwich Brigitte came over to me with two very attractive, cute young ladies for me to meet, Raphaela (Ela) and her friend Julia. At 25 years of age Raphaela is now a die hard Ten Years After fan whom we met many times through emails and only now get our first chance to meet her in person. She is a student here in Germany, but also managed to catch Ten Years After in California at the Heroes Of Woodstock Tour earlier this year. She was close by in Arizona and made a stop over at the Golden State of California. Raphaela and Jan Jones got to know each other at the Ten Years After concert, afterwards they both posted their messages on our message board. It was then that we discovered that we all knew one another, and our TYA family of friends keeps expanding.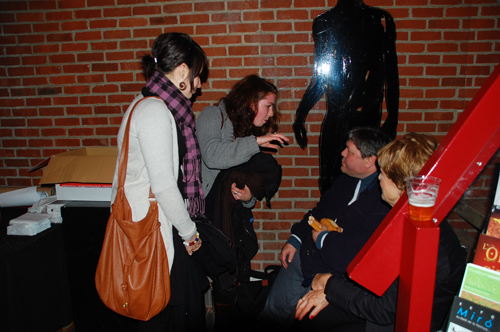 With my hands and mouth full I was in no position to make a good first impression, but it made no difference to Raphaela who immediately put my mind at ease. She has a bubbly personality, a positive attitude, an effervescent smile that would brighten up even the darkest / bleakest of days. Bright and beautiful these two are, a real pleasure to meet and get to know them better tonight.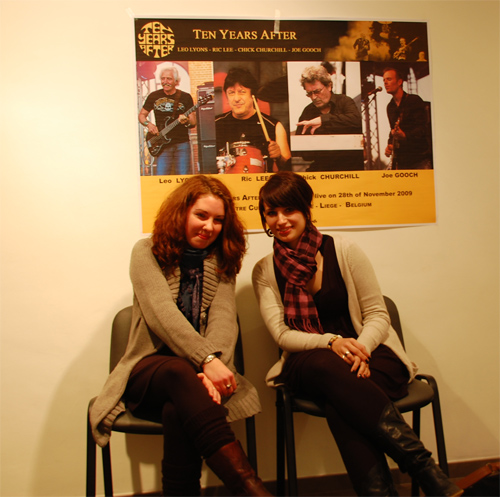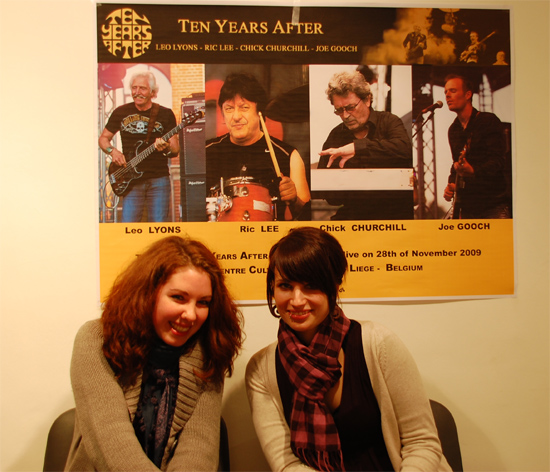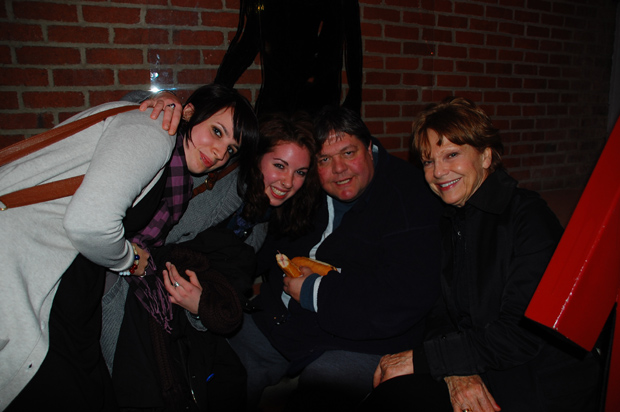 Dream to Reality:
Sybille Wechseler is a longtime, die-hard fan of TEN YEARS AFTER. We met her on facebook, and she lives in Chenee, Belgium.
Sybille had a dream, a secret wish and desire, to have Ten Years After play here for her.
She organized everything from beginning to end.
Everything was perfect, everyone was happy and Sybille got the number of people needed in order to break even financially. When all was said and done, that was the goal and it happened.
I also got the impression that many people working there or attending the concert were also aware of Sybille's situation and how much was invested in all of this. Everybody involved was looking around and smiling to themselves. Everyone ate and drank and enjoyed themselves immensely. This was a very special night.
Chênée: On viendra de loin voir Ten Years After
publié le 12/11/2009 à 18h15
Le concert, unique en Belgique, débutera à 20h30, à Chênée SP

Le passage, à Chênée, le 28 novembre, du groupe mythique de Woodstock " Ten Years After " s'annonce bien. Sybille Wechseler a parcouru des milliers de kilomètres pour aller les voir partout en Europe. Au fil des concerts, elle a sympathisé avec les musiciens.

M.PI.

Puis, un beau jour, elle s'est lancée dans l'organisation d'un concert exclusif en Belgique.

Pour réserver: 0476/20.03.19.
"J'ai voulu me faire plaisir, dit-elle. Mon rêve est devenu défi, bientôt, il sera réalisé. Je suis très heureuse car le fan-club officiel du groupe se mobilise pour venir à Chênée. Il y aura des fans de paris, de Londres, de Bristol et même des Américains! J'espère que les Liégeois apprécieront autant que moi le répertoire de Ten Years After. Même si le titre le plus connu est " A'm going home ", il y a bien d'autres fabuleuses chansons ".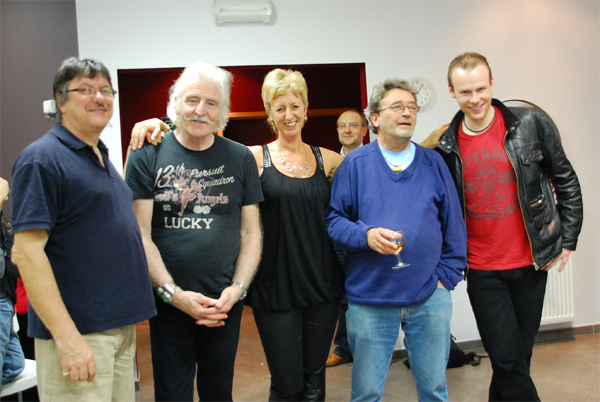 I Underestimated One Thing:

There were a large set of bleachers there in which to view the stage in comfort, but you needed a red ticket to enter the area. Claudia was already inside the roped off section, but I wasn't allowed in. Even Sybille couldn't allow us in, because we didn't pay in advance to reserve a seat. It was no big problem, next time I will pay in advance for the privilege to sit and enjoy the event. I really underestimated the loyal Ten Years After fans who were now filling up the bleacher seats very rapidly. My brief disappointment quickly turned into joy, seeing this happening right before my eyes…..TYA just like in the old days – and now it was happening all over again for the band!

The Concert:

Just between ourselves we had a little bet, what song was TYA going to open with. This was easy, "Working On The Road" as always. The band enters as usual, but no sound from Joe's guitar – the pre-recorded music stops and there is a slight delay….after a minute or so the introduction music starts again, and now Joe starts the show off with "I Woke Up This Morning". Damn it, I was wrong again, do you think anyone will notice, or say anything? Of course they did and we all laughed about it.

The room is packed full, the bleachers are now full, with not one empty seat to be had. While the rest of us filled up the sidelines. Dominique's wife brought Claudia and I two chairs and we sat next to each other throughout the show. With Dominique and his family standing right behind us, and Sybille now able to enjoy the show herself. She stopped by often to make sure everything was alright, and then she danced right in front of us from joy and satisfaction.

Brigitte and Anita were centre stage, front row and clicking away to catch the moment in photos. As the band ran through their set list, and playing a special request from Sybille

"50,000 Miles Beneath My Brain" and a new / old number played here for the first time called, "I'm Coming On". A great job by Joe, kicking new life into this old classic.

Somewhere in the middle of the concert, Joe twisted / wrenched his back causing him severe pain throughout the rest of the concert, but it never showed in his performance. If you look at the backstage photos, or the ones in the hotel lobby from the next morning you can see the suffering in his eyes. He was the last one to come down stairs and he was walking slowly and with a visibly stiff / rigid torso. When he turned to the left or right he had to turn his whole body in that direction.

Even so, and in all this distress, Joe stopped to give our group the chance to take some last minute photos upon request. Joe never complains, is never upset and always very cordial and obliging to everyone in his presence. Thank you Joe, for everything my friend !

The Sound:

For me it was good but not great. The acoustics in the venue were the culprit and not the sound mans fault at all. In a case like this you'll never get the optimum sound that you're looking for, so you just get as close as possible and let it go at that. Others stated later on that it was a problem for them, I was in the minority on this one, but I do respect their opinions and value their input. In this case for me, I was more interested in the overall vibe and spirit of the event and not so concerned with the aesthetic values on this event – was everyone having a good time? You bet your ass they were. The band included, you could tell just by listening to Ric Lee's stage announcements following his "Hobbit" drum solo….he was happy and excited – giving extra time and recognition back to this appreciative audience. Speaking in French, they loved it, laughing and applauding with appreciation.

Mr. Keith Christmas - Unexpected Opening Performance:

I heard of Keith long before I ever expected to meet the man in person. We also met on facebook, we have never had contact prior to this. I just wanted to say hello to him in chat one day and invite him to visit our website, so he would know that we had a common connection. He said hello and thus began our com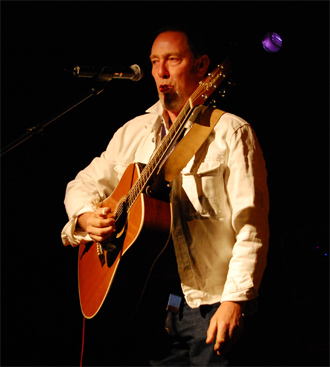 munication. We chatted for a good twenty minutes and struck up a quick mutual friendship. I respect anyone who gives direct answers to direct questions and Keith doesn't pull any punches, it lays it straight on the line.

He is a singer, songwriter who used to do an acoustic guitar opening spot, at a lot of the early Ten Years After gigs. Then we started to write together and Keith came up with "Dustbin City". In 1980 Alvin Lee released one of his best known solo albums "Free Fall" and the last track on the album was written by Keith Christmas "Dustbin City", one of my favourite rockers and played to perfection by "The Alvin Lee Band". According to Alvin himself, "The best track here I think is Dustbin City".

As for this Belgium concert Keith offered up his services to Ten Years After if they needed someone to open the show for them. Simple and not self-serving in anyway, shape or manner. Once again upon learning of this, my empathy and compassion for Keith came through.

We went through the proper channels in order to have Keith open the show….and in the end everything worked out alright.

After this was set, it occurred to me to inquire of Keith what songs he was going to play. This was a fleeting moment, and I decided to let the rest of this play itself out. I just said a prayer, that the audience would accept this performer, and the powers that be would be satisfied too.

Keith Wins Over The Audience – Thumbs Up!

Keith hits the stage and is focused and ready. His stage presence is solid and convincing right from the start. He is in control and will leave no audience member untouched. His energy level is high, his vocals are strong and powerful. There's just no way that anyone in this venue is going to be in a neutral or indifferent position for very long.

This was no plink-plink-plink folksy boredom. Keith Kicked Ass and didn't let go. He didn't over power you, but instead tugged at your heart strings and seduced you to ride with him.

He did a great fast slide guitar, with some impressive guitar picking in between. Then laid on some slashing chords to keep the songs bouncing right along.

Right from the first song the audience was right with him and Keith knew it before the song ended, he saw it in their faces! He then jumped right into the second song, barely catching his breath, he was off again….he was only allotted twenty minutes, but managed to play a full half hour if not more.

Song after song he bounced and stomped right along with the audience. He's take a minute to explain the song and spoke French where he could, and the people loved it, they returned the affection instantly. This only propelled Keith forward and you never saw a happier man in your life – as the audience moved in closer and closer after every song. At one point Keith asked for audience participation, "I sing this part" he said, "and you reply with this, ok!"

The audience needed no further encouragement – they were spot on!

You really had to be there to appreciate this, coming from a man standing over six foot tall, playing a plugged in acoustic guitar only and a voice loud as thunder, with passion turned loose and love in his eyes. Standing there and giving it his all – right to the end. As I watched his face there was no need to offer any more of his talent, he did it, he pulled it off and won the day with Union Jack Flag Flying Colours!

I was sitting with Claudia, Lionel, Dominique, his wife Brigitte and son Thibaud. I got smiles, pats on the back and well done's – Sybille walked over and said "Good Choice Dave". This coming from a lady who went out of her way to make this happen for me, and to support Keith just because I asked her to trust me! I gave her no explanation, nor did she push the issue, I asked her for a favour and she obliged – like a blind date – sight unseen, she went out of her way for us, and I love and respect her for it.
Thank You For Everything Sybille!!!

My heartfelt thanks to Keith Christmas, thank you Keith, like you, I call it as I see it – you did this old boy proud!

To Ten Years After – thank you for accepting this unplanned addition without hesitation or resistance.

To Roland and Sabine – you were the final push that made this happen….thank you both so very much!

Post Concert Mayhem:

People wanted to smoke, others wanted to eat and everyone wanted something to drink.

It was a very friendly group of people, without the usual hostilities that arise after any concert.

For me, it's a circus and I enjoy just sitting and watching it all revolve around the room, I just soak up the energy and the unavoidable chaos – like a friendly traffic jam going on before your eyes.

I sat at an empty table, drank three cokes and was soon joined by a little woman and her freaky looking boyfriend. She had a bag of Ten Years After record albums, and he with long curly hair, purple tinted glasses and was a perfect Abbie Hoffman clone.

I said to the woman, may I look in your bag please, I'd like to see your records? Ok she replied, but give them back to me! I looked at their albums and to my surprise the first TYA album (self titled) was a little different from others that I had seen. It was an official release, no bootleg but laid out differently on the back cover – interesting.

After Concert:

Keith and I

I waited in line and then asked Keith to autograph his cd that I just bought for me…sure, no problem Dave. Did you have a good time Keith? He looks up with an impish grin of a child on Christmas morning (no pun intended). Great time he says, wonderful. His wife Sian is standing there with us, you're Dave? "THE" Dave? Yep that's me….smiles all around….I was waiting for the next line, somehow I thought you'd be ah, taller! She is a practicing lawyer, which is good to know. So how did you fall in love with Keith? He fell in love with me first, it took me a little longer to fall in love with him. For him it was love at first sight – and I can see why that would be the case I replied, you're gorgeous and brains too – the perfect couple! And dogs too, that Keith is walking most of the time.

So Keith, how is your house project coming along, I read about it on facebook. Good he says, I'm used to it, been doing this kind of work for many years he says. Gutting a bathroom and laundry room. Right in the middle of this conversation two things happened. One person after another wanted to chat with him, and ask for his autograph.

The second was that Keith started talking about his new cd, and how he can't wait to get back into the studio and work on it and get it done for a 2010 release date.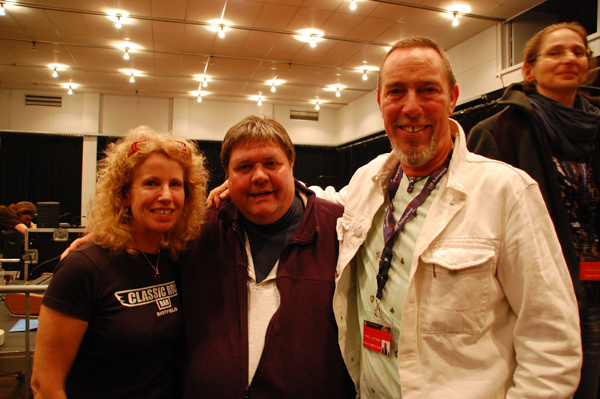 Tom, Wolfie, Sander, Cor:
Are three of the best friends that you could possibly find anywhere. All friends and bright individuals in their own chosen professions. Everywhere you go or turn on this night you're bound to run into one or more of the family or friends gathered here. Tom is onstage overseeing the equipment, Cor is managing the merchandise stand, Wolfie is regulating the sound board, Sander is engrossed with guitar tuning and concentrating on keeping everything in balance on the sidelines. Every show is as important as the next and tonight is no exception to the " TYA Rule of Law" - Anticipation, Preparation, Execution, Excellence - ….. this is what sets this band apart from all others.

In Conclusion:

A wonderful, unforgettable event that will be remembered by all involved for a long time.