Many Thanks to Joan Hunt and Jackie:



Concert Review: Ten Years After
New York City - Mar. 15, 2006
Roadworks
Ten Years After
Music, Usually ships in 24 hours
Buy now from

Nearly 40 years after, I finally got my chance to see Ten Years After. Now, I know there are many Alvin Lee purists out there, but I'm not necessarily one although I certainly appreciate and enjoy his work with the band. He made the decision to not be a part of the band and new lead singer/guitarist Joe Gooch is on tour with them. Me? I just like a good show, good music, and a good performance. Did I get them? You'll have to read on. I have to tell the whole story of the night, y'know...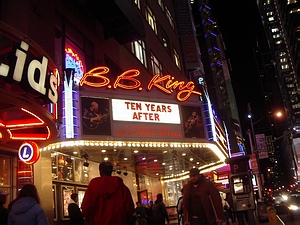 It was Wednesday evening, the Ides of March, that I hit the New Jersey Transit train for B.B. King's Blues Club located in the Times Square area of Manhattan. Ah, an adventure indeed, eh? I had my CD player with the studio album Ten Years After Now (recently reviewed by Blogcritics Larry Sakin) playing at high volume to drown out the loud woman on a cell phone seated behind me. I agree pretty much with Larry's review — technically great songs, but they need more soul or excitement behind them. So, I was hoping the live performance would provide just that "oomph" to the new songs.
Once I got to B.B. King's, there was an opening act for Ten Years After well worth a mention. The Lizards, a NYC based blues-rock, at times even a bit funk, band opened the show. They're loud. Very loud, at least in the acoustics of the rather small (perhaps seating 600 in cabaret style) atmosphere of the club. Hard-rockin' blues, a fantastic drummer (Bobby Rondinelli), chilling vocals — they got the house in the mood, for sure. One quote I found from a band member seems very fitting to their sound: "There's a sweet spot where James Brown meets Black Sabbath; we want to be there." If you get a chance to see this band perform live, go for it.
Then it was time for Ten Years After in its new incarnation. There were two obvious contingents in the crowd — those who mistakenly believed they'd be seeing the original lineup with Alvin Lee and the Gooch fans hollering "GOOCH, GOOCH!" As I perused the crowd, I couldn't help but notice many British accents and older rocker-type folks ... even older than I am. Y'see, I was old enough to want to go to Woodstock, but too young for my mother to allow me to go. Although I saw many of the big groups and solo artists of that era live in various concerts, I've never seen Ten Years After live. I have some of their original albums on vinyl if that counts! So, this was my chance nearly forty years down the road — a scary thought all of its own, but I won't go there now. It's time for the show.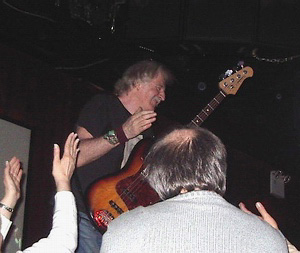 Leo Lyons' excitement and joy while playing is contagious. He's put on the years, for sure, but his energy level hasn't faded at all over the decades. Although technically Joe Gooch is the new front man for the band, I feel it's bass guitarist Lyons leading them in many aspects. His fingers literally flew over the bass strings without any effort at all as if the music came from deep inside him. I sat at a table near his end of the stage and I'm glad I did. His own personal performance was tremendous, full of vitality and taking the crowd into his own special love of performing live.
Original band members Ric Lee on drums and Chick Churchill on keyboards were a bit less noticeable from my point of view. Whether they shared Leo's sense of excitement, I couldn't tell. Their performances were fine, but I don't know if they were quite as really into it as Leo was.
Then there's Joe Gooch, the New Kid on the Block. Slim, rockin', new age, spiky-haired (with product), sunglasses-wearin', guitar-playin' Joe Gooch. I personally think he looks like CBS 2 (Manhattan) tech geek Brett Larsen (not a bad thing). The man seated next to me thought Ryan Seacrest. No! No! He's much too tall for that! But, can he rock? Can he roll? Can he fill Alvin Lee's big shoes? Hmmm ... good question. I think he'll eventually build shoes of his own with the band if they keep on working. In a way, he's a bit incongruous on a visual level with them due to the age difference — he's only 28 years old. On a talent level, he puts on a great show.
I was keeping notes of the set list in the dimly lighted club, but found that a few of them I wrote atop of others thus making them illegible. Oops. Due to that, I can't give you the exact song listings. They played a bunch of old original TYA songs, as well as most of the new material from the Ten Years After Now CD. Although I loved hearing some of their older hits during the show, it was some of their newer songs that got the crowd (and me) rocking and bopping our heads. "King of the Blues" was the first song of the new generation to really impact the crowd. Excellent! It pulled the crowd in and got us in the mood to hear ,not just the old, but the new. Songs I liked from the new CD came to life in the live performance, as well as a new song not on the CD - "Big Black 45."
I personally think that a lot of this band's strength is in the live performances, not necessarily in studio album work. While watching them, the excitement is there, the technically expert musical skills are there, and it all comes together for a worthy crowd experience. The soul behind the music shines. I know there is a live performance album — Roadworks — not yet released in the United States, available as a limited import. Based on the show at B.B. King's this past Wednesday, I'm interested in buying it. Of course, hits such as "Good Morning, Little Schoolgirl" and "I'd Love to Change the World" brought the house down, but the new songs performed live have that same sort of spark; igniting the crowds.
The band played a good couple of hours and came back for two encores. Just when you thought "Goin' Home" would close the show, it didn't. They kept on rocking with an extended "Choo Choo Mama." For a blues-rock fan, it's a concert I'd certainly recommend more so than the new CD itself. For a gangsta-rap fan, not so much. Joe Gooch isn't Alvin Lee and, with the new songs, I don't think he's trying to be anything but Joe Gooch. Together with Leo Lyons, Chick Churchill, and Ric Lee, the new incarnation of Ten Years After can raise the roof in a live show. That's all that matters to me.