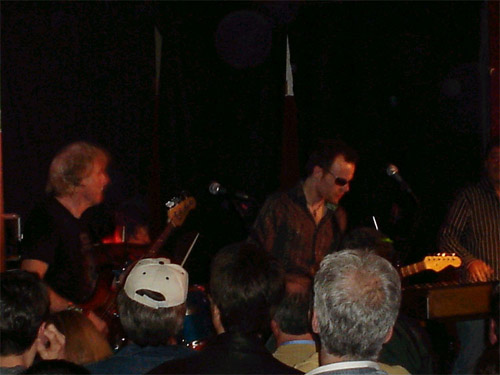 Photos and Concert Review by Chuck Dingman
Well folks, I finally got to see Ten Years After Now and to say it was one of the BEST shows I have seen in recent memory would be a major understatement.
Let me set the scene, The Keltic House, and really warm, intimate setting for a show. Myself as well as my sister and a friend arrived late in the day and had a wonderful meal while waiting for the show to begin. I finally got to meet Herb Staehr, a really nice guy, who I immediately started talking to about..uhh nuclear physics?? The stock market?? Uh no, take a wild guess what we discussed??
I also met some really nice people from an outfit called bluestormmusic.com who sat and shared some great stories. Anyway I digress, about ten (no pun intended) Ten Years After came on after a wonderful one man show from what I am told is Larry Coryell's son, he jammed on guitar and I highly recommend checking his music out. However, before the band came on I turned to my sister and said " I have to visit the mens room, I can't see the show on a full bladder!!" As I walked down the hallway, there all four of them were as big as life.
Okay, they came on and started with "Working on the Road," the crowd, which was indeed a sell out, was wild from the first note!! From the perfect vantage point, I saw the band and the crowd almost become one, each feeding off the energy of the other. Herb was next to me clicking photos and every so often we would say to each other "these guys are amazing." The set included material from "Now" such as "Time to Kill," " King of the Blues," and " Reasons Why," as an encore number, as well as a great job on "Big Black 45." The old TYA material was as mentioned "Working on the Road," "Love Like a Man," and a superior job of doing "I'd Love To Change the World." TYAN also did " Hear Me Calling" as well. They also did "Goin Home," which as a fan favorite was necessary, and did a nice job with it. And they finished with a wild "Choo Choo Mama." "Good Mornin Little Schoolgirl," and I Can't Keep From Cryin," were excellent as well, and although they are associated with the old TYA, I wouldn't call them Alvin Lee, (there I said it) material. Ric also did Hobbit, which drove the crowd even wilder, best drum work I've heard in years.
Okay, you know the songs, but there is so much more to say here. The pace of the band was in perfect pitch, well polished and hit all the right tones at the correct times. Joe's guitar, and lets be clear here Joe is a guitar god, was impeccable, clean and full of energy and soul. He is a master showman, and really made everyone forget you know who. It was clear he was in charge of the audience and they responded with an energy I though was as high wattage as could be possible. As a guitar player, it just wasn't speed finger blah blah blah, but soulful riffs that blew everyone away. During a short conversation after Hobbit, Ric told the audience that Joe has some big shoes to fill, perhaps clogs may be more accurate, but Joe not only filled them, he took the music to the next level, and in my opinion made new memories to old songs that just enhanced the Alvin legend. Leo was what I expected, just simply great, and his bass was sweet. He and Ric and Chick proved that TYA was not Alvin, but all of them, the backbone of the sound, a springboard for Joe to soar to new heights. Chick got the audience moving with each solo, espcially on King of the Blues, where he marched up and down the keyboard with a precision that dueled Joe's guitar work.
Okay, so what now? They play tonight again in Fishkill, and if you read before tonight, 3/12, get your ass over to the Keltic House and see them!! I spoke with all after the show and expressed my belief that the word of mouth of seeing such a high energy, professional show, along with the TYA Now cd which is just way toooo good to be forgotten, will bring more and more acclaim, judging by the reaction of the crowd after the show, and the band had a meet and greet, all of the patrons were just blown away.
If I had to put the show in perspective, I would say this: I know these two things, 1. Ten Years After played in Fishkill on Sat night without Alvin Lee. And 2. NO ONE MISSED HIM!! Thanks again to all the great people who made this night a great one and I have now crossed one more thing off my to-do list in life, I have seen TYA Now live!! You all go see them too!!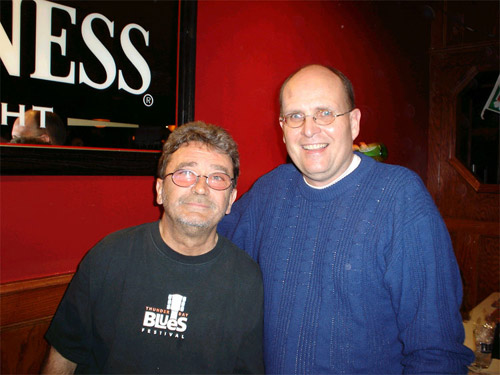 Chick and Chuck Dingman


Chick and Lorrie, Chuck's sister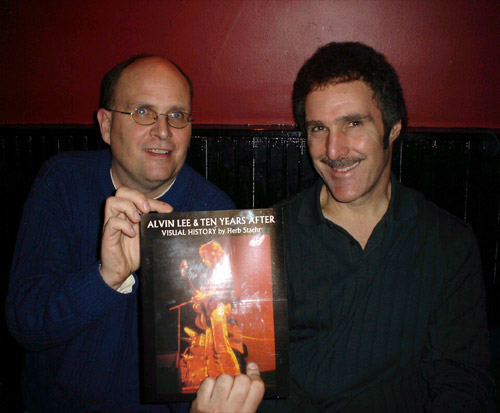 Chuck, Herb Staehr and his book "Alvin Lee and Ten Years After - Visual History"
---
Review by Kevin Wilkinson Sr - Fishkill, NY and Sellersville, PA
Had the privilage to see TYA twice in a couple days. The first Fishkill,Ny show and the Sellersville,Pa show. The band was fantastic both nites. All band members were very approachable and signed everything.. Gentlemen(TYA) Thanks so much for coming to the USA, hope to see ya soon. I also really like the new cd's..great job. Leo, your the man..what energy..Ric thanks for the sticks. Thanks to all who made the Fishkill show so important to my brother Bill, who is in very serious health, needing a liver transplant, he got sick in the 1st gulf war fighting for our freedom. He cried tears of joy so many times that night, because of you my brothers and sisters. He said it was his best nite.Special thanks to Colen(manager at Keltic house), Arnie Goodman, Karen, Herb, Murali Coryell,Leo(special thank you),Ric,Chick, and Joe. What a wonderful time for Bro. Bill. I owe you all. Sorry to say it again, THANK YOU!!! And I've been to about 500 shows in my life, one of the best, especially the energy, blew me away!! SAVOYKEV!!!!!
Bill summed it up saying it was the best night he's had, even though he was in pain.. But he was impressed when after the show the band came out for autographs, after that he has in his mind..Ric Lee leaving waving the peace sign..How cool! Just what us hippies love..Peace Love and incense!!!! Great job everybody..Stay true to your family with music, it's the universal language..had a great time myself...remember Murali Coryell, he kicked ass also..Very good singer..peace bro. thanks again savoykev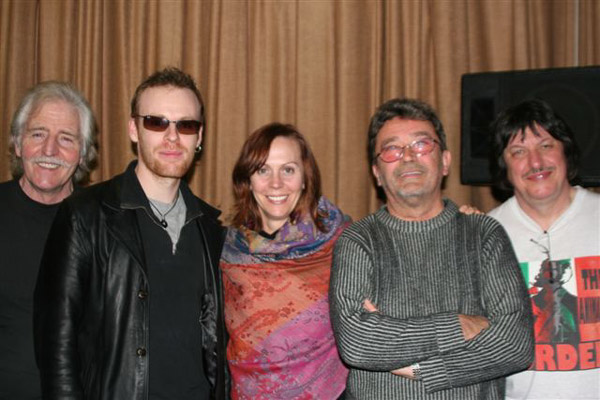 Leo, Joe, Karen Usher (Blue Storm Music), Chick, Ric