Not only has Winter arrived, but it's now in full force. Our friends Axel and Reinhard are suppose to be attending this concert with us. One from Berlin, the other from Osnabruck.
Over night fifty power towers have collapsed under the weight of the wet snow – 50 metal towers, and the wind blowing above 50KM per hour. Again, the autobahn is a parking lot.

It's Saturday afternoon and we have to decide, stay home or go? If we stay home we miss a great event, and also meeting our email friend and fellow TYA music lover Mr. Lionel Webb who has flown in from England just for this event.
We go!!!
My little auto doesn't have snow-tires on it, I didn't want any. As it's a front wheel drive, and all the weight is on the front end, driving and steering is no problem for me. Just watch your speed, keep both hands on the wheel, and both eyes open and no problem. A bad snowstorm here is four to six inches of the fluffy white stuff, back home in the great northeast of New York State – a blizzard is 30 inches of snow and white-out conditions, wind gusting to from 40 to 65 MPH. So, this little storm is nothing.
Another three hour drive, with no problems.
We arrive at Lionel's hotel at around 6:00, we have a few drinks (beer for them, soda for me) and then we take a taxi to the Grugahalle, Concert Hall. We're all on the guest list, and we're in with no problem. After a few words with a man in a suit, he escorts us to the back stage area, nice layout, perfect set up, very comfortable. There's direct access from the backstage area right to the stage itself, the stage is large and comfortable. Ron Bushy and myself could have stood over on the right side of the stage and watched the entire show, without bothering a soul. As it was we walked on stage and sat right behind Ric Lee during his "Hobbit" drum solo, now that was a real thrill, to watch Ron, watching Ric give his drum kit a good enthusiastic workout.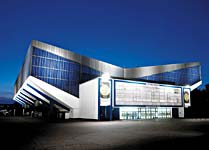 The house is not full, due to the vicious weather outside it's still an excellent turn out. It was said that another 1,000 to 2,000 would normally have been in attendance for a concert like this, as it was somewhere between 1,600 and 2,500 came out.
On this concert bill is a local band on one stage and Iron Butterfly, Ten Years After, Nazareth are on the main stage. Only opening, in-between band sets, and closing was a local band by the name of "Van Andern".
The running order goes something like this:
1. Opener Van Andern 30 minutes
2. Iron Butterfly 45 minutes
3. During Change Over – Van Andern 25 minutes
4. Ten Years After 60 minutes (but in fact played for one hour twenty minutes)
5. During Change Over Van Andern 30 minutes
6. Nazareth 75 minutes
7. After The Show Van Andern 65 minutes
You get the idea. This filler band also played in between the sets and there was never any rest for the ears. Constantly bombarded with music from beginning to end. It really got on your nerves and patience.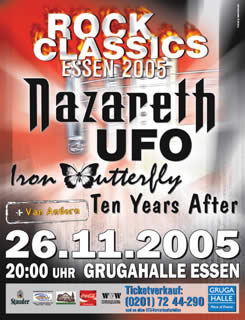 Iron Butterfly did a good job, although Ron wasn't at all happy with his drum solo, which we discussed after the show.
Ten Years After also did a good performance as usual, consistent and proficient.
By the time Nazareth did their set there were only 100 people left.
The loss of UFO on this bill is the real talking point here.
When someone schedules four bands to appear and only three show up, it throws off the entire chemistry and equilibrium of the event. The timing, the balance, the synchronicity and the atmosphere.
Fans were pissed off at not being informed that UFO would not appear. They paid to see four bands and only got three, now that's a rip off and I blame the promoter in charge and not UFO. All the way out the door UFO fans were voicing their disappointment. Every poster announced UFO and they weren't there.
This was the last gig for TYA on this leg of the tour, back to England they went until December 7th. Ron Bushy had a recording date in Hannover, Germany, so the rest of Iron Butterfly I assume returned to California for a much needed rest.
Backstage, Brigitte took some band photos, we all had a lot of laughs, great fun and a great time together.
The real star at this point was our friend Lionel Webb from England, and who should always be referred to as Mr. Webb with all due respect.
Back in the late 1960's Lionel and his partner (partners) ran a very successful venue in Guildford, England called "The Wooden Bridge", and he was the promoter who hired Ten Years After to play there. Lionel told us that during that time period Leo Lyons was handling the bands bookings. Leo was easy enough to get along with but you knew better than to cross him was Mr. Webb's impression, Leo was a firm businessman. Lionel and Leo are still friends and spent quite a bit of time reminiscing on a variety of subjects, past, present and future.
He also told us that at his venue, he hired Jethro Tull, John Mayall, Chicken Shack, Jeff Beck, Savoy Brown, Champion Jack Dupree, The Artwoods (John Lord on organ) The Steam Packet (Rod Stewart and Long John Baldrey) Bluesology (Elton John – back then known as Reg Dwight) Zoot Money, Graham Bond, and many other bands that I've never heard of before. This is just to give you the proper idea that we had a lot to talk about in a short amount of time. By the end of the evening Lionel and I were so talked out, that we'd tell each other stories, give each other information, and couldn't remember the names of the people and places in order to finish the point we were trying to make.
It made for a great laugh looking back on it, and it just shows how much we had in common and communicated perfectly on every level.
Our heartfelt thanks to:
Lionel Webb – Ten Years After – and the members of Iron Butterfly!
OFF STAGE - BACKSTAGE:
| | | |
| --- | --- | --- |
| | | |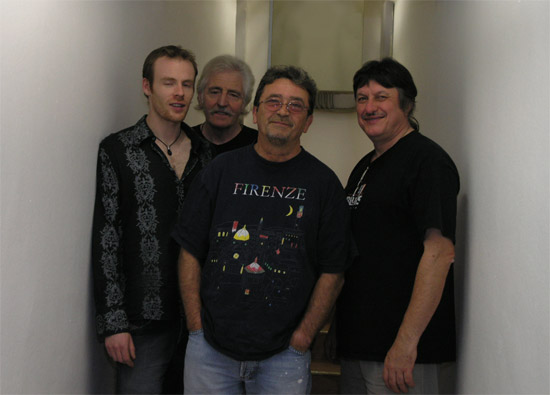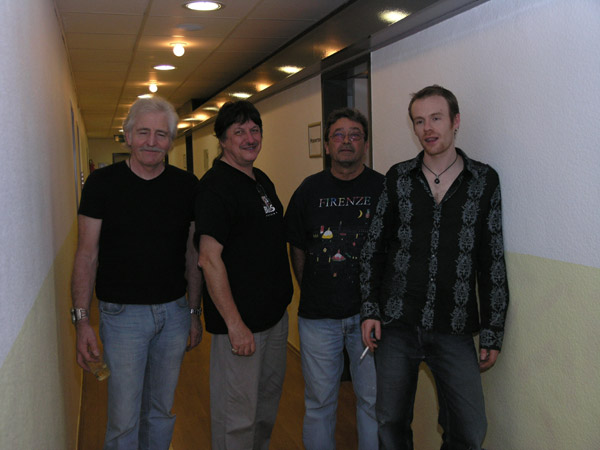 Photos: Brigitte and Dave