Our journey started on April 28, 2005

Paderborn, Germany.

The Venue: "Capitol Musiktheater"

Ten Years After were the headliners and on the same bill were Iron Butterfly and Canned Heat. Just for the record - Canned Heat has only one original member, "Fito" De La Parra and Iron Butterfly has two of its original members, Lee Dorman and Ron Bushy. Ten Years After is very fortunate to have three out of four of it's original members still intact.

Ten Years After NOW-- Rocks and Rocks Hard into the future.
We'll start our story with Iron Butterfly in Paderborn:
The first thing to do these days is invest a little energy and do some fast research where these classic rock bands are concerned. You need to know which original members are still in the band and who has been replaced over the years. Some members are dead, some are amoung the missing and some have simply burned themselves out completely.
Original Butterfly consisted of: 17 Year old Erik Keith Brann (guitar), Ron Bushy (drums), Doug Ingle (keyboards and vocals), Lee Dorman (bass and vocals).
The Butterfly Today is: Charlie Marinkovich (guitar and vocals), Ron Bushy (drums), Larry Rust (keyboards and vocals), Lee Dorman (bass and vocals).
The second phase after doing the research is to identify the musicians involved as they arrive in person at the venue. At this point Iron Butterfly and Canned Heat are all entering at the same time. There's a little guy wearing bowling shoes who turns out to be Ron Bushy, next is Larry Rust who speaks with his strong southern drawl and makes his presence known without trying…when Larry enters you know it. Lee Dorman, is elusive as he lays low and isn't as visible as the others, in fact my first view of him was on stage and stepping up to the microphone and requesting someone from "the back-line" to repair the Marshall Amplifier that just shit the bed…broke down as it were. This is during the sound check, and one side of the stage had sound, the other didn't. The fact is Ten Years After took an hour to work out all the kinks, which left Canned Heat and Iron Butterfly ten minutes each to get their things in order. It was kind-of-funny to listen to the German man on the sound board trying to get Larry to play his keyboards—Arnold Schwarzenegger meets the Dukes of Hazzard….talk about misunderstanding! Larry's saying "and what is it ya'all wants me to do?" and the German man replies "keys please" with a German attention sound but it comes out sounding like.. Playz dour Keez Plaze (play your keys please).
So, that's how it all started, with Ten Years After on stage doing their sound check and the members of the other bands wandering through the concert hall for us to listen to and observe.
Back Stage Area:
The backstage area is upstairs and a beautiful layout, plenty of room for all and a great spread of food and drinks available. We started out talking with Leo and Joe, I held a large pad of computer print out paper and informed Leo that I had a few questions that I'd like to ask him (enough to fill a whole novel), Joe burst out in spontaneous laughter at the sight of my visual prop. Leo on the other hand said in his reserved and bone dry sense of humour, "ok bring it on, I'm ready".
We spent the better part of an hour with Leo and Joe, while the members from other bands wandered in and out looking for drinks and information.
The first band up on stage is Iron Butterfly, so while they're playing I now have the chance to introduce myself to Mr. De La Parra "Fito", the one and only founding member and drummer for the one and only "Canned Heat". Over a year ago "Fito" and I exchanged a few emails but it took all this time for us to finally meet in person. When the situation was finally right I introduced myself and he remembered our friendly letters right away. Fito and Ric Lee have been good friends for many years (35 or more) so I already knew that Fito and I would have no problem getting acquainted, and I was right.
In the background, Iron Butterfly is providing a beautifully loud soundtrack and whose set list included the following numbers::
1.Iron Butterfly Theme
2.Unconscious Power
3.In The Time Of Our Lives
4.Soul Experience
5.Stone Believer
6.Flowers and Beads
7.Easy Rider
8.Butterfly Bleu
9.In-A-Gadda-Da-Vida
10. Are You Happy?
Fito, notices a poster on the wall that says "Heroes of Woodstock" Fito says, "Hero of Woodstock, that's going a little far don't you think?" as he walks away—I yell out: "well Fito, you survived that massive event, didn't you, which is more than I can say for a lot of people", he turns a little to the right hand side and nodding his head says, with a chuckling laugh "yeah you're right". He goes into the room where the members of Ten Years After are relaxing.
I next meet Dallas Hodge who is the guitarist and vocalist for Canned Heat. He's a big guy with a beard and wears a beret. Dallas is a good front man for Canned Heat as he has good appeal, strong values and always speaks his mind, when asked or voluntarily, he has strong opinions.
While we were sitting on the sofa Dallas surprised me when he started having a conversation with Charlie (guitarist) for Iron Butterfly and a few others in the room. Dallas spent about ten minutes expressing his views on one topic…the subject in question "Joe Gooch".
Dallas was saying what an excellent guitarist Joe is, what control he had over the guitar and how much he liked Joe's style. This went on for a while and then Dallas really surprised me with another story which in short amounted to this: "the rest of the bands had finished playing and my band mates wanted to return to the hotel, I said you go on ahead I want to watch Joe play". Dallas continues, "I wanted to stay, although I was dead tired I wanted to see Joe play that guitar, even if I had to hire a taxi to get back to the hotel, I was willing to pay for it out of my own pocket if necessary, but I wasn't going to miss his performance".
Dallas also said, "Joe is a very nice person as well a guitar player, he has no ego problems, and a very decent person". Dallas continues "Joe is as good as Alvin ever was when Alvin was his (Joe's) age, back when Alvin had that raw edge sound and was full of piss and vinegar". Dallas also noted, "in many ways Joe's playing is much better than Alvin's, because anyone can do fast runs up and down the fret board as Alvin does, but Joe has a real feel for his guitar and what he's playing. Joe chooses his notes carefully and allows space between the notes that give it a special effect and significance and that's the real trick between being a good guitarist as Alvin was, and a great guitarist that Joe already is".
When Ten Years After was on stage Dallas, Ron Bushy and I all went downstairs to watch Joe and the band in action, ten minutes later Charlie also came to join us. Ron opened the curtain and sat down on the stage just as Ric Lee was starting his drum solo number called "Hobbit". Afterwards I asked Ron what he thought of it, he paused a minute and then said "it was good, but Ric uses the double foot peddle too often for my liking", I said you mean you don't like all the thundering? "That's right" Ron said. I asked Ron if he knew the meaning and the story behind Hobbit? "no I don't have any idea what it's about" Ron replied, I told Ron that according to Ric, it's based on the battle scene in the Lord Of The Rings Trilogy, and that's what all the thundering created by the double bass pedal is all about. Ron smiled as he now had a better understanding.
Ron and I had the chance to talk about music, a little of his life and his opinions on fellow band mates, past and present, and some of the places he's played at over the years. He told me that he lived just around the block from Jim Morrison and saw him quite often as they both lived in Laurel Canyon in California.
What I like most about Ron, is that he's one hundred percent direct, ask him a question and he'll give you an honest answer, no bull-shit and no star power trip involved, if you treat him with respect he'll offer the same in return. Besides that, he listens carefully, and I mean really listens, he doesn't just pretend to be interested, he is very interested in learning no matter what the topic may be.
On this our first meeting we broke the ice, got acquainted, and exchanged some information, it was fun and a good time.
All three bands played their sets and in the end we all hung around for a little while and then Iron Butterfly and Canned Heat returned to their hotel, which left us (Brigitte and I) and Uli Twelker (our new friend and contributor and music writer for Good Times Magazine) and our friend Thomas Henzler alone backstage with the members of Ten Years After. It was fun while it lasted but Chick Churchill wanted to go back to the hotel, and every five minutes he'd say in a loud voice "I'm Ready", so the evening ended a little quicker than we all would have liked, but no problem we respect Chick's rights too.
That ended day one of our five days with Ten Years After.
---
Day Two:

Sunday May 1, 2005

Braunschweig, Germany

The Venue: The Jolly Joker

Not my favourite venue, and it didn't start off very Jolly let me tell ya. We walked through the crowd of bikers with no problem, and found the entrance but that's where the trouble begins. There are three people guarding the doorway, Brigitte walks in and they stop me dead in my tracks. You see I'm the one carrying the bag full of nice refreshments for the band, and that's not allowed.

Out come the two-way radios and the cell phones and they're all calling the same person to come to the front door as they've got a problem. So I just stand there and keep my mouth shut as there's no use in wasting my time and breath on these hired flunkies and wanna-be cops. Out comes the higher ups, and he leads me to the front desk to another person who is as equally disinterested as the people at the front door.
As luck would have it the Tour Manager for the band was standing there so this should resolve the problem, as we saw him all day long in Paderborn and he knew we were with Ten Years After, but he didn't receive the guest list yet, so it's still a problem.
I then request that they take us to the back stage area, now things would get better in a hurry. I saw Larry Rust, keyboard player for Iron Butterfly and by this time I was a little ticked-off and told Larry our problem, Larry said "they're alright, they're with us, leave them be" end of story…Thank You Larry, now I have a good idea what God sounded like when he was laying down the law and demanding the attention of mere mortals.
Now we're in and I see Dallas Hodge sitting there, so we talk a little while. There's Fito, and the men of Canned Heat, and our friend Axel along with his friend arrive. Now things start rolling along at a fast pace. Brigitte and our friends go out front to scope out the situation, and find the best location for taking photos. I get to spend time with the band members.
Once again I sit with Ron Bushy, I start by explaining to him that I've had some time to think about our last conversation, and that I'd like to discuss a few concepts with him. Ron is open and honest and as I've stated before he listens. I tell him about a future project that I'm working on involving the influence of classical music on rock 'n' roll music. I continue by saying that after much thought I came up with this idea: Ron, have you ever considered a two cd set of In-A-Gadda- Da-Vida, with a full orchestration? Not exactly a concept album like "Tommy" but an extended piece of music full of strings and sub-divides and crescendos.
| | |
| --- | --- |
| | |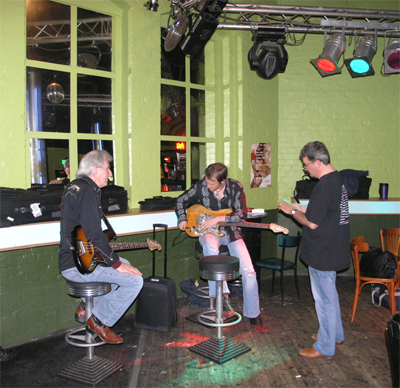 Ron's reply "yeah, it's crossed my mind more than once". He continues, and now I listen intently. Ron says, Dave, do you know what "Vita" is all about? I tell him, well I do know that the original title was suppose to be "In The Garden Of Eden" but someone (Doug Ingle) slurred the words after too much wine and it came out in its present form. "That's right" he says, "but the whole song is about the life and death of a butterfly. From caterpillar, into a cocoon and then the transformation / metamorphous into a beautiful butterfly". "The life of a butterfly is very short, when they die they just crash and it's over, and in my drum solo the slow quiet part is the heartbeat of the dying butterfly-dat dat- dat-dat- dat".
As I listen to Ron, I also notice he's running my concept around in his head. He's thinking of it in his terms as a musician and I'm thinking of it in my terms of what would work from a fans point of view. I can honestly say that we both are intrigued by the overall prospect, but also somewhat confused about what would work and what wouldn't.
I ask Ron what classical artists he likes the best - Russian born Sergei Rachmaninoff (1873-1943) is one, Miles Davis (1926-1991) "Sketches of Spain" is another, Gustav Mahler (1860-1911) from Austria.
Ron snaps out of his deep thoughts and elaborate ideas, as it's now time to get ready to do his set. I wander around the stage area and catch up with Brigitte and Axel who are focused on their photography, the place is packed once again, I'm amazed as it's a different scene from the 2002 phase of Ten Years After's Return.
We all watch as Iron Butterfly goes through their set of psychedelic music. They put on a good show. Afterwards I head backstage, Brigitte comes in and tells me that she's met this interesting woman who's name is Gaby, I said "I've been looking forward to meeting this woman for the last two years, please bring her in". In fact I've seen her just a little while ago talking with Fito but I just thought she was his girlfriend, now I know her as Gaby.
Who is Gaby:
In my research, looking for Eric Burdon, or Canned Heat, I keep running into the name Gaby, from Hannover, Germany. Gaby, it turns out, runs the website for Canned Heat, and for many others as well, she has a whole list of acts she follows and is devoted to.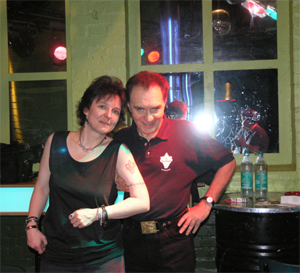 I have been sending her emails for over two years but she never replied to my request to use some of her photos on our website. Now I know why, she gets five hundred emails a day, so mine is just one of the many that she deletes without a second thought.
I introduce myself and tell her what a pleasure it is to finally meet her in person, then I proceed to rag on her about snubbing all my emails, when I'm only trying to ask permission to use some of her work. From that point on it's a non stop mutual admiration society, and for the rest of the evening we compare notes and exchange what seems like a thousand stories, ideas and opinions.
Gaby asks me to take a photo of her and Fito together for her website, a great pleasure I assure both of them.
As we return to my table, we talk about running websites, photography, music, artists, and Henry's Blues Garage in Hannover. All of which consumes the next hours.
Brigitte and Gaby have many things in common, two wonderful women who are running great websites for the bands they love. We all stay together until the concert reaches its conclusion, and all the bands leave the venue.
Also I meet a Big Bob Hite look alike who could also pass for a Jim Morrison clone from the cover of the L.A.Woman album. His name is Florian Damm and he's a disc jockey from Okerwelle radio. We talk about everything and learn from each other for well over an hour.
What started out as a real life hell hole, turned out to be another memorable event, in the most unlikely of places. It's a strange world indeed "Master Jack".
Day Three:

May 3, 2005

Bochum, Germany

The Venue: Zeche

This concert wasn't on our original itinerary of events, but we decided to fit it in for two main reasons. It's a prelude to the next gig that we've been looking forward to for many months, but that takes place tomorrow in Bünde.

The real and most important reason is because today is Joe Gooch's birthday. As frontman for Ten Years After and its guitarist and vocalist we've come to celebrate.
| | |
| --- | --- |
| Looking back on it, Paderborn was just a one hour drive and easy to find the venue. Braunschweig only a two hour straight drive, one hour past Hannover, that was no problem at all. Bochum, was a little more difficult with detours, construction, speed restrictions and single lane roads all over the place. Getting there and back home was a real test of patience and endurance for both of us, but we wouldn't have missed it for anything.. | |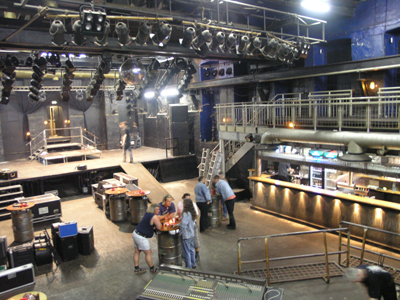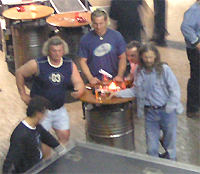 Funny how every venue is different, some are clean and manicured with good food and friendly people, and others are the exact opposite. This venue wasn't in the top ten of classy places that we've ever been to over the years. The glass windows were filthy, the floor was filthy and the place reeked of everything except disinfectant. It also seemed to repel or be allergic to soap, water and fresh paint. Every wall showed signs of tape, staples and the remains of a thousand discarded poster corners.

The person sitting at the door waiting for you to present your ticket before entry, is using a fifty five gallon oil drum as his official ticket taking table, and an old fishing tackle box to stuff the money into.

Once again we've beaten the guest list, it hasn't been made available yet, so we're now under the suspicion of the person guarding the gate and his clone sidekicks. Someone goes to find a band representative to rescue us….thank you Barney, Tech-Wiz for TYA..

We're escorted to the back stage area where Leo and Chick are getting ready. We talk a little politics as Mr. Tony Blair is running for office, Chick and Leo debate the war issue, and it's interesting to listen to everyone's opinions. It's a comfortable little area, but only built to hold about six people in all, so it's more than advisable for some of us to abandon this area. Brigitte, another friend of the band and I go out front to wait for the show to begin.

To be honest, the crowd is a little scarce in numbers, it's a little club and it's not going to be a full house on this night. Tuesday evening isn't the best day of the week for a rock 'n' roll show, and the other problem is, that the band just played another gig just fourteen kilometres away. We just report the facts as we find them, there's no need to fluff up the numbers or exaggerate the situation in a more positive light, it is what it is.

The good news is, everyone there, wants to be there. Two hundred, die hard rock fans are there to have a good time. They enjoy every song played and my impression is that everyone knows all the words to every song, even from their new cd. The ones who aren't singing are busy dancing, head banging or playing their imaginary "air guitars".

No one is standing still, they're hopping and bopping all over the place. Clapping in appreciation, yells and whistles abound, this is a happy gathering. From start to finish it's non stop fun. Brigitte finds a perfect spot up on the second floor balcony, looking down upon the stage, the bands in action and on the left hand side, the audience is rocking along.

It's between numbers now and Leo and Ric both announce that it's Joe's birthday today, whereby the crowd burst out with a fond singing rendition of "Happy Birthday to you, Happy Birthday dear Joe, Happy Birthday to you". Brigitte and I and the band are caught by surprise at this heartfelt gesture of affection and approval for the now twenty eight year old member of Ten Years After.

Although it's not a sell out crowd, the band still plays with the same passion and intensity, to this crowd as they do at every other venue. A fan is a fan and an audience is an audience - it all counts. Playing their heart out is what makes Ten Years After special.

Not the Best Floor Plan in the World:

The backstage area is off by itself (remote) and the band can't directly access the stage from that location. The food for the band is in another area and the stage is in the center of everything. But it makes no never mind, everything went well, everyone had a good time and it all ended on a high note.

We've never seen a better or more active audience, they were a show in and of themselves.

As we echo Leo's own words, "Thank You All For Coming Out-- We Appreciate All Of You".

Dave's note:

It's not big crowds that cause me concern, because they can self-regulate any negative activity that might happen, if the band is below their standards. It's a little crowd like this and a venue in disrepair that concerns me. On this evening, it could've turned very ugly very quickly I felt. Ten Years After proved to me, that they can play anywhere, anytime and anyplace and satisfy the most discriminating or demanding music fan and without the fear of any negative repercussions . If the band was lacking in any way, shape or form, this audience would have raised their voices in unison and eaten them alive. But these Bochum "Gladiators" didn't smell any blood in the air, in fact far from it, as the band was on fire, the audience was fired up, and a great time was had by all.

Never again will I be overly concerned about any audience not liking Ten Years After, they just let the music do the talking and it works everytime.
Day Four: The Moment We've Been Waiting For:

May 4, 2005

The Venue: The Liverpool Club / Stadtgarten Bünde

Reason: It's Brigitte's Home Town and we want to make damn sure that Ten Years After receives the biggest warmest welcome as humanly possible.

They're here to pay us a special visit and they are sure to feel at home because this is where we live, they are our guest now.

We arrive early (3:00 PM) and already fans have beat us there (the campers from Berlin who Brigitte met at the gig the night before) and the bands equipment is being unloaded and being brought up onto the stage.
It seems that the sound check was in progress the whole time as preparations were being made, involving the sound boards, amplifiers monitors ect.

This venue is like a palace compared to the one we left behind last night. It's a huge, clean, professional looking hall, bright, friendly and happy. It is reminiscent of a school auditorium. The owners and patrons are also of the same caliber, good people. I watch them all, staff, promoters, roadies, musicians, everyone and everything, but not one security guard lurking around, pointing fingers and asking bull-shitty questions. We have access to every corner of the place, free reign and it feels wonderful. So, we pull up a couple of chairs at a nice clean table and observe all the activity, while staying out of the way.

Leo Lyons waves to us from the stage and comes over to say hello, on the way Leo takes the time to say a special hello to the campers from Berlin who we met the night before in Bochum. Later on they tell Brigitte how impressed they were about Leo, not only that he took the time to say hello to them, but also that he remembered their names too.

Leo sits down with us, and I tell him this is the Taj Mahal compared to the venue last night, and wait for him to second that notion, he doesn't. I have just learned another lesson from the master world-trodder, that his main goal is to play music, nothing more. I can make the logical assumption that to him one venue is just the same as another and it's a fools errand to try and compare them. In reality, they are really inconsequential to his real objective of making good music. It's just another building, another venue, another gig at yet another location.I remember John Kay saying to me back in Albany, N.Y. "just another city, and another town, the only difference is the name".

Brigitte has a special request of Leo, but she's to shy to ask, so I help out. She would like Leo to write down the bass guitar tablature for the song "I Can't Keep From Crying Sometimes". Leo has to think for a minute, but then he works it out in his head and then puts it down on paper for her. This was not a usual request by any stretch, but it should also be noted that Leo didn't ignore or blow off the situation, he faced it head on and once again proved himself to be the gentleman we've come to know and respect. He spends about twenty five minutes with us and then back on stage he goes to continue right where he left off, never missing a beat.

Ten minutes later Ric Lee comes over and says hello, he asks if I know my way around Bünde, not as well as Brigitte I tell him, as he needs someone to get him from point A to point B in a hurry. Brigitte climbs into the van with Ric and off they go. Brigitte later tells me, that Ric knows his way around her town almost as good as she does.

In the meantime I talk with a woman who happens to be second in command to the promoter, and we have a nice chat, about the schedule and the artists who have played at this club in the past.

Iron Butterfly is up first tonight and then The Spencer Davis Group and the headliners are Ten Years After. Allow me to jump forward and tell you in numbers how it all finished up. A total of 1,200 people attended this concert, the audience wouldn't let Ten Years After leave until they did a third encore and it's been the best showing of support that we've seen so far for an indoor concert.

The show was over, in fact the amps were turned off, guitars unplugged and the roadies were all lined up and ready to start loading the equipment onto the trucks. The audience grew louder and louder until finally, after fifteen minutes, the band came back out, Joe steps up to the microphone and says in an astonished voice "you're all damn crazy ya know". I really don't think Joe has seen this before, but from now on he's going to have to start getting used to it, because as the audiences are grow larger they are also becoming more demanding.
So, how did the Bünde concert get to be the exceptional place on the map for this tour?

First of all the link from the venue went to our friend Torsten Strube's German Ten Years After website, and that was a big help. Secondly, the local radio stations and newspaper media made the concert known well ahead of time. There were posters on the street advertising the event, and this is where we did our little part. We placed a few posters, contacted a few people, and notified the fans on our website, every bit helps.
We also set up a meeting with the venue owner, who gave us more posters and allowed us to check out the concert hall where the bands would play, he showed us the back stage area, and the dressing rooms downstairs.

On the night of the concert there was an extraordinary amount of busy activity and buzz in the air. Sigmund Bischoff from Radio Herford was there as were other press / media people. Brigitte was out front with our friend Reinhard Pieper, I stayed backstage to talk with Ron Bushy, Lee Dorman, Charlie Marinkovich, Spencer Davis, Colin Hodgkinson, Larry Rust and Eddie Hardin and of course the members of Ten Years After as they wandered in and out until it was time for their set.

People were coming and going, cameras were flashing all around and musicians were conversing with everyone in the room. It was busy but relatively quiet considering all the traffic.

Iron Butterfly is first up:

Once again I think it's necessary to start at the end and work further backwards esspecially in this case.

Two original members of the "Butterfly" are missing. Eric Keith Brann (real name Rick Davis") who was their seventeen year old guitarist in 1968 has since passed away from a heart attack in on July 25, 2003, and Doug Ingle the bands vocalist and one of the bands song writers, it seems wanted to be left alone and got out of the music business all together.

This covers what happened to Iron Butterfly the best: As quickly as Iron Butterfly became "hip" they just as quickly became "unhip" in the fickle popular consciousness. A rocket ride to the top and a rock slide- ride to the bottom. This leaves two original members, Mr. Lee Dorman (bass guitar) and Mr. Ron Bushy (drums). Charlie Marinkovich (who is in Eric Brann's previous position) and Larry Rust (who is doing the keyboard duties for the band) replacing Doug Ingle to great effect in vocals and playing style.

It is my opinion, that the Iron Butterfly of today is still capturing the mood that was the late 1960's and that's not easy to do, but for whatever reason the reviews for the band are far from flattering. It is my personal belief that this band is a lot like "Vanilla Fudge", you either get their passion, energy and artistic approach or you sadly miss their point. I feel the later seems to be true. People are not aware of the message, the meaning or the cerebral and emotional content being offered. In other words, when Ten Years After plays "Good Morning Little School Girl" for example the fans from all ages can relate to it and they react appropriately to the song. The same applies to The Spencer Davis Group when they perform, "Keep On Running", "Gimme Some Lovin'" or "I'm A Man", it stirs deep memories that the audience can relate to.

With Iron Butterfly, the message is lost, due to the fact that everyone knows the one song that they're made world famous--- "In-A-Gadda-Da-Vida". The rest of the set list is just fluff and filler to an audience who's waiting for that one twenty minute epic, and this explains the bad reviews. The band comes across as being limited, arbitrary and insignificant. This perception is totally misguided and seems just plain wrong to me. It may be easy for some people to dismiss them as a one hit wonder, but they're still here, performing and I see no one hit wonders doing that. Iron Butterfly is the exception to the rule. They're playing their hearts out and working their ass off to bring it across to the fans.

My Conversation with Ron Bushy Continued:

Over this five day period Ron and I have had the chance to become friends and exchange many ideas and compare experiences. As I said previously, we discussed "Vida" in detail.

I wanted to figure out what these four professional musicians could do to make it more interesting for the fans and themselves.

The song "Vida" started out as a two minute country song and evolved into it's present epic. If the fans are so uninterested in the rest of the "Butterfly" song catalogue then why not give the people what they want. A new updated version of "Vida".

Open Letter To Ron Bushy and Lee Dorman:

It's easy for me to envision "Vida" in the realm of say a classical piece of music, after all "Vida" is just an elongated version of variations on a theme, in the classical sense. So why not redevelop the whole concept give it new life, and under an expanded new title. Tell the whole "Butterfly" story in words and music like an opera and keep it closer to opera rather than rock-opera, as that's where it belongs, add rock to classical music and opera and make "Vida" sing out and capture the imagination of today. The drug filled illusion is long over, use "Vida" as a stepping stone into your grand-childrens future, the piece will remain long after you're gone. Isn't that what the basis of music and film are really all about "Imortallity"? Drawing pictures on the walls of caves and communicating with others by drums, that's what they have done to preserve their existance!

Ron you're a fan of classical music and you have your favourite opera, that we've discussed. You and Lee have your heart and soul invested in Iron Butterfly, so it's no quantum leap to make "Vida" classical / operatic / progressive and heavy all in one flowing variations of sounds, colours and texture.

Add a choir of voices, riding over Lee's fantastic bass line, with that classical organ as Larry Rust has had eight years of classical keyboard training under his belt, and Charlie can play anything upon demand. Lee, you worked your ass-off with "Captain Beyond" and were never happier or more proud. I say, go for it just one more time Mr. Dorman.

This is where my concept of a double Iron Butterfly cd comes into play. It may take two years of intensive work to create but the end result could make this band immortal, for all the right reasons. "Vida" is you, perfect the vehicle as the creative possibilities are endless.
---
Next up The Spencer Davis Group:

Werner Jaeger, founding member of the "Liverpool Club" told us he saw them play in a near by town and that "this show was so much better", that opinion of course was expressed after the fact.

I'm sitting backstage when Spencer Davis himself and Band come in. The band is hungry and Spencer Davis is thirsty. One thing I notice at these concerts is water, soda, juice and wine is provided for the artists, that's very nice, now if only someone could remember to provide the nessecarry cork-screw and bottle opener that would be wonderful. Werner heads off in search of the elusive opener, and to all our surprise he returns with one in hand.

After things settle down a little, I request an autograph from Mr. Davis and the rest of the band, with no problem they all are happy to sign. Within twenty minutes The Spencer Davis Group is on stage and working hard to please the audience. The whole set last about an hour but the time flew by. One old hit after another was played and broken up in between by a drum solo and bass solo at separate times. The whole band played together well and the crowd loved knowing the familiar songs. Which was very important after the Iron Butterfly performance. Spencer Davis was perfect for setting the tone and mood for Ten Years After to follow.

The Spencer Davis Group got good reviews, and they were well deserved. Other than Spencer Davis the real star of the show was Colin Hodgkinson who has a long and prestigious musical history, he's a real living legend.

Spencer Davis Group concluded their set and left the venue just as fast as they arrived. In a flash they were gone.

Next Up "Our" Ten Years After:

Between being in their hotel and in their dressing room downstairs we only saw the members at sound check and wandering through the backstage area from time to time. Before their set started I dropped off a good size box of wine, chips and fruit, that Brigitte packed for the band to enjoy, and left them alone to take care of their business and personal affairs.

This is our fourth gig out of five with them, so at this point we give them some comfort and our support, but it's really time and just as important to back off and resume our position as observers and loyal fans. In short, we respect their privacy and space so as not to over stay our welcome.

Brigitte is out front with Reinhard Pieper both with camera's at the ready, while I place myself over on stage left and pull up a moving trunk to sit on. I'm behind the monitors and the large speaker columns to prevent getting blasted with the direct sound that will make your ears ring long after the show is over. I want to be able to hear people talking after the set is over.

At this position and prime location, I can see our friends in the front row and the band perfectly. The only problem that presented itself was the monitors to Ric's weren't allowing him to hear what was going on. More than once Ric instructed the sound technician to turn it up, the man would play with the controls but it was of little use, the monitors weren't cooperating at all. Barney, would run back and forth between Ric and the sound man but to little avail, Ric was stuck with basically dead monitors. Ric kept looking at the faulty equipment with disgust and frustration while shaking his head.

The sound in the venue was good from the stage to the middle of the audience, but from there to the back of the hall it was questionable, safe to say it wasn't up to (scratch) proper standards.

For whatever reason this seems to be an on going problem. Ten Years After's presentation is top notch, their performance is top shelf, they have all the energy, passion and talent needed to propel themselves right into the stratosphere. They're tight, professional and project to the audience well, but the faulty equipment, sound problems and frequent equipment failures need to be resolved.

It wasn't only Ten Years After's problem it also affected Canned Heat and Iron Butterfly the same way. Charlie (guitarist for Iron Butterfly) was talking about the amplifiers dropping out (dropping down / breaking up) during a guitar solo, and that the pots in the back of the amps were damaged during every transport. Frustrating and time consuming to say the least. In Paderborn (as I reported) the Marshall amps conked out for Iron Butterfly during sound check, more than once we heard the musicians yell for "back line support, up front" we have problems they'd say.

For Ten Years After, if their equipment was as consistent and reliable as their performance is, they'd have it made in the shade. Until that time arrives they'll be fighting with these annoying distractions and electronic demons, before and during their shows.

Leo rarely has any technical problems, Chick's are minor and easily resolved, Ric's drum kit is in mint condition, and Joe has his own amplifier, new guitars and they receive perfect / quality maintenance on a regular basis.

That means the problem resides elsewhere, the microphones, the monitors, the Public Address system supplied by the venue or the sound board mixing. All of these are variables that seem to throw the whole thing out of whack. For whatever reason, too many of these minor things add up and directly compromise the integrity of the artist and the quality of his music and performance.

Ron Bushy (drummer for Iron Butterfly) asked the sound man who was setting up the microphones for his drum kit, why they were placed in a vertical position, because they are usually placed pointing up at the bass drum from a horizontal position for better sound. The man replied "because these are new clamps and they need to be installed this way" Alright Ron says, I guess that's just the way it is.

The Ten Years After Set List:


Reasons Why
Can't Keep from Crying Sometimes
Time To Kill
I'm Going Home
Love Like A Man
Big Black 45
Livin' It Up
Bad Blood
Voice Inside Your Head
Choo Choo Mama
Sweet Little Sixteen
I'd Love To Change The World
Working On The Road
King Of The Blues


As stated before, 1,200 people attended this concert in this quaint little town called Bünde, considering the size of this little community and the economic depression here in Germany (and getting worse everyday) this was a big turnout for a Wednesday evening.

Concert over we're the last ones out the door and time to return home.
Our Last Day With "Our Favorite Band", Ten Years After,
Canned Heat and Iron Butterfly:

Saturday May 7, 2005


Nordhorn, Germany

Venue: Alte Weberei

Well this is it, the last stop for us this month, at least on this leg of the Ten Years After 2005 tour.

We've paced ourselves just right because the weather and the driving around Germany has been exceptionally easy to deal with. The usual fatigue is just starting to catch up with us, but not as bad as our past "Three Days In A Row" with Ten Years After, back in December of 2002.
We drive to Osnabrück, Germany to meet up with our friend Reinhard Pieper. He wants to drive his car to the gig so we get to ride, that's a good deal, we get a chance to relax for a change. I insist that Brigitte sit up front with Reinhard, so they can both talk in their native German while I sit in back and listen and enjoy the ride.
Our timing is perfect as we arrive just as Canned Heat is unloading their equipment, I walk in, and the man in charge wants to stop me and then decides that I'm with the band. Brigitte and Reinhard who are walking behind me aren't as lucky, as they get stopped in their tracks. We inform the man that we're on the guest list and we're doing nothing wrong—come with me he growls, alright no problem. He takes us to the other side of the concert hall, where the backstage area just happens to be, well at least we're closer to where we're suppose to be. The man walks behind the office type wall looking for the tour manager (remember him, the guy that forgot to remember us the last time?) Dallas (Canned Heat singer and guitarist) is sitting there eating (or trying to eat, because he's all pissed-off because the food is all gone before they got there, he ain't a happy camper) I say "hello Dallas, would you please tell this man that we're with Ten Years After and get him off of our backs!"
"Shit", he says, "I don't know what your relationship is with them and I don't want to know, all I know is we have to play in ten minutes, I'm hungry, there ain't no food and then we have to leave and play another gig somewhere else this evening, two gigs in one day, ain't that some kind of bull-shit!!!" . On a happy note we did get to talk about his Detroit "Rock" City days, of Ted Nugent, Jim McCarty (who Dallas calls a good friend) of "Cactus" fame and the old MC5 with "Sonic" Fred Smith on guitar and Wayne Kramer and crew.
Somehow the tour manager has another memory glitch and he now remembers us from Paderborn, how come he couldn't remember us in Braunschweig? Anyways (I'm too tired to try and figure it all out) now we're in but they don't like it, and are having a little conference to discuss the situation. One thing's for sure they don't have to worry about us eating their food, there wasn't any to begin with, and what's left I wouldn't feed to a bull-dog..
I do help myself to a large bottle of coke and three glasses and share it with Brigitte and Reinhard, but in all the excitement I also forgot to put ice in the glasses, oh well I'm not pushing or pressing my luck any further. I sit in plain view with my hands on the table and try to look as innocent as possible to this jury of two, who is keeping an evil eye on us. God, how some people hate it when they're not properly informed!
Here we are back stage with these two sour older geezers and two young guys who are posted at the door. The one with the pony tail and stands over six foot I soon learn is a drummer and a good one at that, the other guy is twice my size and I figure he's the one who emptied out the buffet table long before we and old Dallas entered the room.
The young guys look confused but harmless, in fact by the end of the evening we're like old friends saying goodbye. I start off the original conversation by saying, do you guys speak English? Yes, they both say, that's a good start for all of us, we talk about music and food and bands and Germany and America and everything under the sun.
We listen to Canned Heat's set from our backstage location "On the Road Again" is playing and then "Going Up The Country" and "Let's Work Together". After their set is over all their equipment comes through our location, the noise increased, orders are being given and it looks like Grand Central Station in New York City, Iron Butterfly is setting up as Canned Heat is breaking down and Ten Years After hasn't arrived yet.
The big guy's name is Michael, and he informs me that the hill just outside the door and windows that looks for all purposes innocent, is really a toxic waste dump of sorts. The whole building and the land was an old textile factory and the gigantic mountain of a hill was composed entirely of reminants from the old textile days. Cloth, carbon, chemicals, contaminated dirt you name it, it's in there. When the sun goes down and night falls, you could even say it glows....so I named it "Rudolf Hill" in Nordhorn RHN. It should be noted that many places like this in Germany were at one time industrial textile mill towns, like Gronau, where the Rock'n'Pop Museum is located and in Twist where Ten Years After played twice before have now been modified to become venues for music and entertaiment. This also includes old bomb shelters such as the one in Minden...called opproperatly "The Bunker" and old movie theaters as well, such as the "Capitol" in Paderborn and "Lagerhalle" in Osnbrück.
IRON BUTTERFLY:
Our friend Reinhard brought a handful of record albums with him to be autographed by Canned Heat and Iron Butterfly. The members of the "Butterfly" were here so I asked if they wouldn't mind signing them for my friend, "of course we will let's see them" said Charlie. In-A-Gadda-Da-Vida, original album, and a double album (a two album set of two different Butterfly albums). Catching Lee Dorman is a real challange, mostly because he seems not to like being bothered with such nonsense and secondly because the man was ill, Lee was getting the nasty flu bug that the members of Canned Heat had since before Paderborn. In fact while Lee was on stage he had to excuse himself to be sick off stage. After the show Charlie also said that he also wasn't feeling very well either, and Charlie doesn't like to complain about anything, so I knew he was getting ill too.
The members of Ten Years After were all healthy but the Canned Heat and Iron Butterfly members were all suffering with the flu bug or bad colds.
RON BUSHY:
Ron and I got to the point that I could now start picking on him a little bit, all in good fun of course. I was sitting across the table from him and I was reading the liner notes on the back of the "Vida" album. First of all don't we all look different from 1968 to now in 2005? I personally think that Lee Dorman and Ron both have aged very well having survived a life in rock and roll, the nineteen sixtes and everything else inbetween. Let it also be noted that their attention span and memories are also very much intact /perfect.
It says in the liner notes that back then (1968) Ron could call about 34 states home, now I think he can call most of the other sixteen states home in one way or another as well. The reason for all the moving around was due to the fact that his father was a career military man in the U.S.Navy, a commander as I recall. So as I was reading this I said hey Ron does your father know Jim Morrison's father? Ron became serious in a hurry, as I know he thought I was crossing the wise-ass line and was putting a little stress on our new friendship, I wasn't, but I now had to explain myself and waste no time about it. I said Ron, you and I were discussing Jim Morrison the other day, Jim also moved around the country much too often, because his father like yours was also a career military man in the Navy, Jim's father is Rear Admiral Morrison. I just thought that there might be a possibility that your father and Mr. Morrison may have known each other personally or at least in name. Ron now gave me a inquisitive look and said, "I didn't know that Dave, I had no idea". I said Ron, Charlie told me that your father is still alive, considering that you're 62 that's incredable to say the least, Ron replied "yeah that's right, my father is 89 and will turn 90 very soon". That's great Ron, I like that kind of good news.
LEE DORMAN:
Lee is also very reserved but he speaks his mind as well when he needs to. In the last five times that we've crossed paths I always call him Mr. Dorman, it just seems the right thing to do and he accepts my respect very well. As I was looking at the liner notes and the album cover, I was struck by a long lost memory that became revived as I sat there, In-A-Gadda-Da-Vida was one of the very first records that I ever bought, and I thought how much of an impact the album cover meant to me so long ago. Everyone I knew loved the song and the album, everyone either had it in their collection or heard of their reputation and that famous drum solo. Lee, is also a producer, writer, arranger and a major influence on bass guitar players up to and including the present time. Some of his best and most profound work can be heard on "The Captain Beyond" band, which he himself is very proud of.
All of the sudden I had the urge to tell Lee Dorman how I felt at that moment. I waited my turn to speak up and started. Excuse me Mr. Dorman, I was just wondering, if you have any idea how many of us (soon to be long hair Hippies) had this album hot off the original press back in 1968, and the impact it had on all of us? The Beatles and the Stones of course had their place but Iron Butterfly was extremely different and fresh at that time. Lee was getting ready to thank me, but I continued, you and the whole band can be very proud of what you accomplished back then, and that you are still willing to accomplish today just by being on the road and playing your music. You can't fake that passion and desire to continue, you still have it and so does Ron, and I personally just wanted to say thank you.
Lee thanked me and Ron just sat there with a big smile on his face, nodding in a way that said, hey you're alright kid.
BACK TO RON:
The Following Is For Serious Rock Fans Only; LOVE, REVELATION, and VIDA:
Somewhere along the line in these five gigs that we've attended, I asked Ron which album was released first, Love's second album called "Da Capo" or Iron Butterfly's second album "Vida" as to me they both had a great impact on my music appreciation development. To my great surprise Ron knew Arthur Lee alright, but never heard of Love's album called "Da Capo". Da Capo was released in February of 1967 and one whole side was dedicated to the song called "Revelation" and was prompted by Arthur Lee himself who wanted to be a pioneer of the first twenty minute track on a rock album. The song "Revelation" runs 18:57, and as a special point of interest, you may like to know that the uncredited producer for this song was none other than Neil Young himself.
The song called "7 and 7 Is" is considered to be the precursor / prototype of what was to become known as Heavy Metal. The band "Love" was formed in 1965 and was called the "Grass Roots" but seeing that their was another band with the same name they changed their name to LOVE. In 1966 they reached the top 50 on the U.S. record charts, "Da Capo" 1967 climbed to number 33 on the album charts.
In the text for the band "Love" it says, "Love were a highly influential band, but nobody bought their records". But people influenced by "Love" were Jimi Hendrix, The Doors, Jefferson Airplane. I'd say someone was buying their albums and in big numbers, to get where they were on the music charts.
In-A Gadda-Da- Vida followed over a year later in July of 1968 with the title track clocking in at 17.05. "Vida" out sold every record in the history of recorded music and within the first year of its release over eight million copies were sold, and therefore out grew and outsold the standard of the music industry's "Gold Album"--Iron Butterfly were subsequently awarded The Recording Industry's Very First "Platinum" album.. "Vida" received the Multi Platinum record award. Vida, also stayed on the record charts for 140 weeks, on the Top Ten for 81 weeks and to date this album has sold in excess of 30 Million Copies / Units.
Dave's Note: It is my personal opinion that Love laid the groundwork that within the next year and beyond, would produce such now classics as: In-A-Gadda-Da-Vida, The End by The Doors, Days Of The Future Past by The Moody Blues, and followed soon after by The Atom Heart Mother, Meddle,Dark Side Of The Moon by Pink Floyd. Involved in some of these projects were names that I'm sure you'll know, Paul Rothchild, Bruce Botnik and Jack Holzman.
Love's nineteen minute song "Revelation" was revolutionary, it took time for music listeners to adjust beyond the standard three minute AM radio hit of the day. By the time "Vida" arrived the masses of new music fans (myself included) we were ready, willing and now able to accept this new artistic music and it's expanded free form of musical expression.
East and West was the second album release for the band and it paved the way into music history that others would soon follow . The breakthrough came by way of a thirteen minute experimentation of real fusion jazz and blues inspired by the indian raga. It was this ground-breaking instrumental that was the first of its kind to mark the exact point where the root of all "Acid Rock and Psychedelic tradition emerged. With all this being said, let's not forget another important album that also belongs in this catagory "Quicksilver Messenger Service and their Spring of 1969 release "Happy Trails" with its epic rendition of the Ellis McDaniels (Bo Diddley) song called "Who Do You Love" parts one and two, that clocks in at an unbelieveable 25:22 and fills one whole album side.
| | | | |
| --- | --- | --- | --- |
| 1966 | 1967 | 1968 | 1969 |
Which brings us right back to Iron Butterfly once again. Doug Ingle who was the writer, singer and played keyboards stated in an interview, that he couldn't properly sing the song In-A-Gadda-Da-vida, but that it had nothing at all to do with his involvement in drugs or alcohol. Doug also states for the record, that "the title is Latin for Garden of Eden" but I find that hard to believe, as my research shows that in Latin Garden is "hortus" and Eden is "paradisus".
A LITTLE COMIC RELIEF:
Here are some misheard lyrics to In-A-Gadda-Da-Vida
1. I Gotta Gonorrhea, Baby
2.Hasta La Vista.Baby
3. In A Glob Of Velvetta, Honey
4.I'm The God of Velvetta, Baby
5.In A Garden Of Venus, Baby
6.In A God Of The Vida, Baby
7.In The Bhagavad Gita, Baby
THE BAND PLAYS ON:
I'm sitting in the backstage area when Ric pops in and is looking for Brigitte to take a few band photos, she's out front with Reinhard so I go head out to find her. On the way, a person steps in front of me and says hello Dave good to see you, you don't remember me do you he says? I stop and look more closely and I do know the face and now need to place it, ah yes Twist, Germany 2002.
His name is Erich Geisen and it's been awhile since I've last seen him, he lives in Nordhorn and he even lives close enough that he rode his bicycle to the concert. When we met him in Twist it was 2002 and we invited him to come backstage with us, we took some photos and posted them on our website,I would later learn that he made a copy and brought it with him, he's very proud of it you can tell. I'm in a real hurry and I don't want him to feel that I'm being rude, but I need to find Brigitte, and I do but it's too late the band is ready to begin their set.
As a present for the band we both decided to give each member of the band a cd of the photos we took of the last five days with them. After the show, after they greeted their fans, signed autographs and settled down a little, Brigitte invited them over to show them the photos we put on the cd on her laptop. We could have let them return to their hotel and look at them later, but we wanted to really enjoy the moment. It's a rare moment when you can get all the members of Ten Years After in one place at one time, and focused on the same thing when they're off stage, this was one of those special moments.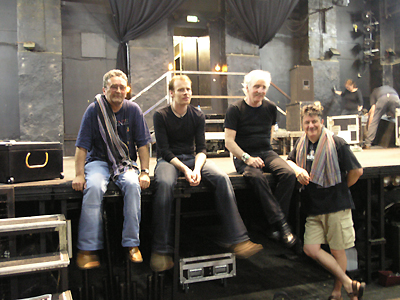 The band is special, it's members are extraordinary, their music is exceptional, it seemed that our five days with all of them came down to this, what a great way to end the first leg of this tour.
As we sit writing this review and story, we are already planning on seeing them again on June 10th and 11th here in Germany.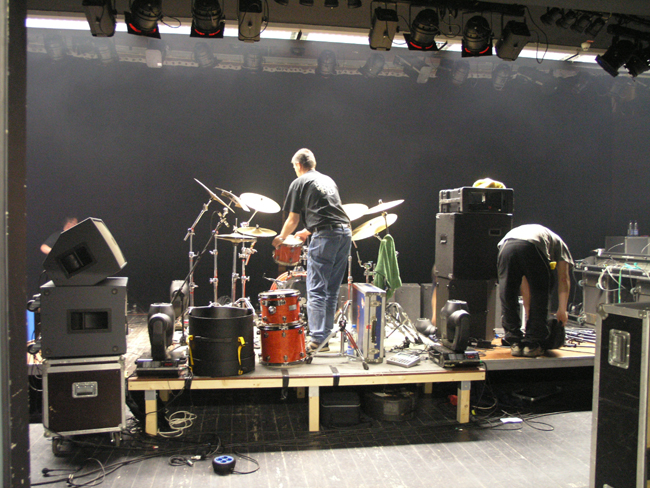 The end of a long day - Wolfgang and Barney breaking down TYA's equipment