Leo Lyons, Ric Lee, Chick Churchill, and their newest and youngst member Joe Gooch are playing for keeps and are hitting their target every place they go. They look and sound great and are in perfect condition to carry on the respected and sacred legacy of the band that we all know and love.
Ten Years After has always been alive and well in spirit, but while waiting for Alvin's possible return and his participation in some new recording, a great deal of time and great chances have been lost forever, so the time has come to move forward to do what they do best: hit the road, play live for the fans - young ones, old ones and new ones - and get back into the studio as soon as possible and record some new music. Chick Churchill said "We should have done this ten years ago". Leo told us "I'm very excited" the more people that come to hear us the bigger the venues will become. The past is just a good-bye as we know and as of August 28,2002 Brigitte and I have decided to draw a line between the Ten Years After years with Alvin Lee, and the Ten Years After with Joe Gooch, the new TYA is moving onward and upwards. Their love of playing, of being together, love for their fans, and passion for every thing it involves is alive and well.
Our website will reflect this change between old information, items, and material that we add and the new additions that are coming.
Now we all have a chance to see "Ten Years After" or "The Alvin Lee Band" and all is as it should be from now on, everything is in its rightful place.
Joe Gooch: Is the newest member of the band and he is here to stay, he is perfect for the band and he has found a comfortable new home. Joe knows the music of TYA and has total respect for the professionals that he says he has this great chance to play with, and all the members feel the same way about him. Joe is "25 years old, had some lessons but is mainly self taught,he has been playing for thirteen years". He is from what they call in England the Midlands in a place called Kington in Herefordshire close to Wales. On stage he is an assett in every way to the total chemistry of the band, he has a lot to offer and he carries his own weight. New talent, new ideas and respected by his band mates, this means great things are going to be happening in the near future.
We had to ask Joe about his feelings about his new position as guitar player in TYA , his personal feelings about Alvin Lee and if he (Joe) was a TYA fan himself. First of all he loves his new position, he likes Alvin's playing and respects all the work Alvin has done over the years, and yes - Joe has an in depth knowledge and feeling for everything he plays, be it Blues, Rock or Jazz he has it all covered. Jim Hendrix once said "It's not how old you are, it's how far you've travelled" and this applies to Joe Gooch, it is a must for all of you to hear him play Red House. Joe is quiet, but not shy, he is secure within himself and speaks his mind, he is direct and soft spoken, and he handles his guitar as if it was a woman in his hands. He can caress the blues out of it or make it scream, roar and invoke holy thunder, but either way he knows what he's doing and has an acute sense of timing and presence, and these two last things are what make him exciting to watch and experience. He is not Alvin Lee and he doesn't pretend to be, he is his own man, his style is all his own, and he brings no excess baggage with him to TYA, it is real and it is emotional and he is just like Leo, Ric and Chick—Passionate and honest!!!

Ten Years After at the Heimathaus in Twist Germany 8 / 28 / 02
Concert review:
Play List:
1. I Woke up this Morning 2. Hear me Calling 3. I May be Wrong 4. Love Like a Man 5. Bad Blood
6. I'd Love to Change the World 7. Hobbit 8. Red House 9. Good Morning Little School Girl
10. Black 45 11. I Can't Keep From Crying Sometimes 12. I'm Going Home 13. Roll Over Beethoven 14. Sweet Little Sixteen 15. Spoonful--------------
This my friends speaks for itself---
Welcome back Ten Years After !!! My God welcome back !!!
One TYA song after the other higher and higher—more and more, just fantastic.
Besides the most well-known hits like "I'm Going Home", "Love Like A Man" and "Good Morning Little Schoolgirl" they played most of the favorite songs we always wanted to hear like: "I Can't Keep From Crying", "I'd Love to Change the World", "Bad Blood", "I Woke up this Morning" - all performed live and to perfection. People singing along, clapping their hands, and all together as one family and not as individual people any longer, it felt just like a miniature Woodstock Festival, everyone melted together, friendly, happy and high on the music alone. Magic happened, something special happened, something, snapped right into place, right then and there before our very eyes and it stirred in our hearts and set our souls on fire…. Leo was (touched) moved by the spirit, Chick became posessed with his keyboard, he bent down and was pounding the keys like I have never witnessed before, and Ric Lee kept smiling at his band mates, and at me whenever our eyes met, and we would throw a wink at each other, it was our non-verbal communication that said "What's going on here—can you believe this---it's out of our control!!!" Everyone that was there felt it and it showed on their faces everyone was touched, from the club owner, his staff and fans alike. It all started off as a very normal gig, but something happened ...
We can't speak for the band, but we would love to hear their thoughts about what happened on that special evening in Twist, because they and all of us are still riding high.
Review by Dave and Brigitte.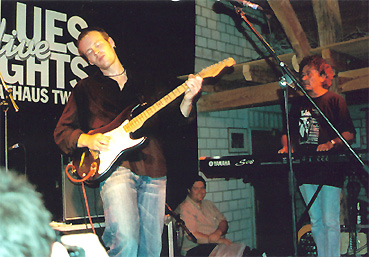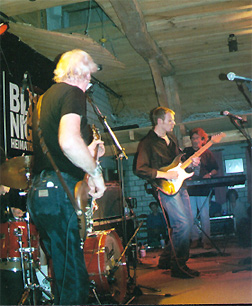 Joe and Chick Teamwork in Action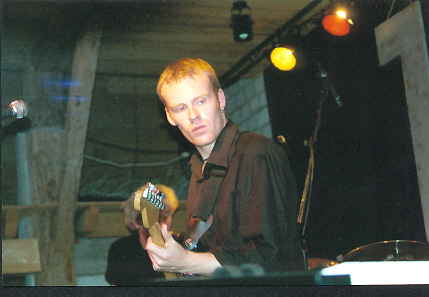 The New Professional Guitarist of Ten Years After: Joe Gooch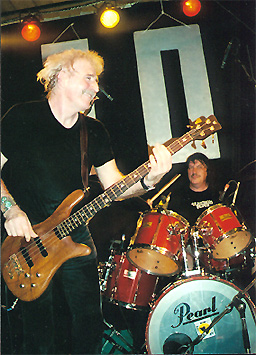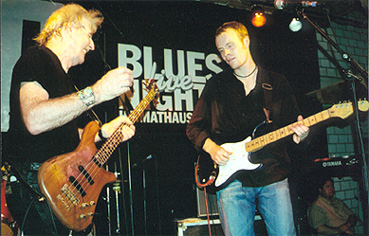 The Passion and Magic are back - Welcome the New Member of TEN YEARS AFTER: JOE GOOCH